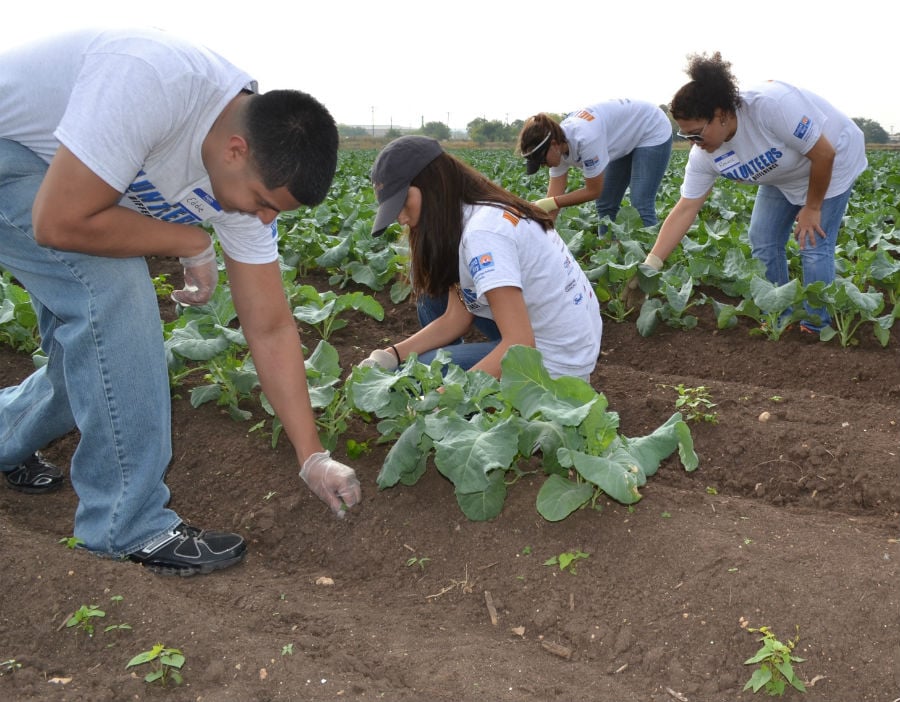 SSFCU volunteers sort 27K pounds of food in one afternoon at San Antonio Food Bank
SAN ANTONIO, TX (October 2, 2014) — 55 Security Service Federal Credit Union (SSFCU) team members volunteered from 9 a.m. to 4 p.m. at the San Antonio Food Bank as part of the annual United Way Day of Caring. From tending to rows of broccoli and pulling weeds in the vegetable gardens to sorting over 29,000 pounds of food, SSFCU volunteers got a first-hand glimpse of how the Food Bank uses its donations. The event was used as the official kick-off for SSFCU's corporate United Way campaign, helping SSFCU campaign leaders from each branch and back office department better understand the purpose of the United Way campaign and the needs it fills within our community.
Photo: (from left) Pulling weeds in the vegetable gardens at the San Antonio Food Bank are Eddie Ramirez, SSFCU senior membership officer; Samantha Gonzales, SSFCU lead membership officer; Dawn Hughes, SSFCU senior digital analyst; and SSFCU Roxie Quinbar, investment operations assistant.
---