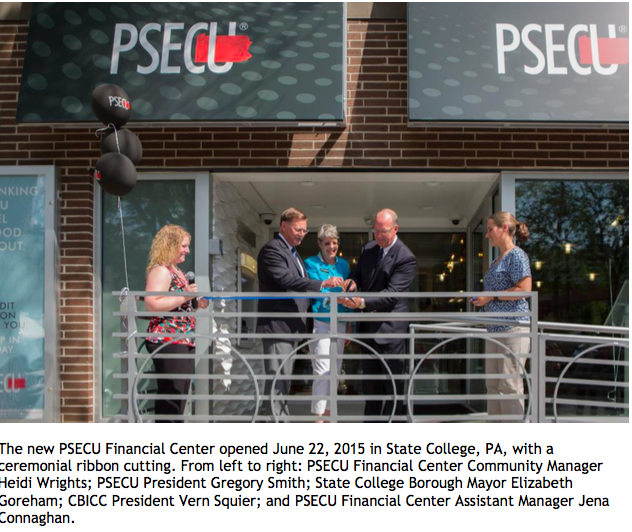 State College celebrates the opening of the PSECU Financial Center
STATE COLLEGE, PA (June 26, 2015) — On June 22, 2015, PSECU, along with local business and community leaders, gathered at the home of the new PSECU Financial Center located at 502 E. College Avenue. Greg Smith, PSECU's President, and Vern Squire, CBICC's President and CEO, welcomed local officials and guests. Together, they cut the ceremonial ribbon, officially opening the PSECU Financial Center. The PSECU Financial Center will be open Monday through Friday, 9 a.m. to 5 p.m. and Saturday, 9 a.m. to noon.
"Today, we are excited to open the doors to the PSECU Financial Center. The PSECU Financial Center is the first location of its kind for PSECU. It's a hybrid model that is designed after the best of our physical locations on university and college campuses, while highlighting the electronic services that PSECU offers for member convenience," said Smith.
The new PSECU Financial Center opened June 22, 2015 in State College, PA, with a ceremonial ribbon cutting. From left to right: PSECU Financial Center Community Manager Heidi Wrights; PSECU President Gregory Smith; State College Borough Mayor Elizabeth Goreham; CBICC President Vern Squier; and PSECU Financial Center Assistant Manager Jena Connaghan.
"PSECU and our members have always had a strong economic, financial and social commitment to the community. Our Financial Center is the culmination of those commitments reflected in the building design and usage," said Barb Bowker, PSECU's Vice President of Marketing. "We look forward to strengthening relationships with our current members in the region and invite potential members to stop in and see why for 82 years, PSECU has been a leader in innovation and technology-driven banking."
PSECU, headquartered in Harrisburg, Pennsylvania, has over 400,000 members across the commonwealth already utilizing the technology-based model. This innovative method of banking has enabled PSECU to give back $30 million in "Relationship Rewards" to its members.
Opened in 1934, PSECU was founded by 22 ordinary people who made an extraordinary commitment to each other: To create a financial institution where pooled resources benefit all members. Today, we are a full- service credit union serving more than 400,000 members and have over $4 billion in assets. As a not-for- profit financial institution, our goal remains to help our members and their families achieve a better life.
---