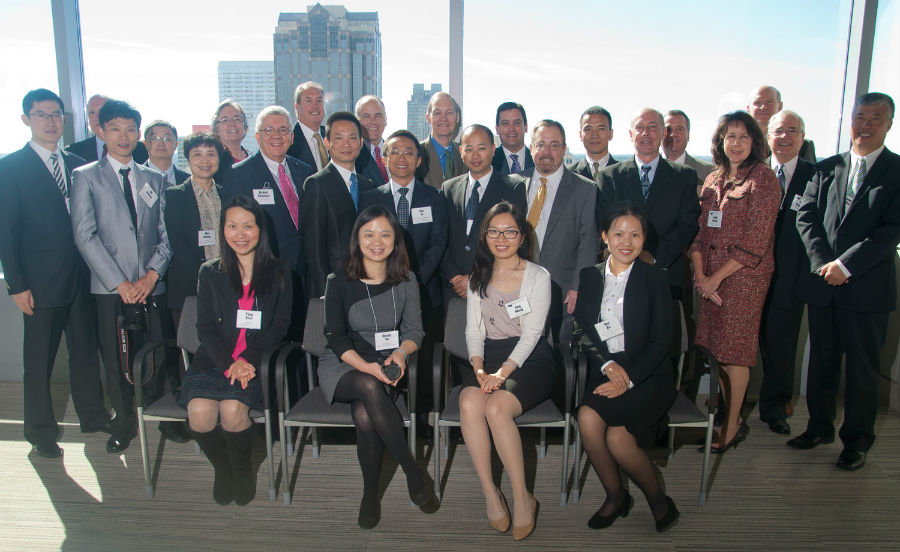 State Employees' Credit Union hosts Chinese Business Delegation
RALEIGH, NC (October 20, 2014) — A business delegation from China's southwest city of Chengdu made a stop at North Carolina State Employees' Credit Union (SECU) today to learn more about the not-for-profit's mission to improve the lives of its members via cooperative philosophy, financial service practices, operations and innovations. As part of a 3-month tour of the area, 12 rising business leaders from the Chengdu Jinjiang District's Modern Commerce Development Training Delegation met with numerous Credit Union officials, including SECU Board Chair Jim Johnson and other members of SECU's management team. This is the third Chinese delegation to visit SECU since 2008.
The Delegation is comprised of leaders representing positions in the people's government, financial and business industries, communications, and Chinese language and literature. The city of Chengdu is one of China's core urban areas that seeks to implement high-end development with a modern industrial system based on modern commerce and trade, with cultural creativity, financial and leisure services. The delegates' visit to North Carolina incorporates briefings from governmental agencies, financial institutions, non-profit organizations, and local schools and universities to study North Carolina business and the economy.
SECU Chairman Johnson remarks, "We are very pleased for the opportunity to host this distinguished Delegation, sharing the credit union philosophy and a different financial industry perspective. SECU's mission is to improve the economic and social condition of its members by offering affordable financial products and services. We hope today's group was able to see the benefits of the Credit Union's unique cooperative philosophy and the positive difference that SECU is making in North Carolina."
"When we came to Raleigh, we were impressed by the outstanding building of SECU, but after today's meeting, we are more impressed by SECU's outstanding services which they provide to the members," says Mr. Li Jun, Director of Investment Promotion Bureau of Jinjiang District, Chengdu City, China.
Representative Paul Stam, Speaker Pro Tempore of the North Carolina General Assembly, states, " I appreciate State Employees' Credit Union welcoming the delegation from Chengdu City, China and explaining the many beneficial services it provides to North Carolina's state employees and their families."
About SECU
A not-for-profit financial cooperative owned by its members, SECU has been providing employees of the State of North Carolina and their families with consumer financial services for 77 years. With more than 1.9 million members, SECU provides services through 254 branch offices, 1,100 ATMs, 24/7 Contact Centers and a website, www.ncsecu.org.
---