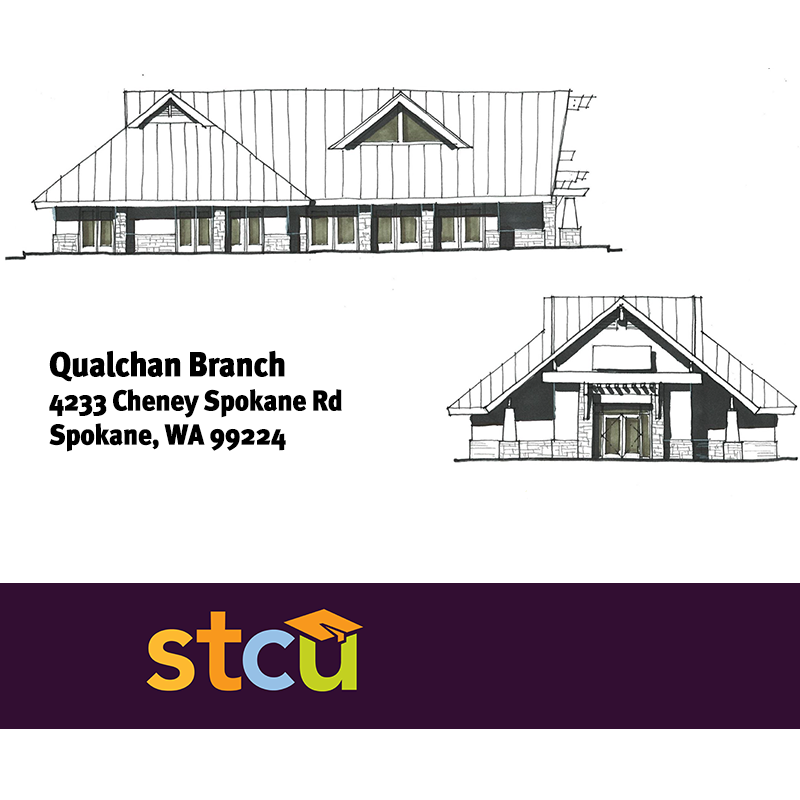 STCU to open Qualchan Branch
(May 12, 2015) — STCU on Tuesday announced plans for a 19th branch location, in the Latah Creek Plaza.
Ground-breaking is set for late 2015 on the STCU Qualchan Branch at 4233 S. Cheney-Spokane Road. The new branch is scheduled to open in 2016, with five employees.
Rather than starting from scratch, STCU will nearly double the size of the former America West branch, giving the building a totally new look in the process. It will employ the same craftsman-style architecture that has been the hallmark of recent STCU branch locations, including South Valley and Crossroads (Coeur d'Alene).
The new branch also will feature STCU's first free-standing drive-through facility.
"The Qualchan Branch will provide great service and convenience to our members in Latah Valley and surrounding areas, and great access for anyone on U.S. Highway 195," said Tom Johnson, CEO and President of the region's favorite credit union. "We can't wait to move in!"
STCU will lease the Qualchan Branch location from Spokane-based NAI Black. Other businesses at the plaza include Tidyman's, Latah Creek Animal Clinic, Chaps bakery, and Latah Bistro, among others.
STCU
Founded by educators in 1934, STCU is a member-owned, not-for-profit cooperative with 136,000 members, more than $2.1 billion in total assets and 18 branch locations in Eastern Washington and North Idaho.
---