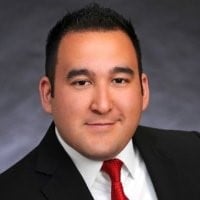 Student Choice bolsters service in Southwest with addition of Eric Sanchez
WASHINGTON, DC (January 22, 2015) — Credit Union Student Choice, the foremost provider of higher education financing solutions to America's credit unions, announced that it has hired Eric Sanchez as Manager of Strategic Partnerships. Based in San Antonio, TX, Sanchez will develop and manage credit union relationships in Texas and the southwest region of the country.
"We're very excited to add Eric to the Student Choice team," said Jim Holt, Student Choice's Chief Revenue Officer. "With more than 12 years of financial services experience, Eric's proven track record of success in developing key relationships, building strategic partnerships, and managing sales territories makes him a great addition to the organization and a valuable resource for our credit union partners."
As a proud San Antonio native, Eric has a strong track record in banking, having worked in consumer, commercial, and small business financing for organizations such as US Small Business Administration, Wells Fargo Bank, and most recently, Generations Federal Credit Union. Sanchez also serves on the boards of directors for two homeowners associations and enjoys volunteering at a local food bank.
"I am thrilled to join Student Choice, and I look forward to working with our team to strengthen and develop relationships throughout the southwest region," said Sanchez. "I've seen the benefits of education in my own community and admire the difference that Student Choice and credit unions are making in the lives of students and families by not only by providing a fair-value education loan, but also by delivering pertinent education that will help them fund higher education in a responsible manner."
About Credit Union Student Choice
Credit Union Student Choice is a credit union service organization (CUSO) that positions credit unions as leaders in education finance by offering a comprehensive solution that helps them deliver fair‐value private education loans and corresponding financial education to students and families. For more information, visit www.studentchoice.org.
---