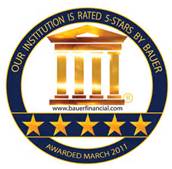 Sussex County FCU Earns Bauer's 5-Star Superior Rating!
SEAFORD, DE (July 16, 2013) — Tenacity, financial soundness and prosperity are words that can explain the business operations at Sussex County Federal Credit Union, as reflective in their 5 star superior rating from BauerFinancial, Inc; a leading independent credit union and bank rating firm.  For 30 years, BauerFinancial, Inc has served as an unbiased bank rating service that reports on the financial condition of the banking industry, providing consumers with data to assist in making informed decisions.  The 5-Star rating is the highest offered and reflects Sussex County FCU's commitment to operating a financially safe and sound financial institution.
As a recipient of the 5 Star Rating, this 54 year old financial co-operative was rated as excelling in the areas of capital adequacy, profitability, historical data, liquidity and asset quality, just to name a few.  Pamela Fleuette, CEO, stated "The 5 Star Superior Rating is a reflection of Sussex County Federal Credit Union's commitment to its' member-owners; In a challenging economy, this rating provides peace of mind for consumers, and serves as recognition that Sussex County FCU is a solid financial partner."
Sussex County Federal Credit Union has existed as a not-for-profit, member-owned financial co-operative for more than 54 years; serving over 14,000 of those who live, work, worship, attend school and/or volunteer in Sussex County or the City of Milford.  Visit www.sussexcfcu.com to begin experiencing the credit union difference.
---