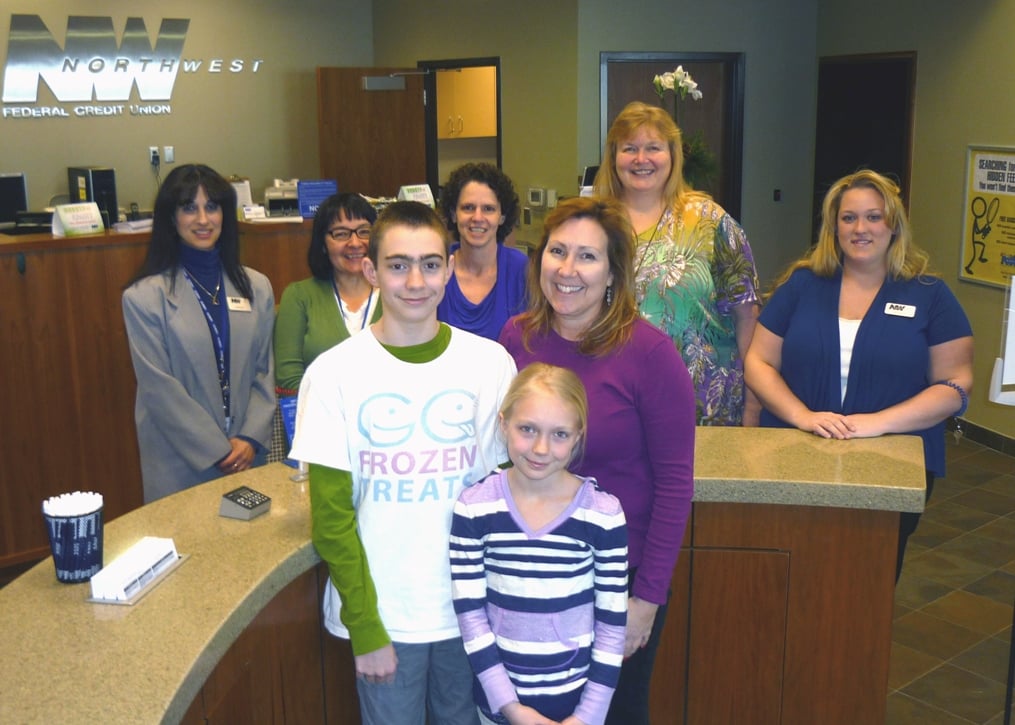 Sweet Treat: 14-Year-Old From Ashburn Runs Ice Cream Business With Help of Northwest Federal Credit Union
Teen entrepreneur youngest ever to apply for business account at NWFCU

HERNDON, VA (May 6, 2013) For 14-year-old Grayson Albers, it started with the idea to sell lemon sorbet at his sister Gretchen's lemonade stand. A year and a half later, GG's Frozen Treats had grown into a neighborhood hit, with a website, a menu of flavors and shelf space at Ashburn Wine Shop, Carolina Brothers BBQ, and The Wine'ing Butcher.
When the gelato and sorbet company needed a financial partner, CEO Grayson turned to Northwest Federal Credit Union.
His family has been members of Northwest Federal for a long time, according to Grayson's mom, Marty Albers." We've had a good experience with them over the years, and knew they would be the right fit," she said.
After studying Northwest Federal's website thoroughly, Grayson was prepared when he came to the Leesburg branch, with all of his completed paperwork and the required documents from the IRS and the State of Virginia. With his parents signing as joint account holders, he became the youngest business owner in the history of Northwest Federal to open a business account.
With the Credit Union's help, Grayson's set up a Basic Business Checking account, which comes with no monthly maintenance fee. Designed to help companies like GG's Frozen Treats keep more of the money they earn, it also lets businesses scan and make deposits remotely from their offices or homes – an important feature for Grayson, since he isn't old enough to drive.
While at the helm of GG's Frozen Treats, Grayson has learned the value of having a good support team. In addition to local restaurants adding the product to its menus, the business receives help from a neighbor who is a lawyer, a local church that provides use of their commercial kitchen, and Northwest Federal which offers financial services and advice.
Another important business lesson learned: You have to have a good product.
"We make everything in small batches," said Grayson. "It's homemade, made fresh, with fresh ingredients."
While the business is a family affair, with Grayson's mom doing the cooking, his sister serving as the taste tester, and everyone helping with kitchen clean up, Grayson's key role is managing the business aspects. "I keep track of sales, expenses and taxes," he said.
According to Sherry Henein, Northwest Federal Leesburg Branch Manager, Grayson was well-prepared when he approached the credit union to open the business account.
"It was clear that he had studied our products and services, and believed Northwest Federal would be a good financial partner for his business. We are very excited to help out such a young entrepreneur and to watch his business continue to succeed."
About Northwest Federal Credit Union
Northwest Federal Credit Union is a full-service financial institution ranking among the largest credit unions in Virginia and in the top 50 credit unions in the nation. Established in 1947 and headquartered in Herndon, Va., Northwest Federal is dedicated to providing financial services and education to its members and the community. The Credit Union currently serves more than 125,000 members and has assets in excess of $2.5 billion. For more information, visit www.nwfcu.org.
---