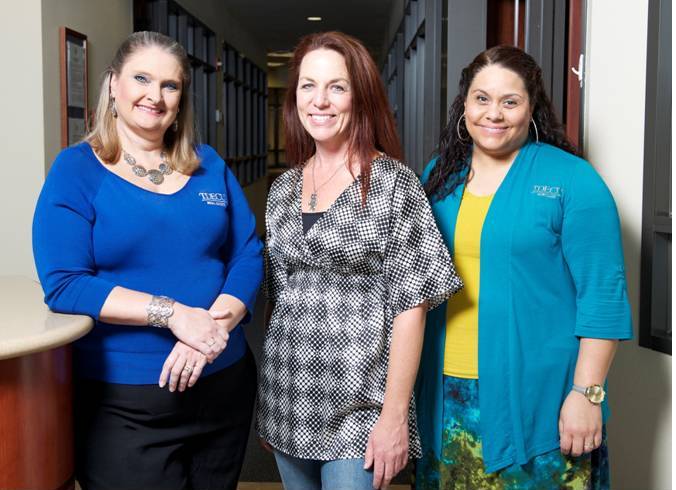 TDECU Real Estate Rewards Surpasses $1 million dollar milestone
LAKE JACKSON, TX (December 8, 2014) — TDECU celebrated a major milestone when its Real Estate Rewards program surpassed $1 million dollars in monies given back to its members. Helping the program in reaching the mark was TDECU member Jenice Fernandez. She used the Real Estate Rewards program to save over $3,000 on the sale of her home and the purchase of another.
The Real Estate Rewards program is comprised of TDECU's family of service providers that includes TDECU Real Estate, TDECU Mortgage and TDECU Insurance Agency, LLC. Hundreds of members have engaged the full suite of TDECU's services since the programs inception in 2012. They are ensured a smooth, seamless real estate transaction and are rewarded financially through the program. The more services used by a member, the bigger the monetary reward, beginning with a 20 percent rebate on all TDECU Real Estate agent commissions when using a TDECU Real Estate Agent to buy or sell a home.
Pictured (Left to Right) Tammie Bell, TDECU Real Estate; TDECU Member Jenice Fernandez; Lurissa Trevino, TDECU Mortgage.
More information on the TDECU Real Estate Rewards Program can be found at TDECURealEstate.org or by calling 800.335.8649.
About TDECU 
Founded in 1955, TDECU is a not-for-profit financial cooperative with 200,000 members and greater than $2 billion in assets. TDECU currently has 35 service locations, including 20 branches, and offers a complete selection of convenient, innovative, and competitive products and services, including a full suite of deposit products as well as mortgage, auto and personal loan products, online and mobile banking. TDECU also offers, through its subsidiaries, retirement planning and wealth management, personal and business insurance products, and full title and realty services. Members can also access a nationwide network of over 55,000 surcharge-free ATMs. For more information visit TDECU.org or call 800.839.1154.
---