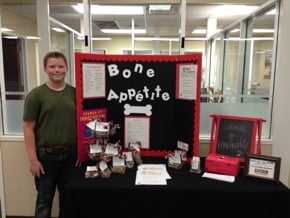 TDECU supports young entrepreneurs in their quest for business success
ANGLETON, TX (June 23, 2014) — was proud to serve as the presenting sponsor of the Greater Angleton Chamber of Commerce's Young Entrepreneurs Academy (YEA!). The national and year-long program teaches middle and high school students how to start and run their own REAL businesses. TDECU offered these young entrepreneurs a free DBA account and the opportunity to set-up a display in its Angleton Branch and showcase their businesses to TDECU members and employees. On a national scope, YEA! has graduated almost 600 students over the past 7 years, who have started almost 450 businesses and social movements.
Pictured above: YEA participant Jacey Brockman proudly shows off his Bone Appetite display at the TDECU Angleton Branch.
---