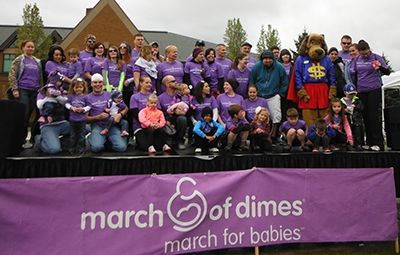 Team Global raises over $8,200 for March of Dimes, March for Babies – Spokane
SPOKANE, WA (April 28, 2015) — Along with hundreds of others, employees of Global Credit Union participated in the March of Dimes, March for Babies on April 25, 2015.  In addition to being one of the local sponsors, Team Global raised over $8,200.  Global CU currently is one of the top three corporate fundraisers for the event.
Led by two co-captains, Linda Crane and Morgan Brooks, Team Global consisted of 54 team members, which included employees, family members and friends, including four sets of twins. Team members, aged 18 months to 60+ years, participated in the 3-mile March for Babies, as seen below in the team photo.
"I am so proud to have served as Team Global's co-captain.  I participate in March for Babies because I have been blessed with three beautiful & healthy baby girls (two of which are twins!). I am so thankful for all the extra monitoring and testing that was done during my twin pregnancy to ensure that my girls came into this world healthy.  I am thankful for the work and the research the March of Dimes is doing." remarked Linda Crane, Executive Administrative Assistant at Global HQ.
"I couldn't be more proud to be a part of the Global CU Family. I am amazed at the amount of participation from our team." remarked Morgan Brooks, Administrative Assistant at Global HQ and Team Global co-captain,  "I am super passionate about healthy pregnancies and healthy beginnings, I personally have benefited greatly from the research and resources that the March of Dimes provides. Because of my own experiences, it put a lot of emphasis on making sure we saw success and then some!"
Global President/CEO, Jack Fallis, personally donated $10 for each employee who walked in this year's March for Babies.
Global CU members contributed by donating to Team Global and by buying plush animals to support the cause. During the campaign, employees in all Global CU stateside regions participated in corporate-sponsored fundraisers including the kick-off breakfast celebration and Blue Jeans for Babies Day on March 11.  In addition, local bakeries contributed baked goods for the Baking for Babies fundraiser in mid-April.  Donors included:  Rocket Bakery, Luna Restaurant , Yokes Fresh Markets, Dash of Love – Tiffany Hansen, Sweetwater Bakery, Celebrations Bakery, Sweet Frostings Blissful Bakeshop, Costco and Albertson's on 57th.
Over the last 13 years Global CU has raised over $33,950 for the March of Dimes cause. For more information about Global CU's commitment to community programs please visit www.globalcu.org/community.
The March of Dimes is the leading non-profit organization that helps moms have full-term pregnancies and healthy babies. March of Dimes offers information and comfort to families and researches the problems that threaten babies' health. For more information or to donate visit www.marchforbabies.org.
About Global Credit Union
Global Credit Union, founded in 1954 is a full service financial institution with assets of over $352 million serving 48,000+ members residing around the world. Membership is open to anyone living or working in Washington State, Kootenai, Benewah, Shoshone or Latah counties in Idaho, and all active and retired military members and their families worldwide. For more information about Global Credit Union please visit www.globalcu.org.
---