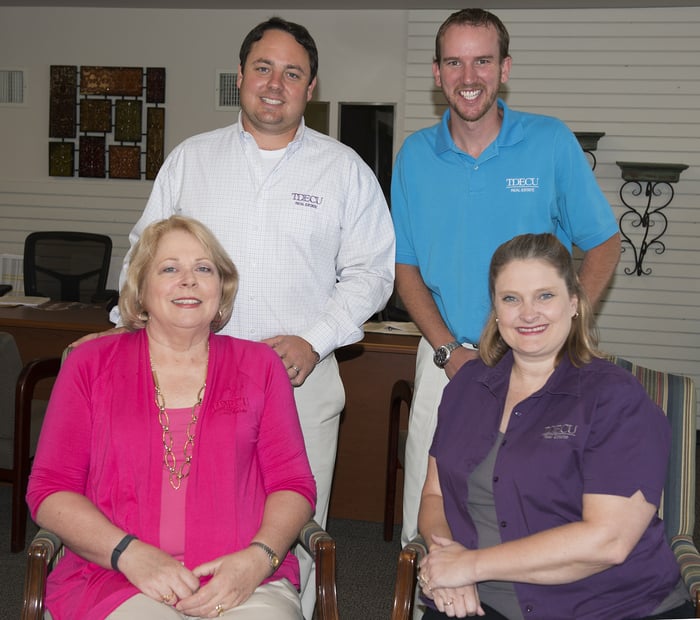 Texas Monthly recognizes TDECU Real Estate Agents for professional excellence
LAKE JACKSON, TX (August 7, 2014) — Four TDECU Real Estate Agents have been recognized by Texas Monthly Magazine as 2014 FIVE STAR Real Estate Professionals. The designation is awarded in recognition of professional excellence and a dedication to providing superior customer service.
The award marks the third year that Tammie Bell, Ryan Birdsong and Shayne McGehee have received the honor. Ruth Ann Few received the honor for the second year. Recently, Bell was also recognized by the Houston Business Journal as a Top 25 Winner in its 2014 Top Residential Real Estate Professional Awards.
Less than the top seven percent of Houston-area real estate agents are selected for the 2014 FIVE STAR Real Estate Professionals award, which is based solely on feedback obtained from clients, peers and industry experts. Agents are evaluated in nine different areas, including integrity, customer service, market knowledge and whether past clients would recommend the agent to a friend or family member.
The TDECU Real Estate Agents were featured in the June 2014 edition of Texas Monthly Magazine.
About TDECU Real Estate, LLC
Established in 2011, TDECU Real Estate, LLC is a full-service real estate agency headquartered in Lake Jackson, TX. The agency, which has received accolades by the Houston Business Journal and Texas Monthly, offers buyers and sellers access to the TDECU family of products in addition to end-to-end real estate services, including mortgage, title and insurance services. Focusing on family values, improving the lives of members, personalized service and maximum home exposure, TDECU Real Estate provides a depth of customer service unmatched by the competition. For more information visit TDECUrealestate.org or call 979.297.4200. For assistance in Spanish, call Lucy Ware, Residential Real Estate Specialist at 979.292.9308.
 About TDECU 
Founded in 1955, TDECU is a not-for-profit financial cooperative with 190,000 members and greater than $2 billion in assets. TDECU currently has 40 service locations, including 35 branches, and offers a complete selection of convenient, innovative, and competitive products and services, including a full suite of deposit products as well as mortgage, auto and personal loan products, online and mobile banking. TDECU also offers, through its subsidiaries, retirement planning and wealth management, personal and business insurance products, and full title and realty services. Members can also access a nationwide network of over 55,000 surcharge-free ATMs. For more information visit TDECU.org or call 800.839.1154.
---