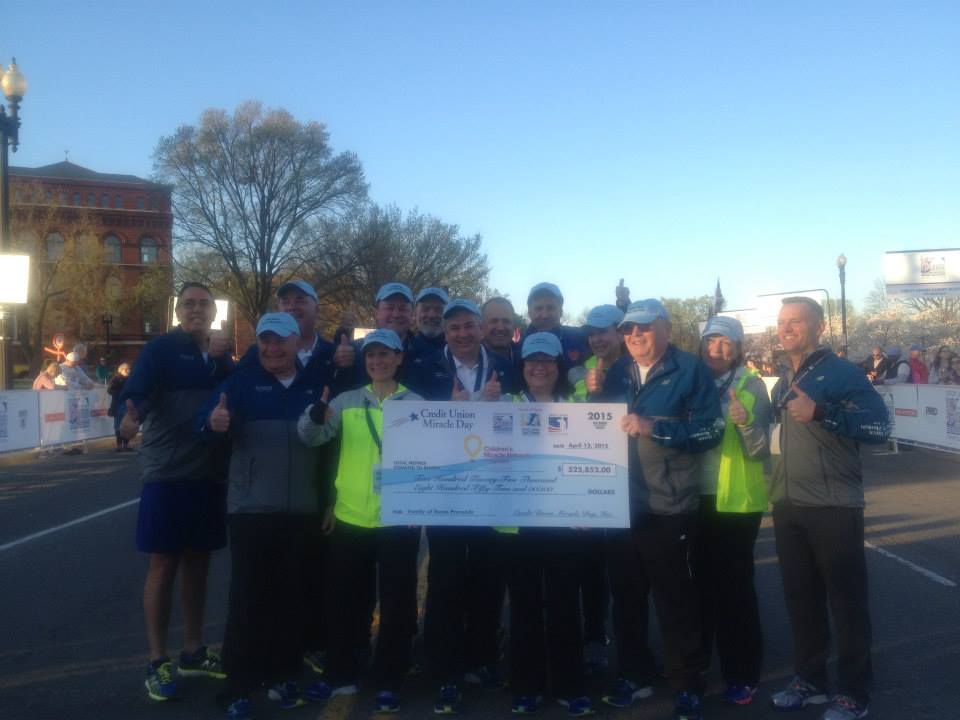 The 43rd Annual Credit Union Cherry Blossom Run
The 43rd Annual Credit Union Cherry Blossom 10 Mile Run and 5K
WASHINGTON, DC (April 12, 2015) — Interior Federal Credit Union (Interior FCU) was at the center of two prestigious events, Celebration for the Cause and the Credit Union Cherry Blossom 10 Mile Run.
The weekend started with joining hands with MD|DC Credit Union Association to host a silent and live auction. There were many motivating speeches and words of celebration from the leaders of the nation's credit unions. The most captivating story was told by Noble Touche. Noble, a 10 year old, shared his story of struggle and triumph as he lost his leg in a lawnmower accident. Through the support of Children's National Medical Center, he walked into his first day of kindergarten on his bionic transformers leg.
Through the contributions, the auction raised over $7,775 for the local Children's Miracle Network hospitals. "It was both humbling and a pleasure to be in the company of people like Noble Touche and the other members of the credit union movement" said the chair of the event, Mario D. Mejia from Interior FCU. "It never gets tiring to use the village approach to do the right thing, especially when it's benefitting the children and their families in our community".
At 7 a.m. on Sunday morning, the Credit Union Cherry Blossom 10 Mile Run started with a bang at the Washington Monument where more than 15,000 were in attendance. With the presence of great weather, thousands of spectators crowded around the route to watch the race and cheer the runners on. "There couldn't have been a better day to ascend on the National Mall for our runners" said keynote speaker Vincent G. Logan of the DOI Office of the Special Trustee for American Indians.
This highly anticipated race attracts people from local and national parts of the world for the greater benefit of the children. The event raised an incredible $525,852 through the commitment and teamwork of credit unions and volunteers nationwide. It was a collaborative effort that helped this year's Celebration for a Cause and the Credit Union Cherry Blossom 10 Mile Run to be a huge success.
---