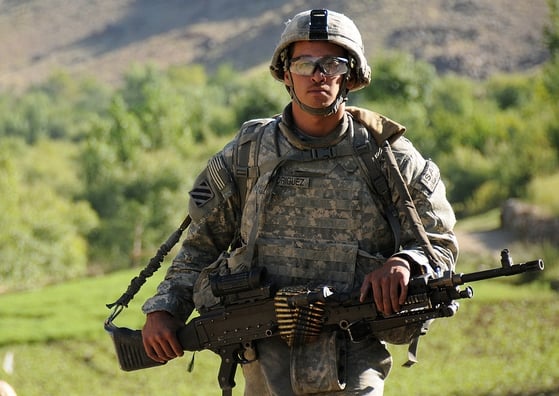 The Best Savings Account Rate of 10% Requires that Depositors Risk Their Lives to Get It According to GoBankingRates.com
In the continued pursuit of matching consumers with the best savings account rate possible, personal finance site www.GoBankingRates.com finds that some depositors may actually qualify to earn a 10% APY interest rate with the military Savings Deposit Program. The only catch is that depositors must literally risk their lives to get it, as only those deployed to eligible combat zones may participate in the program.
EL SEGUNDO, CA (February 6, 2013) – As a leading source of interest rate data, Go Banking Rates is continually on the hunt for top rates on savings accounts. Unfortunately, however, even the best savings account rate today is quite low compared to years ago. The good news is Go Banking Rates finds it's possible earn a guaranteed 10% savings interest rate without exposing money to any risk – the only catch is the account holder must risk their life to earn it.
This 10% savings option is known as the military Savings Deposit Program, and the U.S. Department of Defense only offers it to servicemembers in designated combat zones.
In an investigation into how members of the military can qualify to earn this otherwise unheard of savings account rate, Go Banking Rates finds that there are a number of restrictions and obstacles depositors face that make realizing a full 10% APY difficult.
Even so, the military is the only organization offering a savings account rate that promises better returns than even the average stock market investor can expect. Go Banking Rates managing editor, Casey Bond, comments, "Despite the drawbacks to this savings option, it's hard to argue against 10% interest — but I certainly wouldn't risk my life just to get the best savings account rate."
Click here to see full report.
About Go Banking Rates
GoBankingRates.com is a national website dedicated to connecting readers with the best interest rates on financial services nationwide, as well as informative personal finance content, news and tools. Go Banking Rates collects interest rate information from more than 4,000 U.S. banks and credit unions, making it the only online rates aggregator with the ability to provide the most comprehensive and authentic local interest rate information.
Additionally, Go Banking Rates partners with a number of major media outlets such as Business Insider and US News & World Report to provide compelling and edifying personal finance content, and its expert editors have been featured and quoted on several premier finance websites like Yahoo! Finance, Forbes, The Street, Huffington Post and more.
For questions, or to schedule an interview with a Go Banking Rates editor, please contact Jaime Catmull, Director of Public Relations, at JaimeC@GoBankingRates.com, or 310.297.9233 x261.
---