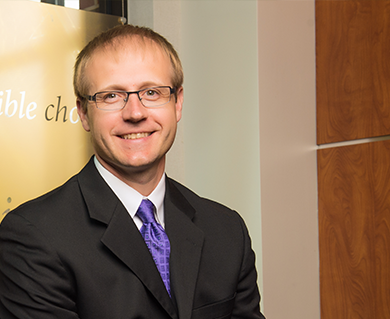 Thoben retires from Purdue Federal, Burns takes over
WEST LAFAYETTE, IN (February 23, 2015) — Phil Thoben, Purdue Federal Credit Union (Purdue Federal) vice president member business services has retired after nearly 12 years of service. In his position, Thoben led the member business services team and developed solutions to help business members increase profitability and improve operating performance.
Following Thoben's retirement, Purdue Federal announces Sam Burns as the new vice president of member business services. A graduate of Purdue University and Graduate School of Banking at University of Wisconsin, Burns has 13 years of commercial banking experience. He served nearly a year as account vice president of member business services for Purdue Federal. Burns is also active in the community as he serves on the board of the United Way and Junior Achievement. He is also the past chair of United Way's Community Investment Committee, chair of the Major Customers Committee, and he is a volunteer teacher.
About Purdue Federal
Purdue Federal Credit Union (Purdue Federal) was founded as Purdue Employees Federal Credit Union (PEFCU) on the Purdue University campus in 1969. In December 2010, PEFCU acquired Members United Federal Credit Union through a merger. At the time of merger, the credit union changed its name to Purdue Federal to better reflect its membership base, which includes students, faculty and staff, and communities where Purdue University and its regional campuses operate. Purdue Federal is a member-owned financial cooperative with nearly 65,000 members nationwide and assets at more than $820 million.
---