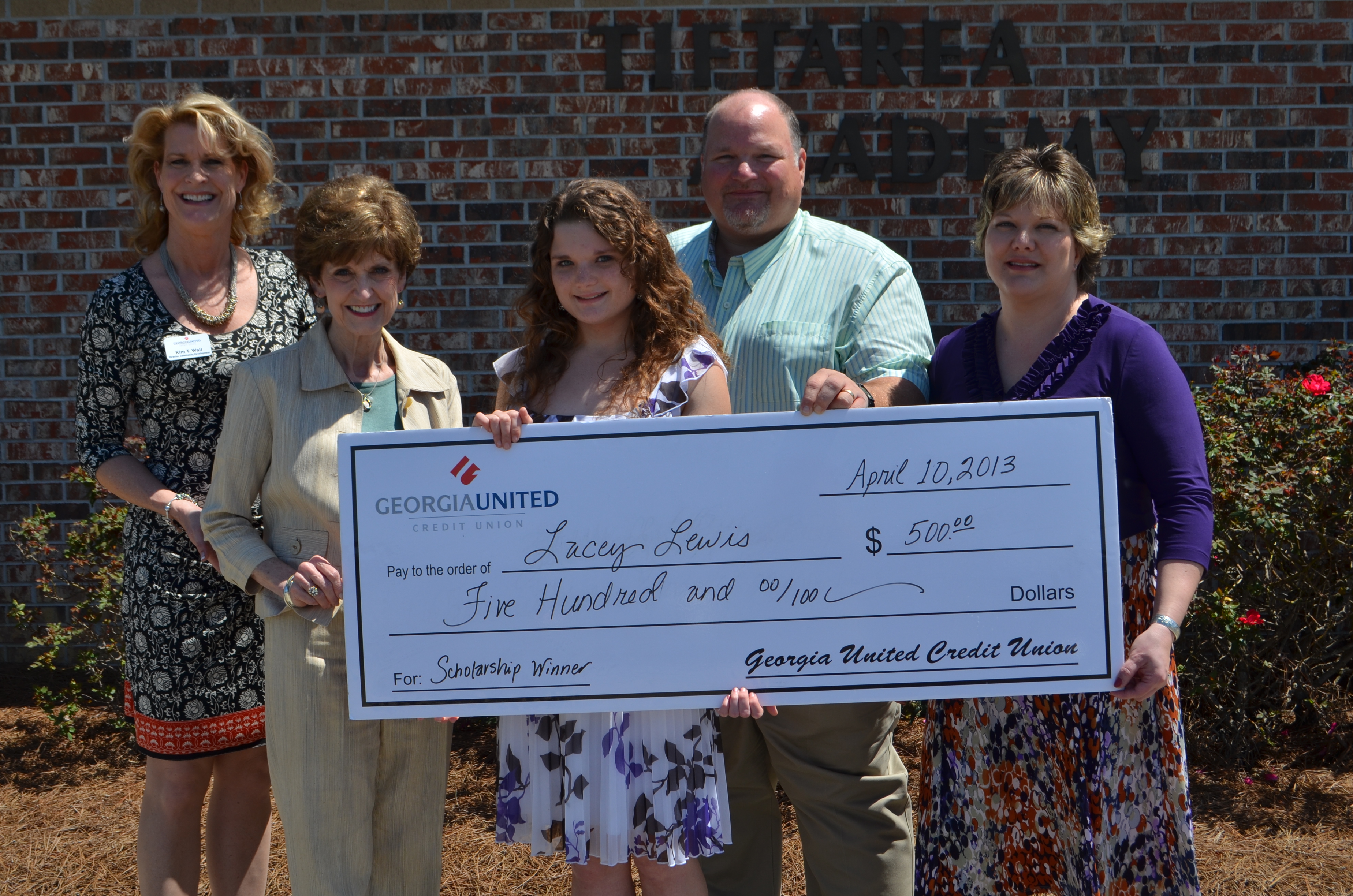 Tiftarea Academy's Lacey Lewis Receives Scholarship from Georgia United Credit Union
TIFTON, GA (April 10, 2013) Georgia United Credit Union is excited to announce the winners for their 2013 scholarship programs.  A total of $12,500 was awarded through the Vernon E. Carne Scholarship program and the Archbishop John F. Donoghue Catholic Scholarship program and disbursed to thirteen high school seniors.  Thanks to all the high school seniors who entered this year's competition as we had a record number of entries!
This is the 19th year that Georgia United has given the Vernon E. Carne Scholarship and the 6th year for the John F. Donoghue Catholic Scholarship. A total of approximately $212,500 has been awarded to high school seniors across the state during the tenure of both programs.  Recipients are chosen based on an essay competition with consideration given to academic accomplishments, leadership and participation in both school and community activities.  The top winners for 2013 were Lindsey Vinson of Westminster Christian Academy in Watkinsville with Tasneem Akbar of Druid Hills High School in DeKalb County as first runner-up.  Locally, Lacey Lewis from Tiftarea Academy was a runner-up scholarship winner and is featured here.

Lacey Lewis, Tiftarea Academy
Lacey Lewis, from Tiftarea Academy in Chula, is a $500 runner-up Georgia United CU Scholarship Winner. She has been accepted to Abraham Baldwin Agricultural College (ABAC) and is a member of the Beta Club, Honor Roll, Drama Club, and recipients of UGA Young Scholars Internship, Math High Honors Award and Citizenship Award.  An active member of the youth group at First Baptist Church in Ashburn, Lacey also volunteers with Special Olympics and mission trips. She is the daughter of Dwane and Kippy Lewis of Ashburn who learned about Georgia United scholarships through their work with GDOT and UGA, respectively.
About Georgia United
Georgia United Credit Union is ranked as one of the top credit unions in Georgia with over $940 million in assets and sixteen branch locations. Their mission is to save members time and money in their personal finances. Georgia United Credit Union is federally insured by the National Credit Union Share Insurance Fund (NCUSIF) up to $250,000 per account.
Georgia United Credit Union serves employees and family members of all State Agencies and county employees in Georgia, Board of Regent schools (including UGA), adult and technical education schools in Georgia, the Catholic Archdiocese in Atlanta, 450 companies, and 10 county school systems.  Additional information may be located at georgiaunitedcu.org or at our media center.
---