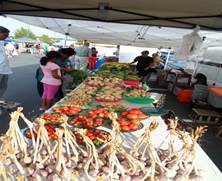 TopLine Federal Credit Union brings financial food for thought to Maple Grove Farmers Market
MAPLE GROVE, MN (November 13, 2014) — The largest outdoor market in the northwest Metro, the Maple Grove Farmers Market offered customers the best in Minnesota produce and other vendor-made specialty items — and a chance to learn about financial fitness at the same time.
TopLine Federal Credit Union was a feature market sponsor each Thursday, from June to October, to promote financially healthy living, along with putting some fun in personal finance, as the market also offered live music, onsite playground with kids programs, free sampling and recipes and other seasonal events.
TopLine provides its members, and the public at-large, an array of financial education opportunities, including free seminars across a variety of topics including: retirement planning, understanding your credit score, identity theft prevention and more, youth financial literacy programs designed for children of all ages, and complimentary financial counseling services. 
The farmers' market—which draws more than 50,000 shoppers annually during its outdoor season—supports more than forty-five locally grown fresh produce and artisanal food vendors from both established farmers and up-and-coming businesses within the local community and from across the state of Minnesota.
"The Maple Grove Farmers' Market is a fun place to connect with our local community neighbors. It's also a great time for TopLine to share important financial tips with a wide range of people — while they're shopping," said Tom Smith, TopLine President and CEO. "TopLine is dedicated to promoting cooperative philosophies and making healthy choices across the board. Whether in food or finances, we believe in offering consumers the resources to lead a happy, healthy life."
TopLine Federal Credit Union, a Twin Cities-based credit union, is Minnesota's 13th largest, with assets of more than $350 million. Established in 1935, the not-for- profit cooperative offers a complete line of financial services, as well as auto and home insurance, from its five branch locations — in Bloomington, Brooklyn Park, Maple Grove, Plymouth and in St. Paul's Como Park — as well as by phone, mobile app and online at www.TopLinecu.com. Membership is available to anyone who lives, works, worships, attends school or volunteers in Anoka, Carver, Dakota, Hennepin, Ramsey, Scott or Washington Counties and their immediate family members.
---