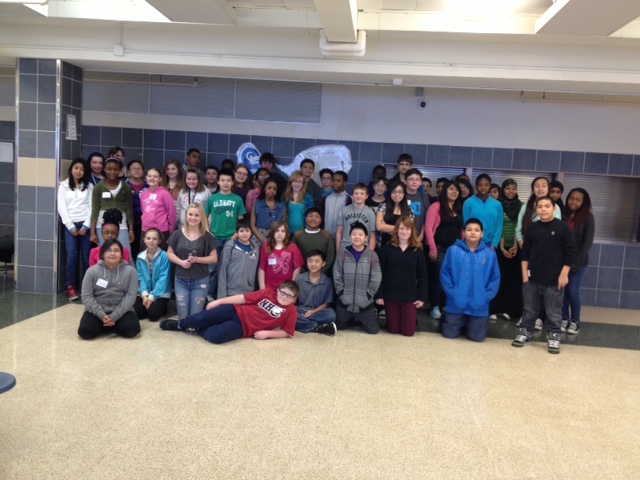 TopLine Federal Credit Union Joins Hennepin Technical College as a Partner for Seven-Year GEAR UP Grant
Seventh graders at Fridley and Robbinsdale Middle Schools just started a college preparatory program that will follow them all the way through high school and into the first year of college.  It's called GEARUP which stands for Gaining Early Awareness & Readiness for Undergraduate Programs.   Hennepin Technical College, Brooklyn Park Campus, and its partnering organizations which includes TopLine Federal Credit Union of Maple Grove applied for and received a GEAR UP grant through the U.S. Department of Education.
The aim of the seven-year grant is to support student academic performance and assist with college preparation, enrollment and achievement.  The grant tracks a cohort of students from seventh grade through their first year of college. The goal? To increase the number of students who are academically and financially prepared for post-secondary programs.
TopLine will help GEAR UP students and their families learn more about post-secondary education options, as well as preparation and financing. Recently, TopLine taught in-school sessions on finance basics to nearly seven hundred area middle school students, and hosted personal management sessions for parents at a resource fair in the Fridley school district. These sessions will continue on a regular basis for the duration of the GEAR UP grant, and will cover basic financial skills, highlighting the benefits of long-term financial planning and promoting the opening and management of savings accounts.
The Gaining Early Awareness and Readiness for Undergraduate Programs (GEAR UP) grant is a discretionary program designed to increase the number of students who are prepared to enter and succeed in post-secondary education. For more on the GEAR UP grant and other community and business partners visit http://www.hennepintech.edu/current/pages/826.
The attached press release contains further details and can also be found on our website under TopLine News & Events/TopLine Press Room and What's New at TopLine.
TopLine Federal Credit Union, a Twin-Cities based community credit union is long known for its commitment to giving back to the community. TopLine also offers free seminars to underscore the importance of essential financial literacy and general money management skills for kids of all ages and adults.  If you'd like to invite a TopLine financial literacy instructor to present at your school or organization call 763-391-0872 or email verickson@toplinecu.com.
---