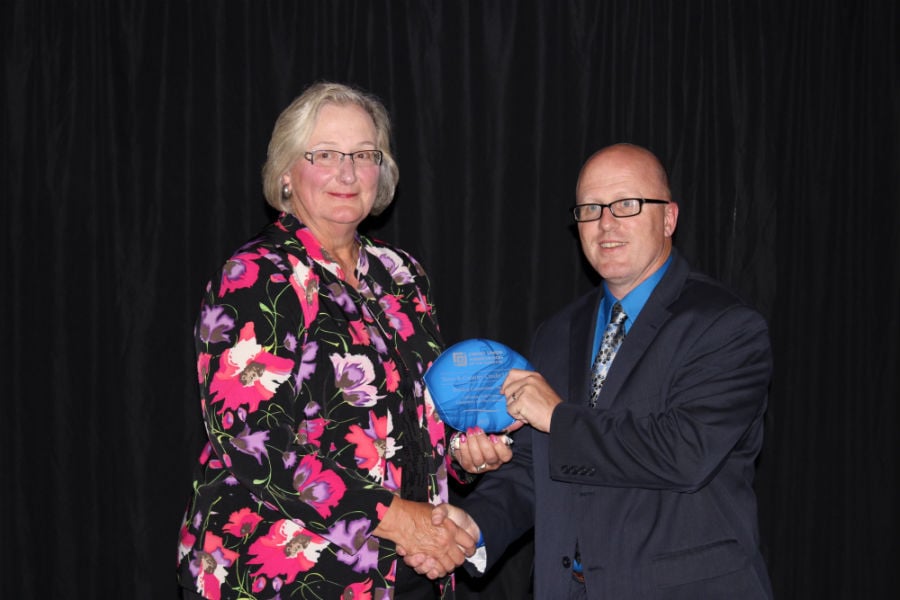 Town & Country CU wins Building Connections Award
BISMARCK, ND (June 24, 2014) — Town & Country Credit Union of Minot, ND was awarded the Building Connections Award during the Credit Union Association of the Dakotas Annual Summit awards banquet held at the Sioux Falls Convention Center in Sioux Falls, South Dakota on June 6, 2014.
This award is given to the credit union that best displays the credit union and coop philosophies promoted by credit unions and cooperatives, and for supporting their communities during National Coop Month and International Credit Union Day.
Photo:  Joanne Lautenschlager, Board of Directors from Town & Country Credit Union accepts the Building Connections Award from CUAD President/CEO Robbie Thompson.
Headquartered in Bismarck, ND, the Credit Union Association of the Dakotas (CUAD) is the professional financial trade association serving 67 credit unions in North and South Dakota with assets in excess of $5.5 billion and serving over 436,000 credit union members. For more information about CUAD visit our website at www.cuad.coop.
---