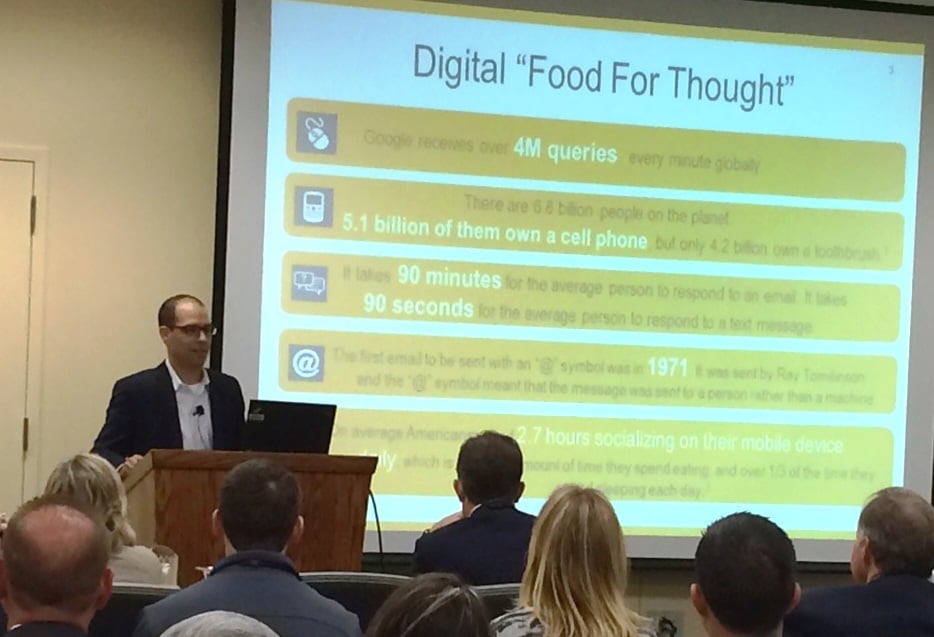 TruStageTM executive to NWCUA: ride the wave of digital marketing Arnold shares TruStage experiences to demonstrate digital concepts, tactics and benefits
SPOKANE, WA (October 9, 2014) — If you don't think you're a digital marketing expert, you're not alone; most people aren't. But with businesses of all kinds riding the digital wave, it's important for credit unions to make sure they're up to speed on this growing marketing trend, CUNA Mutual Group's Stephen Arnold told a Northwest Credit Union Association Amplify Convention audience, Wednesday.
Arnold, vice president of the TruStageTM Auto and Home Insurance Program, gave an overview of digital marketing and offered some compelling statistics that indicate digital is growing and vital for helping businesses stay competitive.
"Digital marketing is essentially defined as the marketing of products or brands using electronic devices," Arnold said. "These devices include personal computers, tablets, and smartphones, and such platforms as email, social media, and apps."
Evolving technology is paving the way for digital marketing. By the end of 2014, 105 million U.S. consumers will own a tablet, according to a 2013 study by Internet Retailer. "That's roughly one-third of the U.S. population, which is helping boost projected online sales for this year to $296 billion," he added.
Sixty percent of the U.S. population shopped or searched online in 2013, up from 52 percent just four years prior, according to a 2013 QuartSoft report. The growth can be attributed to time savings, easy price comparisons, greater variety and lower prices, according to the report.
Businesses are reacting and changing accordingly, Arnold said. North American online ad spending will grow nearly 14 percent annually from 2011-2016, eMarketer predicts. By 2016, it will account for 31.4 percent of all advertising dollars.
Arnold defined and discussed a number of key digital marketing concepts with the breakout session audience, including various types of search engine marketing tactics such as "paid search" and "retargeting."
Arnold shared how TruStage is using digital marketing to reach more credit union members and to work with credit unions as affiliate marketers. "When testing the impact that an online digital retargeting ad had on direct mail, we saw a significant lift in offline results. The power here is integrating the marketing campaigns, and we are in the process of building this program as an ongoing campaign," he said.
Like any technology, digital marketing is evolving rapidly, Arnold added. "While it presents both challenges and opportunities for credit unions, it's important to demystify digital, understand what tactics are available and how they can benefit your credit union."
TruStage insurance empowers credit union members to protect the achievements and aspirations of the people who matter most in their lives. TruStage insurance products include life, auto, homeowners, health and accidental death and dismemberment insurance, which are made available to credit union members through CUNA Mutual Group's MemberCONNECT Program.
TruStage Insurance products and programs are made available through TruStage Insurance Agency, LLC and issued by CMFG Life Insurance Company, a member company of CUNA Mutual Group and other leading insurance companies. The insurance offered is not a deposit, and is not federally insured, sold or guaranteed by credit unions.
CUNA Mutual Group is the marketing name for CUNA Mutual Holding Company, a mutual insurance holding company, its subsidiaries and affiliates. CUNA Mutual Group provides financial security and protection to credit unions and their members worldwide.  With more than 75 years of true market commitment, CUNA Mutual Group's vision is unwavering: To be a trusted business partner that delivers service excellence through customer-focused products and market-driven insight. More information about TruStage is available at www.TruStage.com.
Photo caption: TruStage Vice President Stephen Arnold discusses digital marketing strategies Wednesday, at the Northwest Credit Union Association Amplify Convention.
---