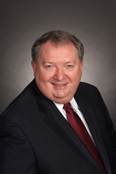 TruStone Financial's Senior Vice President of Information Technology wins Professional of the Year Award
PLYMOUTH, MN (May 7, 2015) –The National Association of Federal Credit Unions has named TruStone Financial's Bob Thompson, Senior Vice President of Information Technology, Professional of the Year.
image002.jpgThroughout Thompson's tenure at TruStone Financial his focus has always been to raise credit union standards for technology, data and information security. Since joining TruStone Financial in 2009, he helped guide the organization through two full-scale system conversions including two dozen ancillary systems in less than three years. During this time he also brought multiple merger and acquisition partners into the TruStone Financial technology fold with updated systems and brand new products.
His foresight of digital technology led to a new design of enterprise-level business continuity architecture which was hailed as gold-standard protection and received a CSO40 award from International Data Group's CSO Magazine. TruStone Financial was the only credit union in the world to make the coveted list. His high-value solution eliminates duplicate licensing costs and most ongoing labor costs, thus providing a better long term investment for the membership.
"The Professional of the Year honor reinforces Bob Thompson as an innovative technology leader," said Hans Iverson, Chief Operating Officer at TruStone Financial. "His innate ability to recognize emerging technologies and implement them in a beneficial way is one of Bob's strongest assets. This recognition is a wonderful capstone to his career." Thompson is set to retire from TruStone Financial in July of this year.
The Professional of the Year award is given out to one federal credit union employee who shows exemplary professionalism and efficacy, commitment to the credit union community and members and demonstrated a willingness to go above and beyond the normal job description.
Thompson will receive his award at NAFCU's 48th annual conference and solutions expo in Montreal, Quebec, Canada June 23-26, 2015.
About TruStone Financial
TruStone Financial is one of the fastest growing credit unions in the Midwest with assets in excess of $1.005 billion and more than 88,000 members worldwide. There are 11 branches across Minnesota and Wisconsin. The credit union is headquartered in Plymouth, Minnesota. More information can be found at TruStoneFinancial.org.
 
About Bob Thompson
Bob grew up in Venice, California, has a business degree from Missouri State and started his career as a programmer of commercial banking software. He founded a software and consulting business providing financial solutions to banks and governments worldwide through Unisys, NCR and others.
His more than 40 years of IT experience includes executive positions at Principal Financial Group, Bank One (now JP Morgan) and Community First Banks (now Bank of the West).  Bob has a fully operational farm in Missouri where he raises cattle.
---