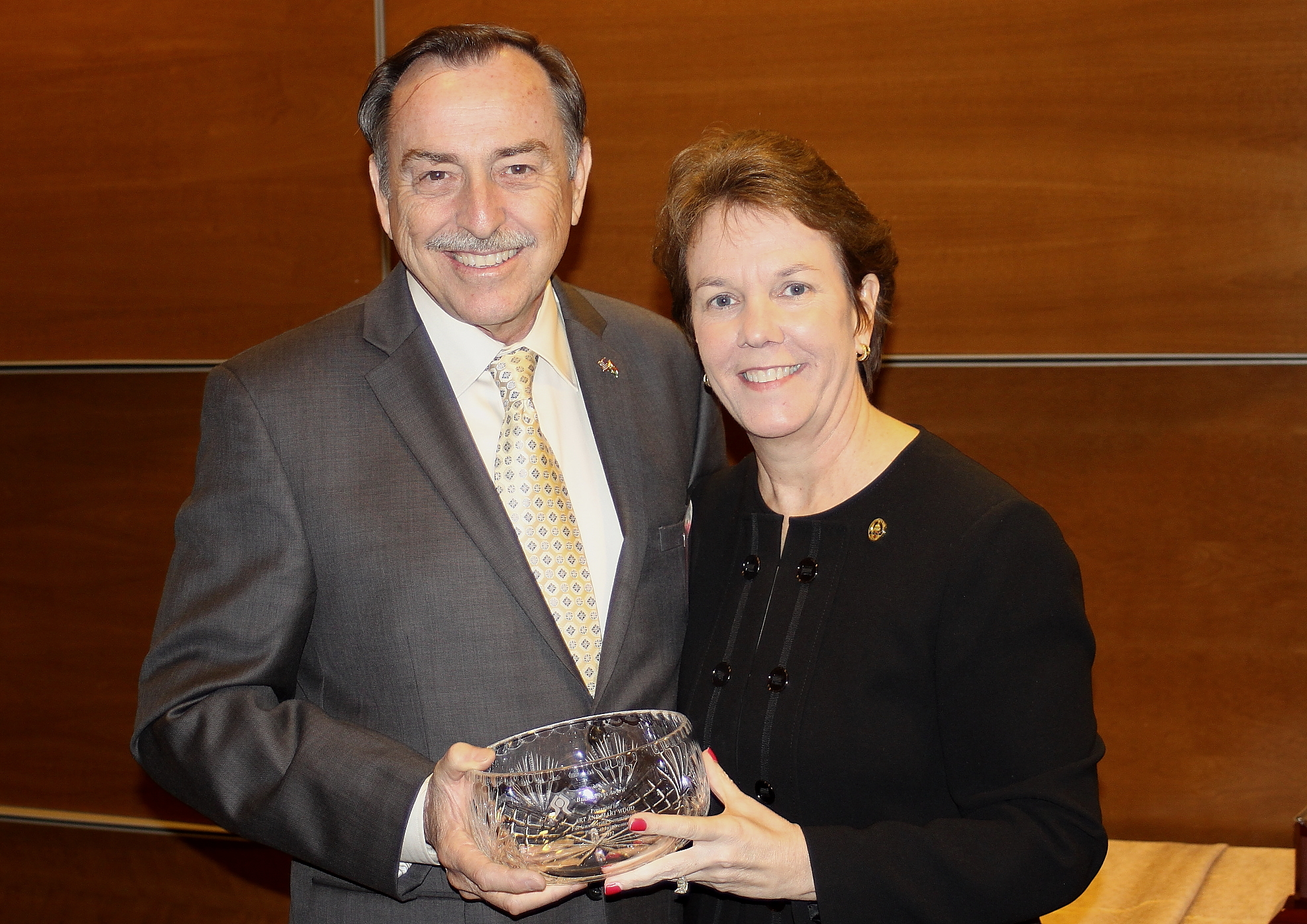 Two Florida Credit Union CEOs win the Buck Levins Award
CUNA hands out award at LSCU reception
BIRMINGHAM, AL/TALLAHASSEE, FL (February. 26, 2013) – The Credit Union National Association presented Art and Mary Wood with the Buck Levins award. The Woods, both CEOs of credit unions in Florida, show a tremendous passion for credit unions in the political arena.
Mary Wood, CEO of Florida West Coast Credit Union in Brandon, FL., is the LSCU Board Chairman, as well as the top Political Action Committee credit union fundraiser for her asset size category. Mary regularly attends the CUNA GAC, Hike the Hill and the LSCU State GAC to ensure credit union issues are discussed with state and federal lawmakers.
Art Wood, CEO of Railroad and Industrial Federal Credit Union in Tampa, just completed his term as the Hillsborough County Republican Committee Chairman. Art was able to use his position as chairman to help credit unions gain access to state and federal lawmakers, particularly the leadership at the state level. Art regularly attends the CUNA GAC, Hike the Hill and the LSCU State GAC.
To illustrate the Woods commitment to the political scene in Florida, current Speaker of the Florida House, Will Weatherford (R-Wesley Chapel), who lives in Tampa, often reaches out to the Woods for their opinion on banking issues. Their advice often influences his vote more than his status as a member of a bank board.
During the 2012 Republican National Convention in Tampa, because of the Wood's close relationship with Florida Attorney General Pam Bondi, the LSCU was able to schedule an hour-long sit down with Bondi to discuss the appointment of a new Commissioner for the Office of Financial Regulation, a position appointed by the Florida Cabinet. For the first time in years the cabinet appointed a commissioner who is much more aware of credit unions and the issues affecting membership.
The Buck Levins award is handed out every year at the CUNA GAC. The award recognizes a credit union league, credit union or credit union individual whose efforts in the political arena have contributed to elevating the political presence of credit unions at the state or national level.
The League of Southeastern Credit Unions represents 285 credit unions in Alabama and Florida with a combined total of $63 billion in assets and more than 6.5 million members. LSCU provides advocacy and regulatory information; education and training; cooperative initiatives (including financial education outreach); media relations and information; and business solutions. For more information, visit www.lscu.coop. Follow the League on Twitter at twitter.com/LeagueofSECUs or Facebook at facebook.com/LeagueofSoutheasternCreditUnions.
---