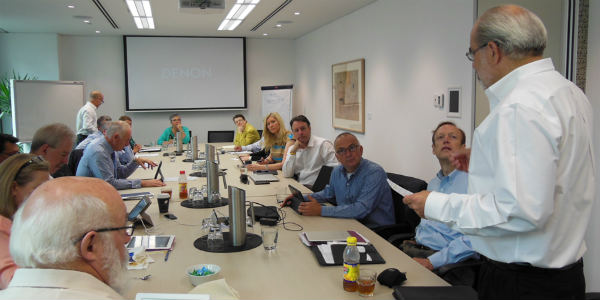 U.S., Canadian and Australian industry leaders discuss collaborative solutions to common challenges
CUNA, CUCC and COBA explore collaborative solutions for international CU system
SYDNEY, AUSTRALIA (October 16, 2013) — Seventeen credit union leaders representing Credit Union Central of Canada (CUCC), the U.S. Credit Union National Association (CUNA), Australia's Customer Owned Banking Association (COBA) and the World Council of Credit Unions convened in Sydney, Australia, last week to collaboratively explore solutions to shared industry challenges.
The weeklong leadership workshop delved into U.S., Canada and Australia key issues of regulatory burden and advocacy challenges, credit union branding, payments and system evolution.
"The challenges are similar, the answers are sometimes different and participants gain new insights from this engagement to apply to their own credit unions and national systems," said Brian Branch, World Council president and CEO. "They also provide World Council with valuable lessons that we can share with the rest of the credit union world who face common regulatory, branding and payments challenges."
Joining Branch in the workshop were Canadian participants from Credit Union Central of Canada (CUCC) David Phillips, president and CEO; Daniel Burns, chairman; Scott Kennedy, director; Loretta Elford, director; Stephen Fitzpatrick, vice president of corporate services and chief financial officer; Wendy King, senior vice president of government relations, general counsel, corporate secretary and chief compliance officer, Central 1 Credit Union; and Michael Leonard, president and CEO, Atlantic Central. U.S. participants from the Credit Union National Association (CUNA) included Bill Cheney, president and CEO; Susan Newton, executive vice president of system relations and AACUL executive director; Patrick Jury, president and CEO, Iowa Credit Union League; Diana Dykstra, president and CEO, California and Nevada Credit Union League; Pat Wesenberg, president and CEO, Central City Credit Union; and Dennis Pierce, CEO, CommunityAmerica Credit Union. COBA hosts included Louise Petschler, CEO; and Mark Degotardi, head of public affairs. Victor Miguel Corro, World Council vice president of the Worldwide Foundation for Credit Unions, coordinated the exchange.
Participants presented their country's top advocacy challenges including taxation, Basel III, anti-money laundering, Foreign Account Tax Compliance Act (FATCA), member business lending and capital. The group identified mutually reinforcing positions and strategies for supporting each other in engaging their respective policymakers. The group collectively discussed directions for World Council's international advocacy efforts to achieve a better legislative and regulatory outcome for credit unions worldwide.
The group reviewed the evolution of the credit union brand in each country and assessed strategies for deeper and quicker popular identification with the credit union brand.
CUNA representatives explained the U.S. vision that Americans choose credit unions as their best financial partner, through removing barriers to the current charter, creating awareness and fostering service excellence. The Australian mutual sector includes credit unions, mutual building societies, mutual banks, cooperative banks and friendly societies. The multinational delegation visited Bank MECU and Victoria Teachers Mutual Bank in Melbourne, two of Australia's largest credit unions to change their name to a mutual bank. Australians explained the history of consumer attitudes and regulatory pressures, which have led to side-by-side operation of credit unions and mutual banks in the cooperative financial institution space. Under the same legislative, taxation and regulatory framework and subject to decreasing consumer awareness, larger Australian credit unions have taken on the name "mutual bank" and share the common theme of "customer owned banking."
Credit union ability to provide payment solutions that respond to consumer demands is a top challenge faced by World Council members and credit unions everywhere. The multinational team workshop reviewed the work of Australian payments agent, Cuscal, to discuss strategies of collaboration or piloting to help position credit unions in payments services to credit unions.
The delegation also examined how shared pressures of regulatory compliance, consumer demands for technology and payments, non-traditional competitors, governance challenges and sustainability of small institutions influence the evolution of each system. They participated in roundtable discussions with the CEOs of the largest five mutuals of the Australian system.
"Consumer awareness and appeal to youth populations have become some of our top challenges everywhere. All three systems are developing outreach, branding and payments strategies to expand market share. By sharing the pressures, challenges and strategic decisions with each other, we are stronger as a global network," Branch said.
World Council of Credit Unions is the global trade association and development agency for credit unions. World Council promotes the sustainable development of credit unions and other financial cooperatives around the world to empower people through access to high quality and affordable financial services. World Council advocates on behalf of the global credit union system before international organizations and works with national governments to improve legislation and regulation. Its technical assistance programs introduce new tools and technologies to strengthen credit unions' financial performance and increase their outreach.
World Council has implemented more than 290 technical assistance programs in 71 countries. Worldwide, 56,000 credit unions in 101 countries serve 200 million people. Learn more about World Council's impact around the world at www.woccu.org.
---