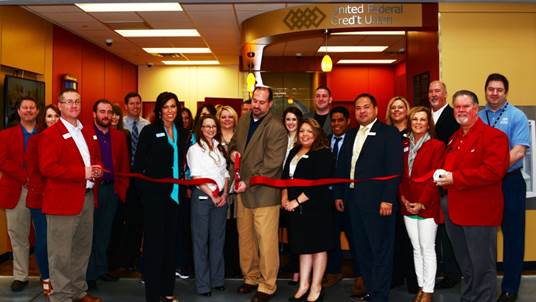 UFCU brings state-of-the-art branch to Springdale
SPRINGDALE, AR (March 19, 2015) — United Federal Credit Union's (UFCU) first in-store branch in Arkansas is designed for Member convenience with extended hours and the latest in technology.
The grand opening of the UFCU branch inside the Walmart Supercenter, 4870 Elm Spring Road, Springdale, Arkansas, took place on Monday, March 16, 2015. It is the credit union's first branch in the northwest section of the state.
"With so many members in Northwest Arkansas, we wanted to locate here for their convenience," said Market VP Noel Sanger. "As we continue to grow our credit union footprint throughout Arkansas, we will also continue to provide our members with additional options and flexibility."
The branch is equipped with technology that connects members at the in-store branch with UFCU mortgage, investment and business lending advisors in other locations using life-size 3D, real-time video communications and theater-quality sound.
"If you haven't checked out UFCU's state-of-the-art technology, make sure you do!" said Perry Webb, director of the Springdale Chamber of Commerce.
Tori Weathers is the manager of the new branch, which offers extended hours of service for members who shop in the evening and on weekends. It is open Monday through Friday from 9 a.m.-7 p.m., and on Saturday from 9 a.m.-2 p.m. An ATM, located outside of the branch lobby, is accessible from inside the Walmart Supercenter, which is open 24 hours.
Also on hand for the grand opening and ribbon-cutting ceremony was pro fisherman Greg Bohannan who passed out information about the credit union and signed autographs.
About UFCU
United Federal Credit Union has served its Members since 1949 by helping them to build a sound financial future. UFCU consists of more than 130,000 Member/owners worldwide, and manages assets in excess of $1.83 billion. Its corporate offices and main branch are located in St. Joseph, Mich., with additional branches in Arkansas, Indiana, Michigan, North Carolina, Nevada, and Ohio.
---