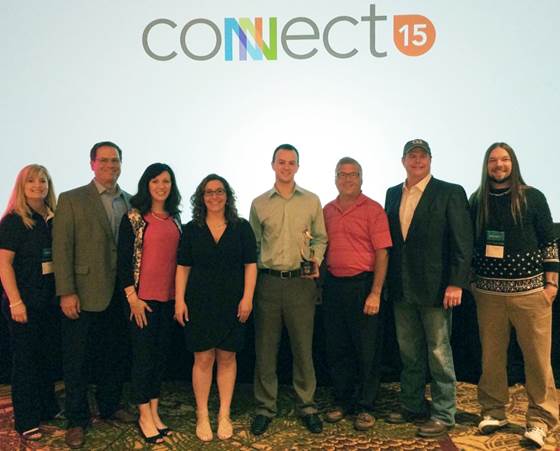 UFCU eCommerce Technology wins Innovation Award
JOSEPH, MI (May 3, 2015) — United Federal Credit Union (UFCU) eCommerce Technology has been awarded the Q2 2015 Innovation Award. The award is for a redesigned enrollment process developed by UFCU and cloud-based virtual banking solutions provider Q2 for accepting electronic statements.
The process change was needed because of an E-Sign Act requirement stipulating that consumers sign themselves up if they are willing to accept electronic statements. Prior to the Act's passage, UFCU staff could complete the process at the Member's request. The self-enrollment requirement dramatically reduced the number of UFCU Members who signed up for eStatements because the process was difficult and the option was not highly visible on the credit union's online banking site.
UFCU's innovative change made the process simpler and more noticeable by reducing the number of steps to enroll and byprompting Members to accept eStatements when they sign up for online banking. Members already enrolled in online banking receive a single prompt when visiting the online banking site.
"When we changed the process, it became easier to enroll and Members became more aware of the option," said Shawn Birch, UFCU's vice president of Information Technology. "As a result, the number of Members enrolling for eStatements when signing up for online banking increased by more than 80 percent, while 61 percent of Members already using online banking opted to receive eStatements after being prompted."
The change was also cost effective, creating a yearly savings for UFCU of more than $180,000 by reducing the number of paper statements processed each month.
UFCU representatives accepted the Innovation Award on April 28 in Austin, Texas, at Q2's annual client conference where more than 400 senior management and C-level leaders from various community and regional financial institutions were gathered.
About UFCU
United Federal Credit Union has served its Members since 1949 by helping them to build a sound financial future. UFCU consists of more than 130,000 Member/owners worldwide, and manages assets in excess of $1.83 billion. Its corporate offices and main branch are located in St. Joseph, Mich., with additional branches in Arkansas, Indiana, Michigan, North Carolina, Nevada, and Ohio.
Photo caption: UFCU and Q2 representatives accepted the award at the Connect 15 conference in Austin, TX. Pictured (left to right) are Stephanie Dawson, Q2; Steve Soukup, Q2; Brittany Grasley, UFCU; Carly McNeilus, UFCU; Matt Eifler, UFCU; Duane Nelson, UFCU; Hank Seale, Q2; and Harvey Wanier, Q2
---