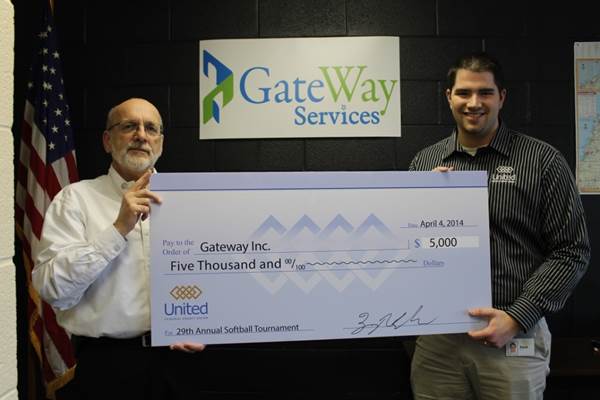 United Federal Credit Union becomes first Platinum Sponsor of Gateway Softball Tournament
BERRIEN SPRINGS, MI (July 15, 2014) — United Federal Credit Union has gone to bat in a big way for Gateway Services' annual A Play for Gateway Softball Tournament. UFCU's $5,000 donation is the first time in the softball tournament's 29-year history that it will have a Platinum-level corporate sponsor.
"We are proud to add to the important legacy of this event that has become a community tradition," said Zach Book, UFCU Branch Manager in Berrien Springs. "The funds raised during the two-day softball tournament are instrumental in helping Gateway offer the support they provide to the special needs folks and their families in our community."
The 12-game softball tournament features corporate teams from across southwest Michigan – including UFCU's match against a rival credit union. The games provide fun for the whole family and are completely unpredictable because anything goes – for the right price. For a few extra donation dollars, umpires can be bribed to bend the rules and opposing players can be forced to run the bases wearing props like diving fins and hula skirts or use alternate batting equipment like plastic rakes and tiki torches.
Gateway Services is a United Way Partner Agency that uses the softball tournament as its primary fundraising event each year. Partners, like UFCU, help Gateway promote positive and sustained change for individuals with disabilities and other barriers.
"United Federal Credit Union has really stepped up to the plate for Gateway by becoming the event's first title sponsor and has set the mark for other businesses in our community," said Emil Gallay, Gateway Executive Director. "This year the proceeds will go towards automating our heavy paper-based systems. Our concept is to have staff use smart electronic devices to log time, participant activities and participant production numbers so the data is digitized and more easily accessible to our local agencies and our internal systems."
The 29th annual A Play for Gateway Softball Tournament will be held July 25-26, 2014 at Plannger's Field in Benton Township, Michigan.
About UFCU
United Federal Credit Union has served its Members since 1949 by helping them to build a sound financial future. UFCU consists of more than 120,000 Member/owners worldwide, and manages assets in excess of $1.57 billion. Its corporate offices and main branch are located in St. Joseph, Mich., with additional branches in Arkansas, Indiana, Michigan, Nevada, North Carolina, and Ohio. UFCU has been named the Michigan Credit Union League Outstanding Credit Union of the Year 2013. UFCU has also been named the National Federal Credit Union of the Year 2013 by the National Association of Federal Credit Unions.
About Gateway
Gateway is a 501(c)3 private not-for-profit community rehabilitation organization incorporated in the state of Michigan, providing habilitation and rehabilitation services to children, teens, adults and their families. We enable people with disabilities and other barriers to achieve their potential through therapeutic services, vocational opportunities, training, community life skills and other supports.
Lou Ann Schafer
Director of Advertising & PR
United Federal Credit Union
2807 S. State Street
St. Joseph, MI 49085
O: 269.985.4855
M: 269.944.8547
---