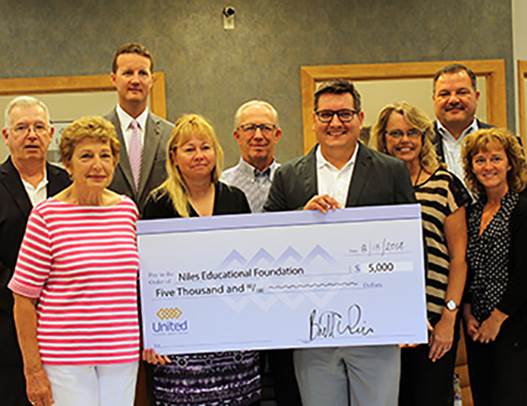 United Federal Credit Union becomes largest sponsor of Niles Education Foundation gala
ST JOSEPH, MI (August 28, 2014) — United Federal Credit Union (UFCU) stepped up in a big way for the Niles Education Foundation. UFCU donated $5,000 to the education foundation's first-ever district-wide fundraiser – making the credit union the largest and the only gold-legend sponsor of the gala.
The mission of the Niles Education Foundation is to acquire and grant resources exclusively for the Niles Community Schools. The resources are used for programs and projects aimed at enhancing, enriching and supplementing learning opportunities for students, staff and community.
"We are very committed to Niles Community Schools and education in general," said Brett Wier, UFCU Market Vice President. "Having an opportunity to partner with the Niles Education Foundation and help them support education in the community is an easy decision for us."
The event, "Tribute to Viking Legends," was held on August 23 to honor two of Niles High School's iconic athletic figures – former Vikings coach and athletic director Ed Weede and former physical education teacher Peg Parrot.
In total, the event raised more than $40,000 – led by UFCU's generous donation.
About UFCU
United Federal Credit Union has served its Members since 1949 by helping them to build a sound financial future. UFCU consists of more than 120,000 Member/owners worldwide, and manages assets in excess of $1.57 billion. Its corporate offices and main branch are located in St. Joseph, Mich., with additional branches in Arkansas, Indiana, Michigan, Nevada, North Carolina, and Ohio. UFCU has been named the Michigan Credit Union League Outstanding Credit Union of the Year 2013. UFCU has also been named the National Federal Credit Union of the Year 2013 by the National Association of Federal Credit Unions.
---