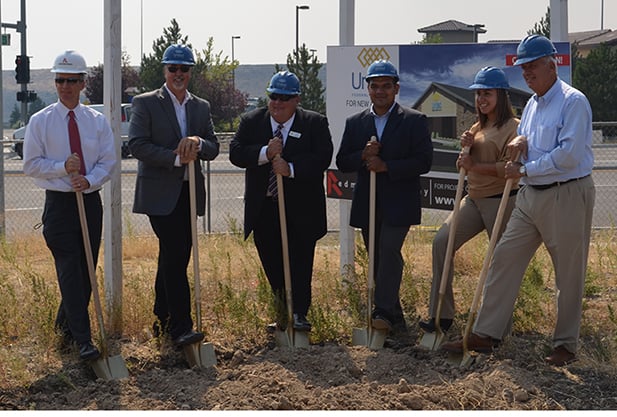 United Federal Credit Union Breaks Ground on New $2 Million Full-Service Branch for Residents in Northwest Reno
RENO, NV (September 5, 2013) — On Wednesday September 4, 2013, United Federal Credit Union (UFCU) broke ground on a new 6,500 square foot branch at 980 Ambassador Dr. in Reno, Nev. On hand to see the plans unveiled were community leaders, dignitaries, and representatives from the media.
"With the addition of this full service location, we'll be able to improve our service to existing Members, and provide a better service option to potential Members and businesses in Northwest Reno," said Danny DeLaRosa, UFCU Vice President of  Member Relations for Nevada.
The new and enhanced facility will be full-service, featuring multiple drive-thru lanes, an ATM, and a large Member service area. The branch will have ten offices for UFCU employees to serve Members. It will also accommodate a mortgage loan officer and business service advisor.
In recent years, Northern Nevada has seen a resurgence in both retail and employment opportunities. "In particular, the housing market made substantial gains and we've seen growth in the number of small businesses in the area. We are proud to be part of that success and look forward to continuing our support for families and businesses in Reno and Sparks," added DeLaRosa. "UFCU is committed to this community and our Members are seeing the benefits."
More than 50 individuals attended the ground breaking event, including Chamber Executive Director Len Stevens. Stevens praised UFCU for fulfilling the needs of the community by expanding its presence in the northwestern suburbs of Reno. He also cited other examples of the city's growth and expansion initiatives.
UFCU's Branch Manager Tim Linville reaffirmed the Chamber's sentiments. "We're excited to see the plans for our Northwest branch become a reality. Not only will it offer a better banking experience for Members, it will promote regional growth and benefit all who live or work in our area."
When complete, the $2 million project will give the residents of Northwest Reno greater convenience and more banking choices. The construction management company is The Redmond Company (Waukesha, Wis.) and all work will be completed by subcontractors from the region. Branch construction is set to begin immediately, and the expected opening date is spring of 2014.
Supporting the communities it serves is a core value for UFCU. "We're always looking for ways we can better serve and benefit our local communities," concluded DeLaRosa.
Membership to UFCU is open to anyone living or working in the northern 13 counties of Nevada. Residents, local business, and their employees will enjoy access to lower cost financial services and improved service options.

About UFCU
United Federal Credit Union has served its Members since 1949 by helping them to build a sound financial future. UFCU consists of more than 120,000 Member/owners worldwide, and manages assets in excess of $1.57 billion. Its corporate offices and main branch are located in St. Joseph, Mich., with additional branches in Arkansas, Indiana, Michigan, North Carolina, Nevada, and Ohio. UFCU has been named the Michigan Credit Union League Outstanding Credit Union of the Year 2013. UFCU has also been named the National Federal Credit Union of the Year 2013 by the National Association of Federal Credit Unions.
---