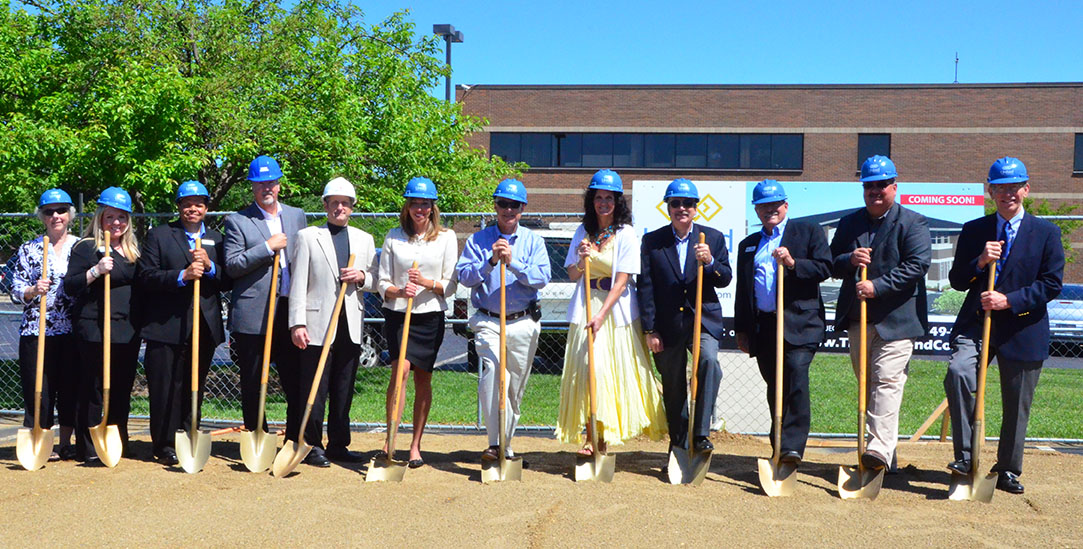 United Federal Credit Union breaks ground on new branch in St. Joseph
ST. JOSEPH, MI (June 13, 2014) — United Federal Credit Union (UFCU) President/CEO Gary Easterling joined J.B. Hoyt, UFCU Chairman of the Board, as they broke ground on the construction of their new branch in St. Joseph, Michigan. In attendance at the event were Congressman Fred Upton, State Representative Al Pscholka, Executive Vice President of Cornerstone Alliance Tammie Howard, St. Joseph City Commissioner Mary Goff, UFCU Board Members and Strategic Leadership Team, along with additional representatives of Cornerstone Chamber of Commerce and members of the Chamber Board and Ambassadors.
The existing branch, currently located inside the corporate headquarters building, will be replaced with the new stand-alone branch located on the same property at the corner of South State Street and Midway Avenue. Easterling stated, "Our new branch with 25 employees offers the full suite of Member services: teller services, auto and mortgage lending, business services, and investment planning. We will enhance our Member's convenience through our expanded drive-thru capabilities, and the branch design will incorporate enhanced service and new technology solutions for our Members in an inviting environment."
When the new St. Joseph branch is complete in February 2015, the corporate headquarters, located next to the new branch, will be expanded and improved to house UFCU's growing workforce. Currently, United Federal Credit Union employs more than 350 people in southwest Michigan and has significant growth plans over the next five years. The corporate headquarters expansion project is scheduled to be complete by August 2015.
On May 8, 2014, UFCU also broke ground on a new operations center in Niles, Michigan.  The 20,000 square foot Niles facility will help UFCU better serve Members throughout Berrien County. Having several sizeable work locations in the county will assist UFCU in attracting and retaining talented employees who already live throughout the Michiana area. By creating several modular campuses, rather than a single, large headquarters building, UFCU is positioned to remain flexible and to better adapt to the changing market conditions.
"We're very excited about all of our new construction projects across the country, but especially here in Berrien County. It's our home. I would like to thank the staff and the UFCU Board of Directors who spent many hours in the planning of these projects. The future of United Federal Credit Union is extremely bright and we are proud to make these investments in southwest Michigan," Hoyt said.
Additional information can be found at www.unitedfcu.com.
Photo caption left to right:
Mary Goff, St. Joseph City Commissioner
Emily Szymkiewicz, UFCU St. Joseph Branch Manager
James Knight, UFCU Market Vice President
Scott Winger, UFCU Director of Property Management
Tim Levene, Redmond Company Architect
Stacy Grewe, UFCU Vice President of National Sales and Service
Congressman Fred Upton
Tammie Howard, Cornerstone Chamber of Commerce Executive Vice President
J.B. Hoyt, UFCU Chairman of the Board
Gary Easterling, UFCU President/CEO
John Rajewski, UFCU Board of Directors
Anson Lovellette, UFCU Board of Directors
About UFCU
United Federal Credit Union has served its Members since 1949 by helping them to build a sound financial future. UFCU consists of more than 120,000 Member/owners worldwide, and manages assets in excess of $1.57 billion. Its corporate offices and main branch are located in St. Joseph, Mich., with additional branches in Arkansas, Indiana, Michigan, Nevada, North Carolina, and Ohio. UFCU has been named the Michigan Credit Union League Outstanding Credit Union of the Year 2013. UFCU has also been named the National Federal Credit Union of the Year 2013 by the National Association of Federal Credit Unions.
---