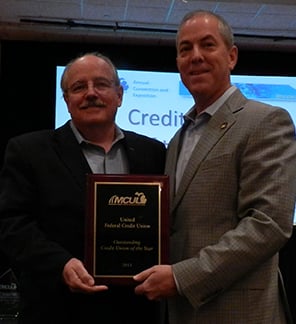 United Federal Credit Union Creates $5,000 Lake Michigan College Business Scholarship Fund with Award Prize Money
ST. JOSEPH, MI (May 23, 2013) United Federal Credit Union (UFCU) President/CEO Gary Easterling announced that UFCU created a $5,000 scholarship fund for Lake Michigan College (LMC) students pursuing a degree in business. Easterling made the announcement during his acceptance speech of the Michigan Credit Union League (MCUL) Outstanding Credit Union of the Year Award at the MCUL Annual Convention and Exposition in Detroit. UFCU received a $5,000 prize as part of the award and chose LMC as the recipient.
"This business scholarship recognizes United Federal Credit Union's commitment to the success of Lake Michigan College and its students," stated UFCU President/CEO Gary Easterling. "It is intended to help a student get started on a path to a better job, a career, and a better life, while at the same time, strengthening our community by helping to build a better workforce for the future."
In addition to the recognition from the MCUL on being named MCUL Outstanding Credit Union of the year, UFCU received $5,000 for a Michigan college or university to be donated to the recipient of UFCU's choice or to a Michigan-based charitable organization of choice. A $1,000 scholarship will be distributed to one business student each year for the next five years. Lake Michigan College Students can apply for the UFCU business scholarship at lakemichigancollege.edu/scholarships
The MCUL Outstanding Credit Union of the Year Award recognizes an individual credit union for its outstanding achievements in the areas of financial strength and performance, new and improved services to Members, new activities or programs, financial literacy efforts, community involvement, community service, legislative advocacy, and public relations marketing.
UFCU became a trailblazer in 2012 when it made the historic purchase of the assets of Griffith Savings Bank in Griffith, Indiana, marking the first time a federally-chartered credit union purchased the assets of a state-chartered FDIC-insured mutual savings bank.
In the award criteria for outstanding achievements in financial strength, UFCU had a great financial year by exceeding its own goals for loans and deposits in a challenging economic climate. In the areas of community service and involvement, UFCU employees demonstrated their commitment to community development by participating with, serving, and donating to organizations in Michigan. UFCU received many awards in 2012, with the common underlying theme focusing on its Members and the community.
The Michigan Credit Union League (MCUL) Annual Convention and Exposition awards ceremony took place May 18.
About UFCU
United Federal Credit Union has served its Members since 1949 by helping them to build a sound financial future. UFCU consists of more than 118,000 Member/owners worldwide, and manages assets in excess of $1.5 billion. Its corporate offices and main branch are located in St. Joseph, Mich., with additional branches in Arkansas, Indiana, Michigan, North Carolina, Nevada, and Ohio. UFCU has been named the Michigan Credit Union League Outstanding Credit Union of the Year 2013.
---