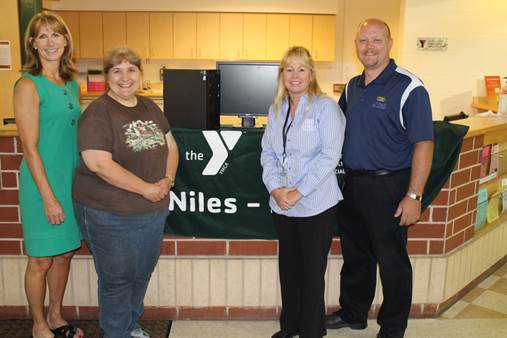 United Federal Credit Union donates computer workstations to enhance Niles-Buchanan YMCA education programs
NILES, MI (August 19, 2014) — Continuing its effort to find unique ways of supporting local community organizations, United Federal Credit Union (UFCU) leveraged one of its recent technology upgrades to benefit the Niles-Buchanan YMCA. UFCU donated five computer workstations – including PCs, monitors, keyboards and mice – that will help the Niles-Buchanan YMCA add technology instruction and programming to its Learning Tree Preschool, Babysitting area and After-School program.
"It can be costly for non-profit organizations like the YMCA to try and keep up with the latest technology trends in the marketplace," said Lorrie Vallance, UFCU Niles Branch Manager. "Because UFCU goes through several planned technology upgrades to support our Members' banking needs, it makes sense for us to find second homes for the equipment we replace instead of just throwing it out. This makes the technology donation not only eco-friendly, but community-friendly. "
United Federal Credit Union has a long history of supporting charitable and non-profit organizations in each community it serves. UFCU employees are encouraged to identify potential needs in their community and make a request for donation dollars or items. Each staff member also receives eight hours per year of paid time off so they can volunteer and stay active in community-outreach programs and events.
"It is so exciting to have the computers from United Federal Credit Union," said Denise Peters, Vice President of Programs at the Niles-Buchanan YMCA. "They provide us with the opportunity to expound on our educational programs in a way that makes learning interactive, engaging and fun for our kids. We are grateful for the support and commitment UFCU continues to make to the YMCA and to our community."
About UFC
United Federal Credit Union has served its Members since 1949 by helping them to build a sound financial future. UFCU consists of more than 120,000 Member/owners worldwide, and manages assets in excess of $1.57 billion. Its corporate offices and main branch are located in St. Joseph, Mich., with additional branches in Arkansas, Indiana, Michigan, Nevada, North Carolina, and Ohio. UFCU has been named the Michigan Credit Union League Outstanding Credit Union of the Year 2013. UFCU has also been named the National Federal Credit Union of the Year 2013 by the National Association of Federal Credit Unions.
About the Niles-Buchanan YMCA
The Niles-Buchanan YMCA is a volunteer-led public charity 501(c)(3) that works collaboratively with community partners to improve the lives of children, adults, families, and the entire community. The YMCA strives to strengthen and enrich the development of individuals and families through quality programs and services that build a healthy spirit, mind, and body for all.
Photo caption from left to right: YMCA V.P. of Programs Denise Peters, Learning Tree Pre-School Director Kimberly Snouwaert, UFCU Niles Branch Manager Lorrie Vallance, UFCU Deskside Support Technician Jeff Wagner
---