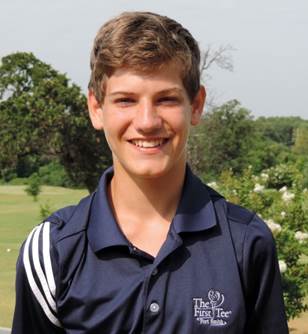 United Federal Credit Union helps send teen to Pebble Beach to play with the pros
ORT SMITH, AR (September 23, 2014) — Patience pays off. It is true when investing your money and it is true when investing your time.
No one knows that better than 17-year-old Ian Bellisario who, thanks to a program supported by United Federal Credit Union, will be playing with pro golfers in a tournament at the famed Pebble Beach Golf Course in Monterey, California. The Nature Valley First Tee Open is an official Champions Tour event on September 26-28 and will be televised on the Golf Channel.
UFCU Market VP Noel Sanger is the treasurer of The First Tee of Fort Smith and spearheads the Credit Union's support for the organization.
"First Tee of Fort Smith is an organization that teaches young people life-long skills through the game of golf," Sanger said. "These kids learn to face challenges at home, school and play in a constructive manner. They learn that it takes patience to develop a skill, and that hard work pays off. United Federal Credit Union is happy to have such a positive impact on their lives."
Bellisario and the 80 other juniors who participate at Pebble Beach will be teamed with 81 Champion Tour players and 162 amateurs as they compete for the pro-junior title. Bellisario was selected by a national panel of judges who evaluated playing ability, and comprehension of the life skills and character education learned through their involvement with The First Tee.
"I am recognized as a leader by my peers and adults both on and off the course," Ian said. "I have learned to maintain my composure on the course no matter how the round is going and help my teammates relax and stay on game."
"Ian came to us at age 10 with very little knowledge about the game of golf. Now he is a volunteer coach and mentor to younger players and is on track to play golf in college," said Kris Scott, the executive director of The First Tee of Fort Smith. "We are incredibly grateful to United Federal Credit Union and our other sponsors for supporting this program."
Champion Tour players committed to play include two-time Nature Valley First Tee Open winner and defending champion Kirk Triplett, Charles Schwab Cup contenders Jay Haas and Kenny Perry, and a number of World Golf Hall of Fame members.
"I will be playing alongside some of golf's greatest players. This will be a life changing experience for me," said Bellisario.
The tournament starts on Friday, September 26 and the final round will be played on Sunday, September 28.
United Federal Credit Union has served its Members since 1949 by helping them to build a sound financial future. UFCU consists of more than 120,000 Member/owners worldwide, and manages assets in excess of $1.57 billion. Its corporate offices and main branch are located in St. Joseph, Mich., with additional branches in Arkansas, Indiana, Michigan, North Carolina, Nevada, and Ohio.
---