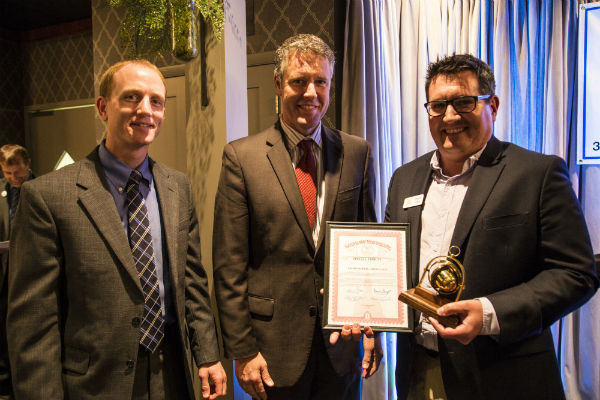 United Federal Credit Union named Business of the Year by Four Flags Chamber
NILES, MI (April 20, 2015) — United Federal Credit Union (UFCU) has been named Business of the Year by the Four Flags Area Chamber of Commerce. The announcement came at the Chamber's annual meeting in Niles, Michigan, on Thursday, April 16, 2015.
The award is presented annually to a business that made a significant impact in the Four Flags area the preceding year. In 2014, UFCU broke ground on a 20-thousand square foot corporate office building at 2102 S. 11th Street, creating temporary construction jobs and increasing the local tax base. The building was completed in February of this year.
"We want to thank United Federal Credit Union for locating its new office building in Niles Township and helping to stimulate the economy," said Tyanna Weller, President/CEO, Four Flags Area Chamber of Commerce. "But that is not the only reason the credit union received this award. We also selected United Federal Credit Union based on its business performance, innovative practices, support of local nonprofit organizations and volunteer contributions."
"We are grateful to the Four Flags Chamber of Commerce and its members for selecting us to be honored," said UFCU President/CEO Gary Easterling. "We take pride in our roots in southern Berrien County, the former headquarters of the Clark Equipment Company. Employees of Clark and the Whirlpool Corporation laid the foundation for the credit union we are today."
The former Clark Equipment Company and Whirlpool Corporation employees' credit unions merged in 2006 under the name United Federal Credit Union. Since then, UFCU's membership has increased by 81 percent and its assets have more than doubled making it the one-hundredth largest federally-insured credit union in the nation, according to the National Credit Union Association.
About UFCU
United Federal Credit Union has served its Members since 1949 by helping them to build a sound financial future. UFCU consists of more than 130,000 Member/owners worldwide, and manages assets in excess of $1.83 billion. Its corporate offices and main branch are located in St. Joseph, Mich., with additional branches in Arkansas, Indiana, Michigan, North Carolina, Nevada, and Ohio.
---