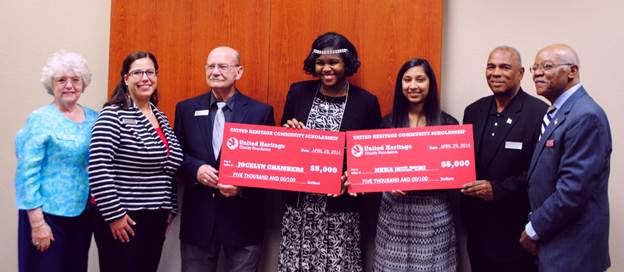 United Heritage Community Scholarships awarded
$10,000 in Scholarships Awarded to Austin-Area Students Jocelyn Chambers and Neha Mulpuri
AUSTIN, TX (May 7, 2014) — On April 29, 2014, the United Heritage Community Scholarship Committee presented $5,000 scholarships to Jocelyn Chambers and Neha Mulpuri. The two Austin-area high school seniors were selected based on their outstanding community service, extracurricular activities, academic performance and demonstrated commitment to the Credit Union philosophy of "People Helping People."
The Scholarship Committee considered a great number of applications before selecting Ms. Chambers and Ms. Mulpuri as the 2014 United Heritage Community Scholarship recipients. "Both recipients are great examples of what the Scholarship Committee and the Charity Foundation are looking for when making their selections. We are very excited to see where their journeys take them," stated United Heritage Charity Foundation Chairman, May Lofgreen.
Jocelyn Chambers plans to attend the University of Texas Butler School of Music where she will begin her work to become a professional composer. She is a two-time winner of the Texas Young Composer Competition sponsored by the Austin Symphony. The volunteer experience she treasures most is the work she has done at Discovery Camp in Columbus, Texas. She has served as an intern at the camp every summer since she was 13-years old. Chambers is looking forward to the new experiences and people she will encounter at college.
Neha Mulpuri, a Vandegrift High School senior, has been accepted into a Bachelor of Arts and Doctor of Medicine collaborative education program at the University of Texas at Dallas and University of Texas Southwestern Medical School. Mulpuri has known since she was a little girl that she wanted to be a doctor. She is lead volunteer at Lakeway Regional Medical Center, where she assists patients, greets visitors and helps coordinate volunteer activities. She values giving back to the community and has been a volunteer at Longhorn Village retirement community since she was a sophomore in high school. Mulpuri plans to continue her volunteer involvement and interest in music throughout her college career.
The mission of the United Heritage Community Scholarship Committee is to help grow and support service-oriented young people with a strong focus on higher education. More than $70,000 in scholarships has been awarded and 19 scholarship recipients honored over the 14-year scholarship history.

About United Heritage Charity Foundation
Founded in 2003, the United Heritage Charity Foundation was developed as a 501(c)(3) to support projects and organizations within local communities and, since its inception, has distributed over $1.1 million. The Charity Foundation's goals are to support participation in events that make communities a better place to live, work and attend school; support education initiatives and medical research; better the lives of sick and neglected children and their families during their times of need; and establish a presence in the community. www.uhcf.org
---