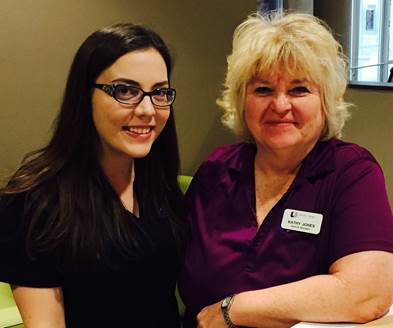 Unity One employees complete Community Ambassadors Program
FORT WORTH, TX (April 30, 2015) — Unity One Credit Union is pleased to announce Alyssa Guillory, director of community and public relations, and Kathy Jones, North Tarrant branch manager, have recently completed the Keller Independent School District (ISD) Community Ambassadors program.
The Keller ISD Board of Trustees launched the Community Ambassadors program in the Spring of 2013. The program offers members of the community an opportunity to view the district from inside out. This program features interactive presentations on topics such as: governance and finance, corporate communications and technology.
"Unity One is actively involved with many schools and student organizations throughout the Keller ISD," said Alyssa Guillory, director of community and public relations.
"We value these partnerships and are focused on serving the needs of the teachers and students within the district. This four month program provided an invaluable opportunity to connect with district leaders, as well as an opportunity to learn more about the services the Keller ISD provides," she said.
Unity One currently operates a credit union branch at Fossil Ridge High School, located in the Keller ISD. In addition to the high school branch, employees of the credit union are constantly providing financial education resources and outreach efforts to the district's students and teachers.
About Unity One Credit Union
Established in 1927, Unity One Credit Union is the oldest credit union in Texas. A member-driven and not-for-profit cooperative, Unity One CU served the employees and families of the BNSF Railway for 70 years. However, after transferring its corporate headquarters to Fort Worth in 1998, the credit union expanded its field of membership to include other non-railroad companies, organizations and individuals.
 
Today, anyone who lives, works, worships or attends school in Fort Worth, Blue Mound, Saginaw, Haslet, Keller, Colleyville, Bedford, North Richland Hills, Southlake, St. Paul, MN and Kansas City, KS may apply for membership. Unity One CU has seven branches to serve over 30,000 members nationwide. For more information about Unity One Credit Union, visit www.unityone.org. Think outside the bank.™
---