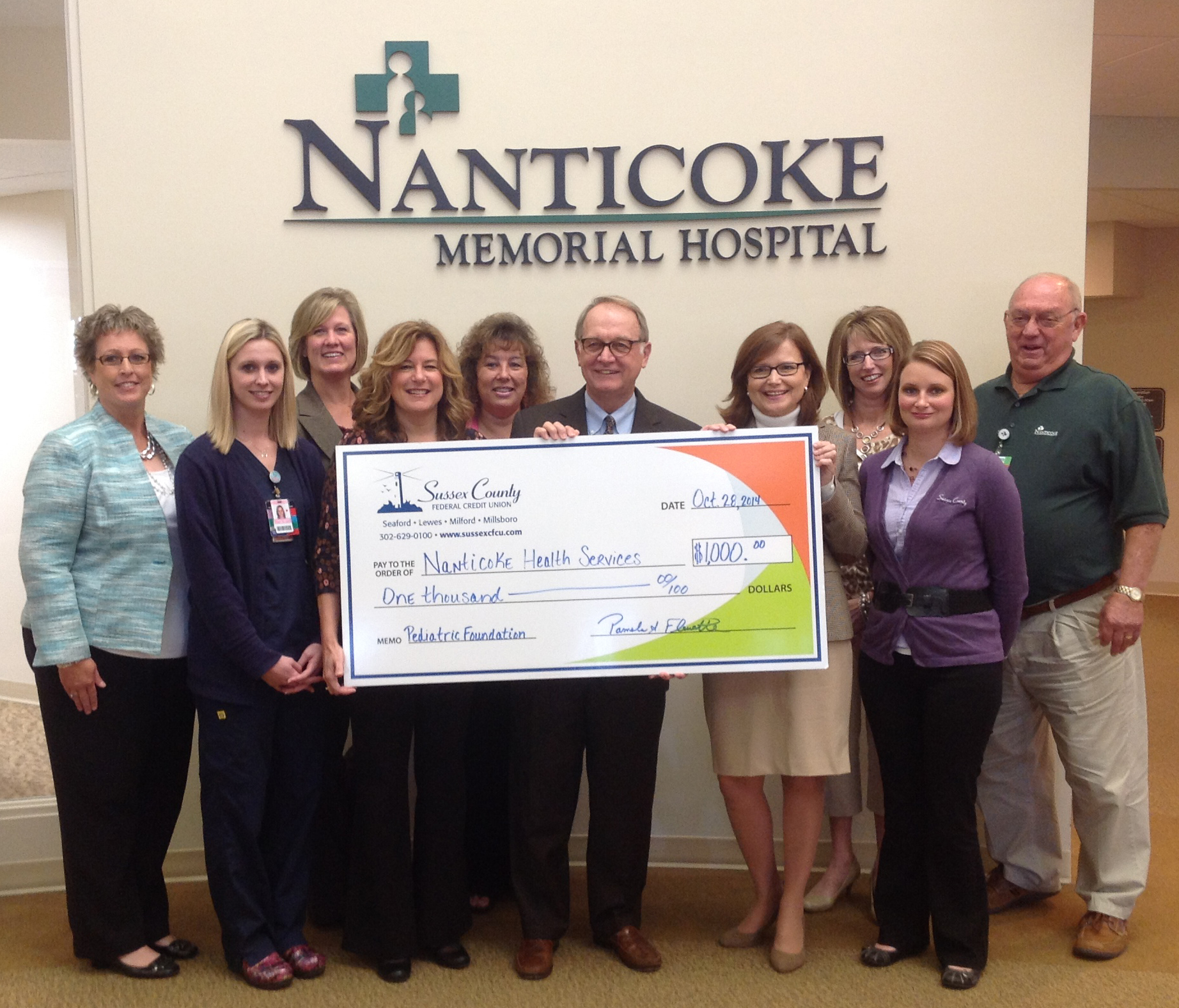 Upgraded technology for pediatric unit
SEAFORD, DE (December 3, 2014) — Nanticoke Health Services is redesigning their patient care to accommodate the youngest population's health needs with new equipment specialized just for pediatric patients. One of the main goals of NHS is to provide a positive impact on the communities' quality of life through superior medical care. To support the increased level of health care being provided to infants by Nanticoke Health Services, a generous donation of $1,000 was made by the Sussex County Federal Credit Union Foundation. The Nanticoke Pediatric Foundation will apply the donation towards acquiring a new piece of equipment that will better assist the nurses and doctors in providing excellent care to newborns.
For more than 55 years, Sussex County Federal Credit Union has existed as a not-for-profit financial cooperative operating under the philosophy of "People Helping People". In addition to the products and services offered by SCFCU to provide financial empowerment and sustainability to individuals and their families, the SCFCU Foundation has been established to provide additional resources that support disadvantaged children and their families with food, shelter, clothing, school supplies, and medical aid.
Sussex County Federal Credit Union takes into consideration the causes we support, to ensure the resources are going to be applied locally and directly affect the lives of others; therefore, supporting the care of pediatric patients provided by Nanticoke Health Services was a natural complement to the mission
of the Sussex County FCU Foundation.
Sussex County Federal Credit Union is honored to serve those who live, work, worship, attend school and/or volunteer in Sussex County or the City of Milford. To experience the credit union difference, or learn how you can become involved with the Sussex County Federal Credit Union Foundation, visit www.sussexcfcu.com. 
Pictured (L-R):(Renee' Morris, NHS Foundation Executive Director, Heather Haddock, NMH Clinical Educator, Lori Lee, NMH Assistant VP, Penny Short, Chief Operating & Nursing Officer, Sharee Coleman, SCFCU VP of Marketing, Steve Rose, NHS President & CEO, Pam Fleuette, SCFCU CEO, Deb Jewel, SCFCU Business Development Manager, Ashley Tyre, SCFCU Director of Human Resources and Wayne Oberrmire, SCFCU Board Member.) 
---