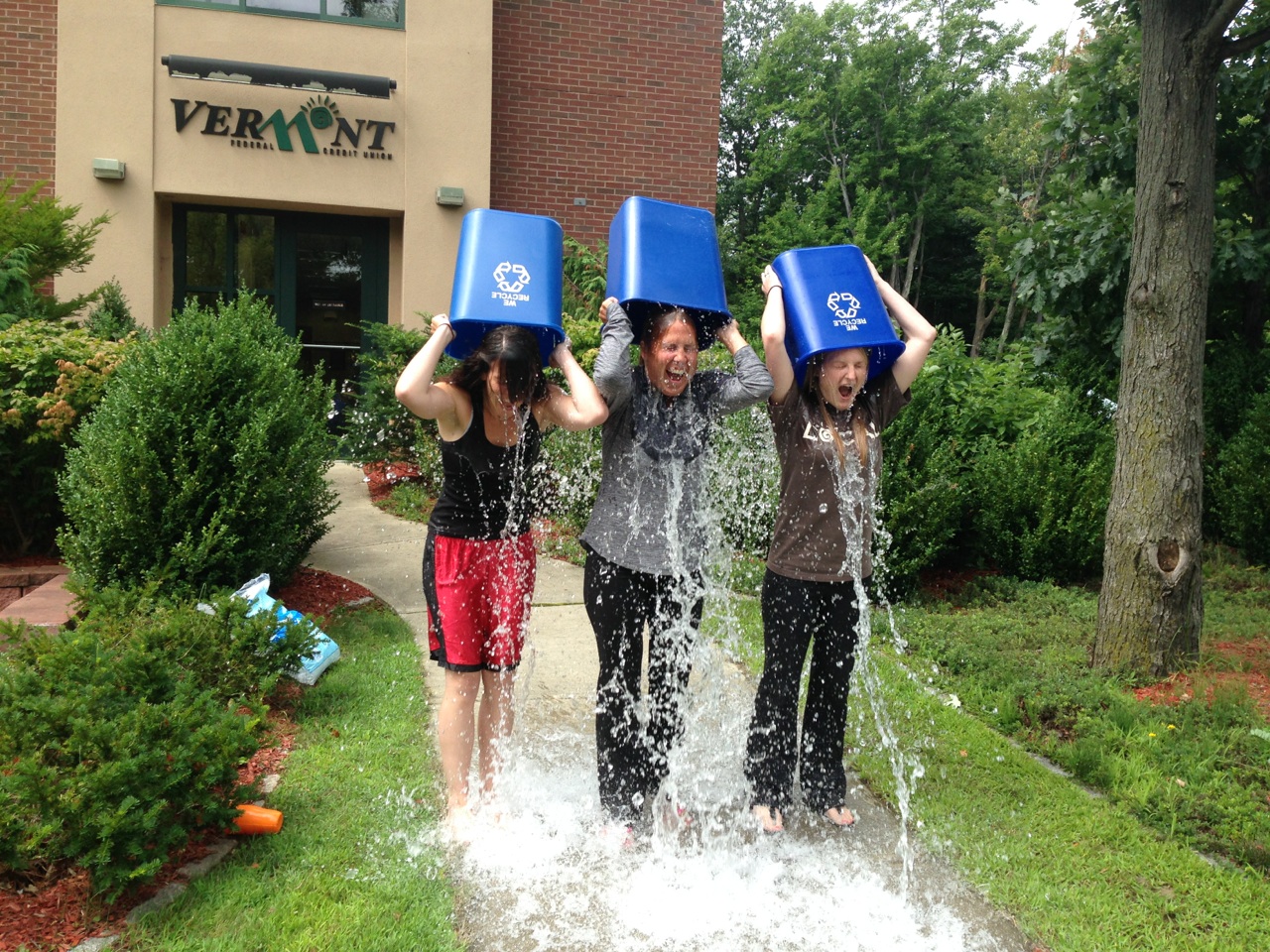 Vermont Federal Credit Union participates in ice bucket challenge
SOUTH BURLIGNTON, VT (August 20, 2014) — In memory of Vermont Federal Credit Union's Board Vice Chairman Gilbert Tabor, who passed away in 2011 of Amyotrophic Lateral Sclerosis (ALS), the Credit Union challenged their entire staff to complete the Ice Bucket Challenge.
Sweeping the nation, the challenge asks individuals to raise awareness for ALS by taking a video of themselves dumping a bucket of ice water over their heads, sharing the video through social media, donating to the cause and nominating others to do the same.
In the spirit of credit unions and the Ice Bucket Challenge, Vermont Federal has nominated New England Federal Credit Union, North Country Federal Credit Union and Vermont State Employee Credit Union to complete the challenge as well. The Credit Union will also be donating ten dollars for every staff member who completed the challenge, totaling over 500 dollars to the local ALS chapter.
Vermont Federal is a $418 million-plus financial institution, with seven locations currently serving close to 36,000 members. Members are part of a cooperative, meaning they share ownership in the Credit Union and elect a volunteer Board of Directors. Vermont Federal Credit Union provides membership to anyone who lives, works, worships or attends school in Chittenden, Grand Isle, Lamoille, Franklin, Washington, or Addison Counties in Vermont. Vermont Federal Credit Union is committed to providing support to the communities it serves and to make a decided difference in the lives of its members and other Vermonters.  For more information about Vermont Federal Credit Union, call (888) 252-0202, visit www.vermontfederal.org, or find us on Facebook.
---