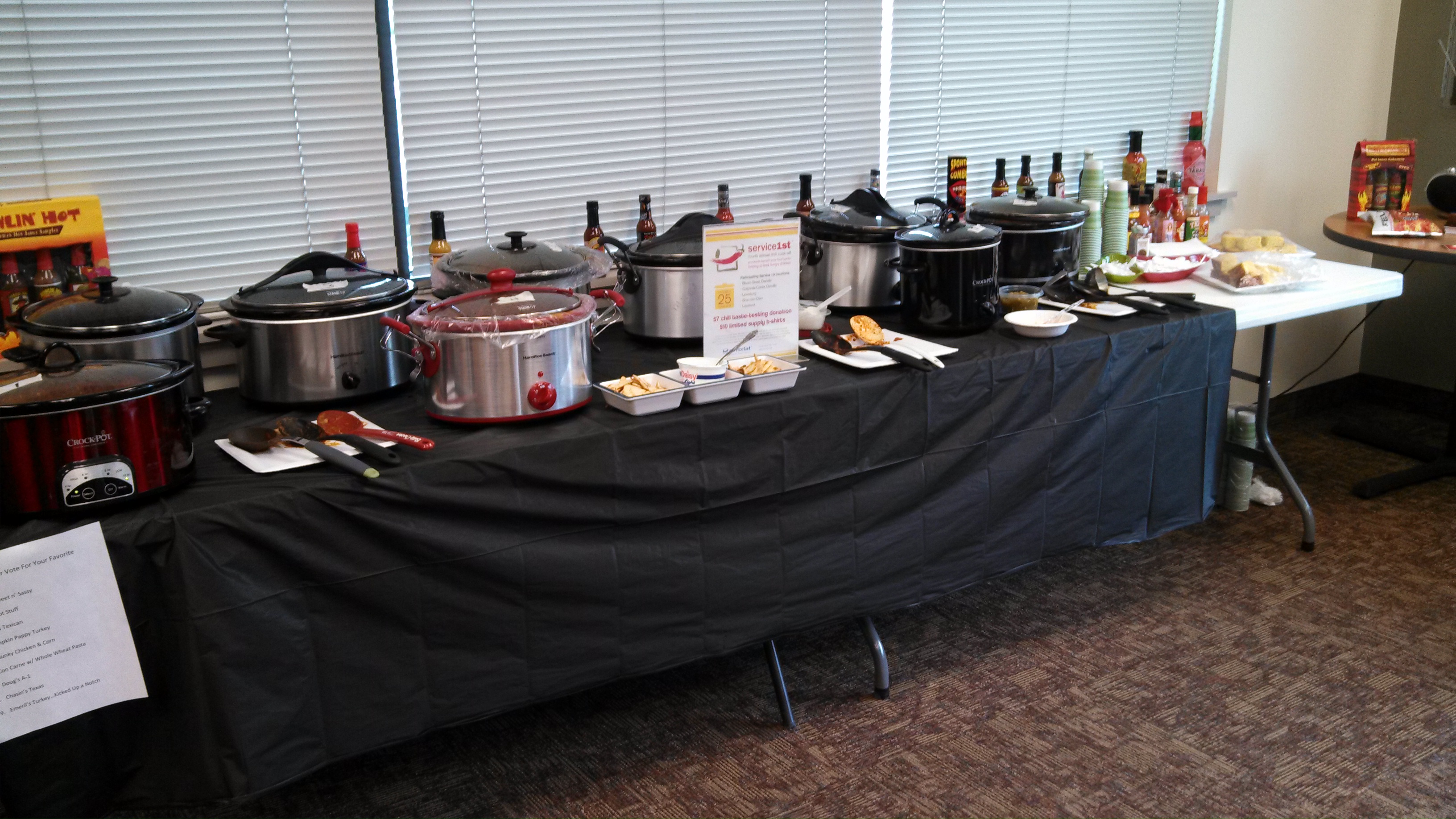 What's Cookin' for charity at Service 1st
DANVILLE, PA (November 1, 2013) — On Friday, October 25, participating Service 1st branch locations held a Chili Cook-Off for Charity. This year's Fourth Annual Chili Cook-Off raised a total of $594! For the past four years and counting, Service 1st has raised money to benefit area food banks by hosting a Chili Cook-Off so that both the employees and the public can participate to help feed hungry children.
Six Service 1st branches participated in the Chili Cook-Off, with a total of 33 different recipes provided by employees. This year, Service 1st had their first non-employee participate in cooking chili, as well. Each chili was individual in flavor, ranging from spicy or tangy to sweet and unique.
Service 1st employee Eileen Cizewski, comments on the fun that the Chili Cook-Off brings to the community; "Service 1st's Chili Cook-Off is a unique event that generates excitement among our members. Our staff enjoys the chance to showcase their kitchen talents while giving back to the community. It is always a competitive, energetic, and tasty day!"
This year's Chili Cook-Off charity benefactors included:  Bower Memorial United Methodist Church's "Helping Hands Outreach Ministry," located in Berwick, Pa, the Commission on Economic Opportunity in Wilkes-Barre, Pa, Families United Network in Montoursville, Pa, Eastern Union County Supplemental Food Program at St. Paul's United Methodist Church in Lewisburg, Pa, and Haven Ministry Center in Sunbury, Pa.
If you would like to learn more about what Service 1st is doing to help give back to our community, please visit our website at https://www.service1.org or "like" us on Facebook at www.facebook.com/service1stfcu.
Service 1st Federal Credit Union is a full-service, financial institution providing service to more than 21,000 members with total assets exceeding $220 million. Service 1st has current branch offices located in Danville, Lewisburg, Loyalsock, Shamokin Dam and Wilkes-Barre. For more information about Service 1st, visit www.service1.org.
---