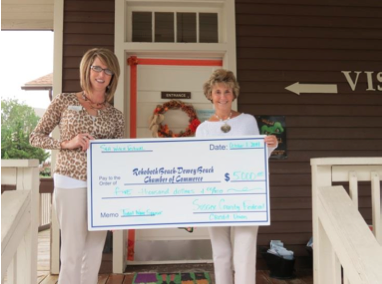 Wicked, Wild and Wonderful Fun
(October 7, 2014) — Rehoboth: As thousands of costumed participants, decorated cars, and local bands walk Rehoboth Ave on Oct. 25, 2014 for the Annual Sea Witch Festival, the local economy will also benefit from the thousands of families who attend this annual event. To accommodate for the increased volume of attendees, shuttle services and safety precautions; community partners such as Sussex County Federal Credit Union, join efforts with the Rehoboth-Dewey Chamber of Commerce to support the success and growth of the festival. Sharee Coleman, SCFCU VP of Marketing, stated "As a financial cooperative, dedicated to supporting the needs of the families and businesses we serve, we're honored to be a Tidal Wave sponsor. This event helps our local economy thrive and in turn offers additional financial sustainability to small business owners and their employees." Join us for a weekend of wild, wicked and wonderful fun. For a schedule of events, visit https://www.beach-fun.com.
For more than 55 years, Sussex County Federal Credit Union has existed as a member-owned and operated financial institution; serving those who live, work, worship, attend school and/or volunteer in Sussex County or the City of Milford. Visit www.sussexcfcu.com to begin experiencing the credit union difference. 
Pictured: L-R; Deb Jewell, SCFCU Business Development Mgr. presents check to Carol Everhart, Rehoboth-Dewey Chamber of Commerce Exec. Dir.
---