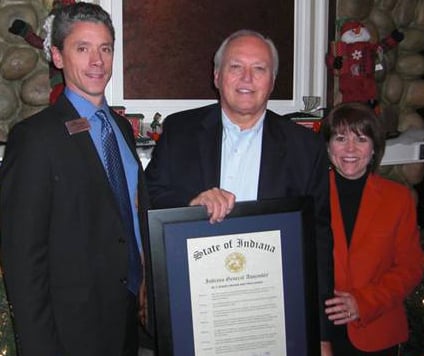 Williams Retires From Purdue Federal
West Lafayette, Ind. – January 8, 2013 – David Williams, Purdue Federal Credit Union (Purdue Federal) business development manager, has retired after more than 13 years with the credit union. His community involvement will continue through his election to the Tippecanoe County Council as well as his service on the boards for Greater Lafayette Commerce, Lafayette Urban Enterprise Association, Camp Tecumseh YWCA, Joe Tiller Chapter of the National Football Foundation and the Marquis Foundation.
Williams joined Purdue Federal after serving for 19 years as principal of Thomas Miller Elementary School in Lafayette. "Purdue Federal gave me the opportunity to work in the community and do things I couldn't do in the educational world," said Williams. "There are many exciting things going on in our community, and I am proud I was able to represent Purdue Federal in so many of them."
"Dave has played a large role in Purdue Federal's success over the last decade," said Bob Falk, Purdue Federal president and CEO. "During his tenure, Purdue Federal's group of Community Business Affiliates [businesses whose employees qualify for credit union membership] has increased by 20 percent, and we've built strong relationships with many local businesses, among other accomplishments."
Purdue Federal's Board of Directors and staff express their sincere appreciation for Dave's many years of service, dedication and leadership.
About Purdue Federal
Purdue Federal Credit Union (Purdue Federal) was founded as Purdue Employees Federal Credit Union (PEFCU) on the Purdue University campus in 1969. In December 2010, PEFCU acquired Members United Federal Credit Union through a merger. At the time of merger, the credit union changed its name to Purdue Federal to better reflect its membership base, which includes students, faculty and staff, and communities where Purdue University and its regional campuses operate. Purdue Federal is a member-owned financial cooperative with more than 60,000 members nationwide and assets at more than $700 million.
---