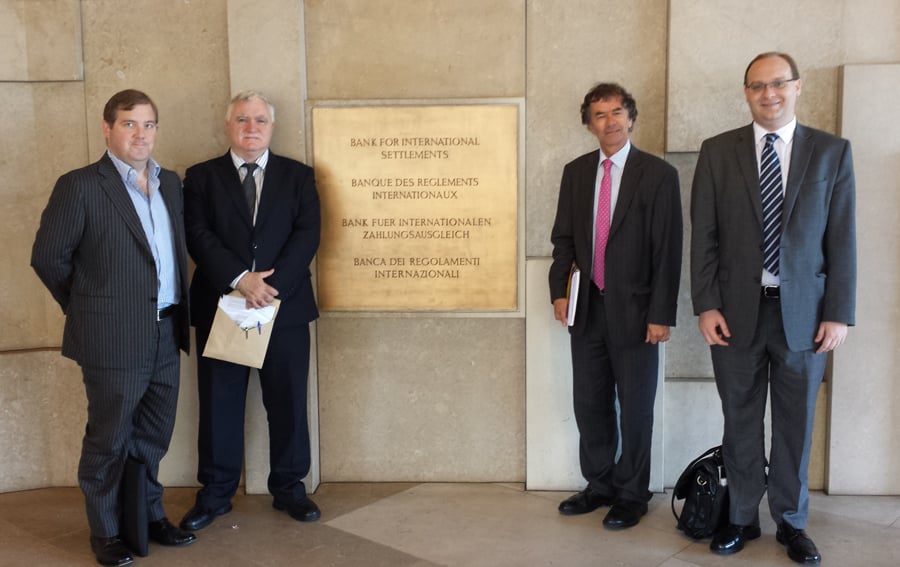 World Council, Irish League Discuss Liquidity Rules' Impact on Credit Unions with Basel Committee Secretariat
BASEL, SWITZERLAND (September 11, 2013) — Representatives from World Council of Credit Unions and the Irish League of Credit Unions (ILCU) met September 9 with representatives from the Basel Committee on Banking Supervision Secretariat to advocate for more favorable treatment under the Basel III Liquidity rules for credit unions' deposits in banks. The Basel III liquidity rules will likely affect credit unions around the world because credit unions' bank counterparties must be Basel III compliant even when credit unions are not subject to Basel III.
World Council Vice President and Chief Counsel Michael Edwards and ILCU CEO Kieron Brennan, President Martin Sisk and Head of Finance Ed Farrell represented credit unions at the meeting with Basel Committee Deputy Secretary General Karl Cordewener and Neil Esho, a senior member of the Secretariat.
In the Republic of Ireland, early adoption of the Basel III liquidity rules has resulted in Irish credit unions' deposits at banks being reclassified from "retail" or "small business" to "wholesale funding provided by other legal entity customers," even though Irish credit unions did not withdraw their deposits from banks during the global financial crisis as the "wholesale funding provided by other legal entity customers" classification assumes would occur during a stress period.
Irish banks have cited the increased cost of capital related to deposits that are "wholesale funding provided by other legal entity customers" as a reason to reduce the interest that they pay on credit unions' deposits from as much as 3% a year to as low as 0.6%. This reduction in interest rates will likely cost Irish credit unions €60 million or more a year in lost interest income. Credit unions in other jurisdictions may experience a similar drop in yields on their bank deposits as Basel III is phased in.
"We will continue to engage international standard setting bodies at all levels until this matter is resolved in a way that allows credit unions to carry on their financial inclusion mission," said World Council President and CEO Brian Branch.
World Council has also brought the credit union movement's concerns about the Basel III liquidity rules to the attention of the European Banking Authority (EBA), the European Commission, the European Parliament, the Consultative Group to Assist the Poor and the World Bank. In August, the European Network of Credit Unions—which is composed of World Council's European Union members including ILCU—filed a comment letter with the EBA urging the agency to clarify that credit unions' deposits in banks should be placed in a category other than "wholesale funding provided by other legal entity customers."
World Council of Credit Unions is the global trade association and development agency for credit unions. World Council promotes the sustainable development of credit unions and other financial cooperatives around the world to empower people through access to high quality and affordable financial services. World Council advocates on behalf of the global credit union system before international organizations and works with national governments to improve legislation and regulation. Its technical assistance programs introduce new tools and technologies to strengthen credit unions' financial performance and increase their outreach.
World Council has implemented more than 290 technical assistance programs in 71 countries. Worldwide, 56,000 credit unions in 101 countries serve 200 million people. Learn more about World Council's impact around the world at www.woccu.org.
---