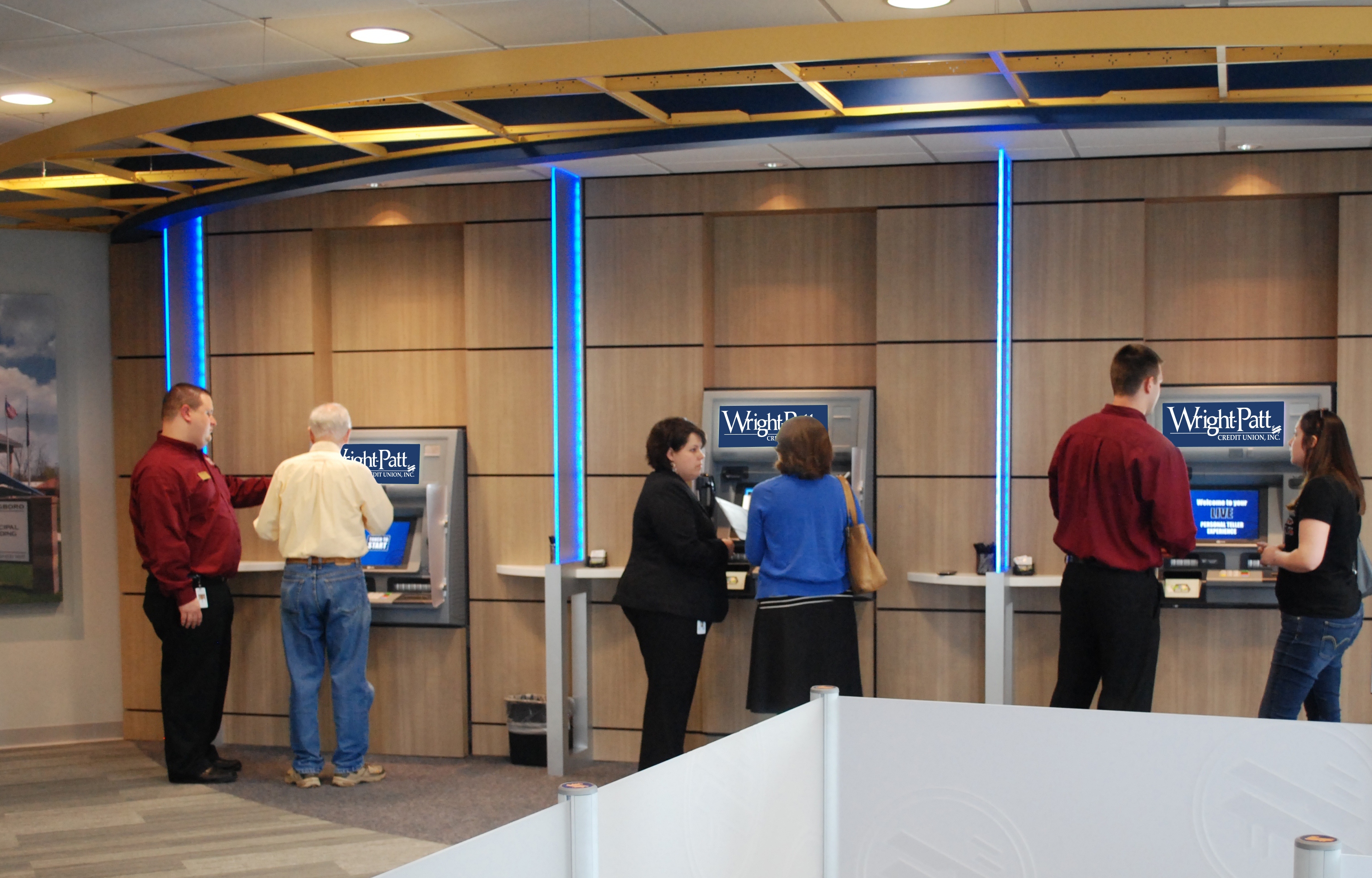 Wright-Patt Credit Union First Area Financial Institution to Offer Interactive Personal Teller Machines
New technology provides members with blend of convenient access and personal service
On May 21, 2013, Wright-Patt Credit Union (WPCU) became the first financial institution in the greater Dayton region to adopt new video teller services for its members.  These interactive tellers provide credit union members the convenience of an ATM along with the personal service they are accustomed to with Member Center (branch) service.  Members will now have the choice of working with a teller at a member center, using a traditional ATM, or experiencing faster account access from a live teller via a video connection through a Personal Teller Machine (PTM).
Wright-Patt Credit Union first unveiled the PTMs on April 17 at the drive-thru in their newly relocated member center on Bechtle Avenue in Springfield.  Initial feedback from WPCU members about the experience has been extremely positive. "Members really enjoy using this new technology," noted Tracy Fors, Vice President of Marketing and Business Development.  "Comments range from 'It's like a live ATM' to 'wild, cool experience'".
There are also three PTMs in the lobby of the new Springboro Member Center and two in the drive-thru.  This branch opened on May 22 at 770 Gardner Road.
WPCU Members Will Enjoy the Personal Touch
WPCU is providing "concierge" service to introduce this new technology to members.  A WPCU employee is specifically assigned to show members how they can use PTMs for their basic, everyday transactions and walk them through using this new technology.
"Members will find the Personal Teller is really no different from a service standpoint than using a WPCU representative located in the member center," noted Darrick Weeks, COO. "In fact, our members will find the experience easy and convenient." Unlike an ATM, there is no need to use a card.  Members who choose to withdraw cash will have to show an ID just as they would when working with a member center representative.
Weeks added that members appreciate the feeling of security a PTM offers when making deposits and the ability to withdraw amounts over the standard ATM cash withdrawal limits.

Personal Teller Machines An Element in the WPCU Growth Plan
The PTM initiative is a meaningful investment for WPCU. Weeks said WPCU has purchased a total of 19 PTMs and that this investment is an important part of the credit union's plan to expand its geographic footprint. Recently, WPCU announced its plans to move into the Columbus, Ohio market.
"We are excited to be on the forefront of this new way of helping our members," stated Doug Fecher, President and CEO. "Utilizing PTMs will clear the way for our member center employees to focus more on service and advice for our members rather than routine transactions. Education and financial planning is a way for us to distinguish ourselves from other financial institutions. We pride ourselves on providing these services to our members through our Savings Race, Respect Your Money and Wright 4 You programs, among others."
"In addition to providing an improved experience for our members, the cost savings of PTMs will allow us to drive profits back to our members.  Centralizing the tellers provides cost reduction and improved, consistent service: a win for both the credit union and its members"
Wright-Patt Credit Union hired seven employees to work with PTMs and currently has six tellers, a manager and an assistant manager servicing these remote PTMs from their Mad River (Kingsridge) location. PTM service is available during regular business hours, Monday –Friday, 9AM to 7PM and Saturdays 9AM to 1PM inside the member center and 9AM to 2PM in the drive-thru.
Wright-Patt Credit Union purchased the PTMs, known as APTRA Interactive Tellers, from NCR, the number one provider of ATMs for over 26 years.
"NCR APTRA Interactive Teller is letting credit union members conduct transactions in a simple and friendly environment," said Brian Bailey, vice president and general manager, NCR Branch Transformation. "Wright-Patt Credit Union is taking an innovative and forward-thinking approach to providing banking services to its members, as one of the first financial institutions in Ohio to adopt remote transactional video. We believe their PTMs will be well received by their members."
About Wright-Patt Credit Union
Established in 1932, Wright-Patt Credit Union is a member-owned, not-for-profit financial cooperative proudly serving the Miami Valley with more than 250,000 members and $2.61 billion in assets. As a cooperative, Wright-Patt Credit Union joins members together, pooling financial resources to meet the needs of all. The pooled resources provide the capital to run a strong and efficient operation. Wright-Patt Credit Union is headquartered in Fairborn, Ohio, and has 25 Member Centers throughout Southwest Ohio. Wright-Patt Credit Union's mission is to help people through life by allowing members to achieve a greater degree of economic independence. Visit Wright-Patt Credit Union's website at www.wpcu.coop for more information.
---