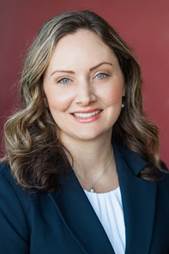 Xceed Financial welcomes director of strategic initiatives Kathryn Reidel
New relationship-building role will support launch of a lending-focused CUSO
EL SEGUNDO, CA (December 29, 2014) — Xceed Financial Credit Union is pleased to announce that Kathryn (Kate) Reidel has joined the Credit Union as Director of Strategic Initiatives. In this newly created position, Reidel will work closely with President and Chief Executive Teresa Freeborn on forming and developing relationships within the credit union industry, leading strategic initiatives and special projects, and executing senior-level communication projects. Xceed Financial is set to launch a lending-focused credit union service organization (CUSO) in early 2015 and Reidel is expected to play a key role in the new entity's success.
"At Xceed Financial, we believe collaboration – via CUSOs and other vehicles – is critical both to our future and to the long-term viability of the credit union movement," said Freeborn. "That requires strong relationships with our fellow credit unions and I'm confident that Kate's efforts to building those relationships will help to shape a bright future for both Xceed and our partner credit unions nationwide."
With 11 years of experience in banking, relationship management, and marketing, Reidel has special expertise in expanding market territories, increasing profit margins, exceeding company sales goals, and delivering superior customer service. She most recently served as Marketing and Sales Specialist for the Los Angeles-based, national management consulting firm The Affinity Advisory Group, where she successfully marketed the firm's consulting services to credit union clients. She's also held positions with Bank of America, Enterprise Rent-A-Car, and Enterprise Rideshare. Reidel earned a bachelor's degree in business administration with an emphasis in marketing and finance from the University of San Diego.
About Xceed Financial Credit Union
Headquartered in El Segundo, Calif., Xceed Financial Credit Union is a federally chartered workplace credit union that focuses on meeting the needs of businesses and their employees throughout the United States. Celebrating 50 years of service, the credit union started in 1964 as Scientific Data Systems Credit Union and later became Xerox Federal Credit Union in 1970. A new name and brand identity were launched in 2008 to reflect the credit union's expanded field of membership and new business model. A recipient of BauerFinancial's highest rating for financial institution performance, five stars, Xceed delivers personal banking and financial literacy directly to "select employer groups" (SEGs) and is proud to help nearly 65,000 members realize their dreams. Xceed Financial has over $1.2 billion in assets under management and 13 Financial Centers in five states.
---