Put your money where the miracles are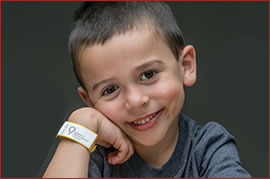 For the eighth year in a row, credit unions have the opportunity to raise money — including an additional $1 million in Miracle Match funds — for Children's Miracle Network Hospitals. Over 10 million children receive charitable care through the 170 Children's Miracle Network Hospitals across North America each year. These hospitals rely on donations and the generous support of the community to provide the best care possible for kids. With help from CO-OP, credit unions can amplify their contributions to this worthy cause as part of a nationwide campaign.
Here are a few ways your credit union can show support for the CMN Hospitals' 2015 campaign, "Put Your Money Where the Miracles Are":
Apply for CO-OP's Miracle Match program. Unleash the power of your community and strengthen ties with your members by creating a local fundraising event. Applying for the $1 million dollar Miracle Match program will ensure your efforts have maximum financial impact. Funds raised will go toward equipment, treatment, research, and services for the millions of children who receive care each year.
Donate directly to the cause. You can donate $10, $25, $50, or whatever amount you like through the CMN Hospitals website. With a few simple clicks you can do your part in contributing to the success of the CMN Hospitals. Every dollar counts, and will go toward making a difference in the lives of children who need care the most. By combining forces, we can accomplish so much more. Tap into the strength of your community and help raise millions to support the vital work of this important organization.
continue reading »