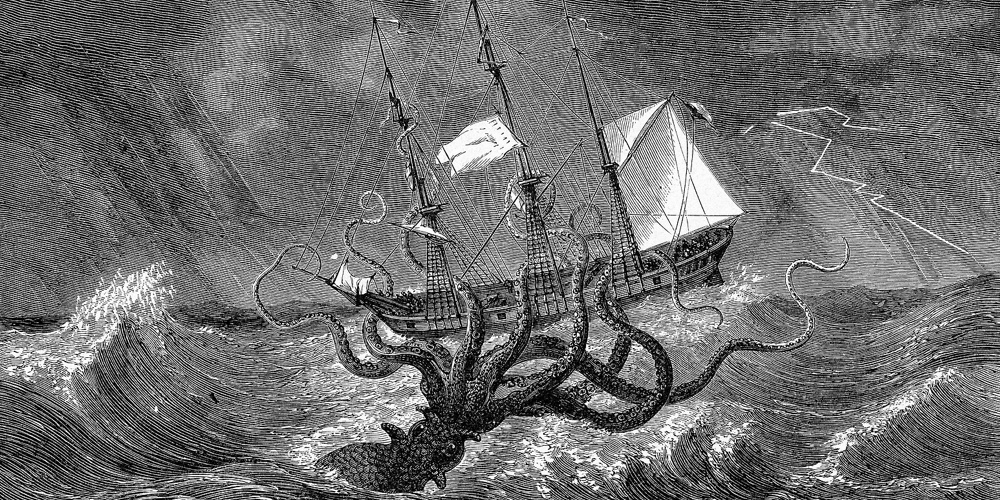 My life, growing up and living in the Seattle and Puget Sound area still today, holds memories about many championships: the NBA's Supersonics in 1979, the NFL Seahawks in 2014, the MLS Sounders in 2016 and 2019, and the FOUR Seattle Storm women's basketball championships in 2004, 2010, 2018, and 2020!  (Let's not bring up the Mariners baseball team, they have been rebuilding since 1977.)
On October 12, 2021, Seattle has "Released the Kraken"! Greek Mythology describes the Kraken as a sea monster of tremendous size and strength. I am not referencing the Clash of the Titans (1981) when Poseidon releases the Kraken or the Clash of the Titans remake (2010) when Perseus slayed the Kraken. Nor am I referencing the use of "Release the Kraken" on Twitter to refer to unfounded conspiracy theories about the last election. What I am referring to is the energy that has given birth to the NHL Seattle Kraken!
The Kraken will play on recycled, frozen rain water at the $1.15 billion Climate Pledge Arena. There is energy and excitement being generated by sharing how this team exists because of a demonstration of what can happen when we work together, what can happen when we suspend disbelief, and when we unite around the collective dream. 
In March 2018, the NHL's 32nd active franchise was deemed viable when 32,000 ticket holders signed up within a 24 hour period. In December 2018, Seattle became the 32nd NHL franchise. In October 2021, the Kraken organization celebrated its fans, who embolden and push this community to dream bigger. Before the first puck was dropped on the ice (which is recycled, frozen rain water), the #32 jersey was retired. As the public address announcer committed, "we want to lift our community too; community partners that advance our mission."
The credit union industry now holds assets totaling over $2 trillion. This represents the hard-earned money for 126 million members. This gives me pause to ask, how much energy and excitement are we as an industry creating to lead each of our credit unions to a championship?
The 2021 National Credit Union Youth Month last spring was "Savings will never go extinct". The 2021 International Credit Union Day Theme, "Financial Health for a Brighter Tomorrow" will spark credit unions around the world to energize credit unions to inspire people for a more stable future. The National Credit Union Foundation's Executive Director Gigi Hyland befittingly explains that financial well-being is an "all-in endeavor".
Collectively as an industry we can generate the same energy as the newest NHL team and release the Credit Union Kraken. The energy will generate as we exercise the cooperative principles of "Cooperation Among Cooperatives, Concern for Community, and value the 8th principle adopted by CUNA to value Diversity, Equity, and Inclusion.
I believe, as an industry, we absolutely help members win financial battles every day. Our team at Peninsula Credit Union creates those Wow! Stories as we listen to a member with empathy as part of our CDFI community development strategy. Yet, we are just one 22,000 member portion of our overall industry advantage. 
Personally, wouldn't be amazing if 100% of your members showed up at an annual meeting because they were so energized about the purposeful work your credit union was doing? Or how much power would there be in Washington DC if every credit union had a representative at GAC 2022? What if we suspended our disbelief that either of these attendance goals became true?
Applying these principles, what can we imagine if we work together more, suspend disbelief, and unite around all opportunities and challenges? Please post your thoughts about the Credit Union Kraken.
Driven to be a difference make through improving people's lives. Jim dedicated his career for the past 28 years to the credit union movement. He is a Credit Union Development ...
Web: https://www.pcfcu.org
Details