Strategic planning in uncertain times
If 2022 was a movie, it would be a sequel along the lines of Jaws 2. The movie poster would read, "Just when you thought it was safe to go back into the normal."
The adversary would be a bigger, meaner cousin to the real nemesis of the past two years—uncertainty.
Uncertainty is everywhere, and it causes individuals and businesses to alter their financial behavior – by choice or necessity. Lost confidence creates a self-perpetuating cycle that has a direct impact on your credit union's success. These two numbers are telling:
More than 80 percent of CEOs in the latest Fortune/Deloitte CEO survey expect inflation to disrupt their business strategy next year.
The July Michigan Consumer Sentiment expectations gauge on the future of the economy recently came in at its lowest level since May 1980.
Eisenhower was correct
General Dwight Eisenhower said leading the Allied troops during World War II taught him that "Plans are worthless, but planning is everything."
Your Board and leadership will meet (or be preparing to meet) soon to discuss strategic goals for the coming year. You might be tempted to minimize your strategic planning efforts until the uncertainty subsides. That would be a mistake. It is more important than ever for your credit union to engage in a strategy planning process that equips you to flourish in uncertainty.
The absence of a robust plan creates chaos that reduces the effectiveness of your efforts. Most important, you risk missing opportunities to cement your relationship with existing members, attract new ones, and make your credit union more sustainable.
A new model for planning
All strategic plans should help your credit union:
Advance toward your vision and purpose
Overcome a threat or weakness
Exploit a strength or opportunity
Ensure your values are translated into daily action
In an uncertain and rapidly changing environment like today, a great strategic plan goes further. There is no more new normal. There is only a New Next. Your strategic plan should provide a sense of stability and focus while simultaneously allowing flexibility and mobility.
You can accomplish this by making three changes to your strategic planning process:
Complete a Customer Relevancy Analysis. Ensuring that the voice of the customer is present in your planning process is always important. It is crucial when uncertainty is rampant. We tend to think of our members as the only customer. In today's competitive labor environment, we have to consider employees as customers who have a choice about where to invest their talent. The Customer Relevancy Analysis forces us to look at the competencies, capabilities, and experiences that determine our relevance.
Determine your Uncertainty Avoidance profile. Some Board members and leaders will default to a more conservative position in the face of uncertainty. Others will want to make bold moves that seize opportunities. The right answer depends on your leaderships' Uncertainty Avoidance profile. Completing this exercise prior to setting strategic goals provides a framework for surfacing the broader issue of comfort with uncertainty rather than debating individual ideas.
Align your strategic goal areas to balance stability with being nimble. For almost 30 years, the Balanced Scorecard (BSC) has been the go-to planning structure adopted by leading companies and organizations worldwide. Organizations today face different challenges that require a different approach.
Rethinking our planning perspectives
If you are reading this at your desk, look at your office chair. Does it have 4 legs with casters … or 5?
Office chair manufacturers produce five-legged chairs because they provide the most stability with the fewest legs to maximize mobility and flexibility of use.
Stability balanced with flexibility and mobility to move in tight spaces. Isn't that what you want in your strategic plan, too?
Like your office chair, five planning perspectives is the optimum number for both flexibility and stability … if you focus on the right five areas.
Fans of the Balanced Scorecard (BSC) will recognize the first three perspectives of this multi-stakeholder approach to planning:
Members: Everything that you need to attract, retain, and satisfy the members you serve and prospects you want to attract. Customer experience, marketing, brand awareness, and communicating fall into this perspective. So does adapting and changing your product and service mix.
Operational Processes: Everything that ensures your efficient and effective operation. Operational processes help your team be faster, better, cheaper, and friendlier. They ensure optimum utilization, and they help you close any consistency gaps within the business and service gaps with your competitors.
Financial: This area looks at all your financial metrics, ratios, budgets, and targets. It also includes strategies to help you leverage your financial position for growth and sustainability.
The fourth perspective is Capacity and Capability. This area provides the platform and infrastructure for growth. It includes physical capacity in areas such as branches and locations, technology, and the ability and capability to provide value-creating services that your members will value. It also includes human capital (enough of the right people in the right place) and capabilities (competencies and skills).
You could have an effective strategic plan with just these four perspectives. Your plan becomes even more effective by adding the fifth leg: Culture.
The Culture always wins
Peter Drucker is credited with saying, "Culture eats strategy for breakfast."
In today's world, culture eats everything for breakfast, lunch, and dinner. It is the single most important factor for ensuring your ability to flourish in the face of uncertainty and change.
Unfortunately, corporate culture has too often been hijacked to become code word for making associates happy. That's a crucial piece of it, but the goal should be to have a culture of excellence more than an excellent culture.
Your culture is the anchor that sustains your team when challenges arise and it would be easy to give up on your plan. It is also the accelerator that infuses your team with energy and urgency. An excellent strategy with a mediocre culture, and the culture always wins. A mediocre strategy powered by a culture of excellence, and the culture always wins.
We crave certainty. We would rather know that something bad is going to happen than be uncertain about an unknown future. Which is ironic because the world is inherently uncertain.
The best leaders constantly look over the horizon to anticipate the uncertainties of the future. They operate in a state of perpetual, positive paranoia that is reflected in their ability to plan for uncertainty.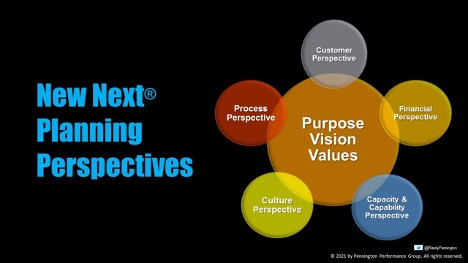 Randy Pennington is an award-winning author, speaker, and leading authority on helping organizations achieve positive results in a world of accelerating change. He is author of the award-winning books Make ...
Web: www.armstrongspeakers.com
Details