The 4 trends evolving in the financial services landscape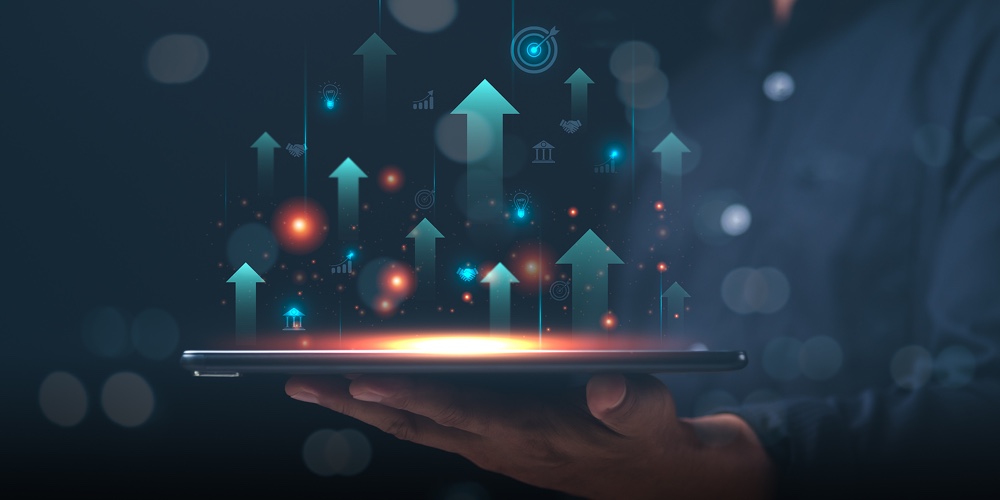 Today's current economic climate, filled with news of modern-day bank runs, interest rates at levels not seen since before the iPhone era, an inverted yield curve reminiscent of the days prior to the past seven recessions, and household debt in the US reaching heights not seen in 20 years…can become overwhelming to process.
However, despite the sobering headlines, regional and community financial institutions (RCFIs) have the potential to provide significant value to a nation facing economic uncertainty. With credit unions having a track record of delivering competitive financial services to their members and strong customer support, there are several areas of opportunity for credit unions to empower members and differentiate themselves from megabanks and fintechs. Based on Alkami's recent data telemetry study*, combined with commissioned primary market research** Alkami has identified four factors that are impacting the economy and coloring the financial landscape: buy now pay later (BNPL), cryptocurrency (Crypto), earned wage access (EWA), and peer-to-peer payments (P2P).
Buy Now Pay Later (BNPL)
BNPL is an emerging player in the financial marketplace and is now being offered on a multitude of online purchasing platforms. It allows consumers to essentially purchase something on credit without the hassle involved in getting a credit card. Our research shows usage is increasing but more noteworthy is the increase in BNPL purchases for everyday items or "normal spending activity." As Marshall Lux, a Harvard Kennedy School fellow who authored another study into BNPL told CNN Business last year, that's the biggest red flag flying over the BNPL marketplace: When people begin buying everyday household items on BNPL, it signals a problem. Alkami's telemetry data suggests that BNPL consumers may be becoming more dependent on this alternative for everyday purchases. The average cost of an item purchased with BNPL has decreased approximately 50 percent since 2018, while the average number of BNPL transactions per month has increased from 1.5 to more than 5.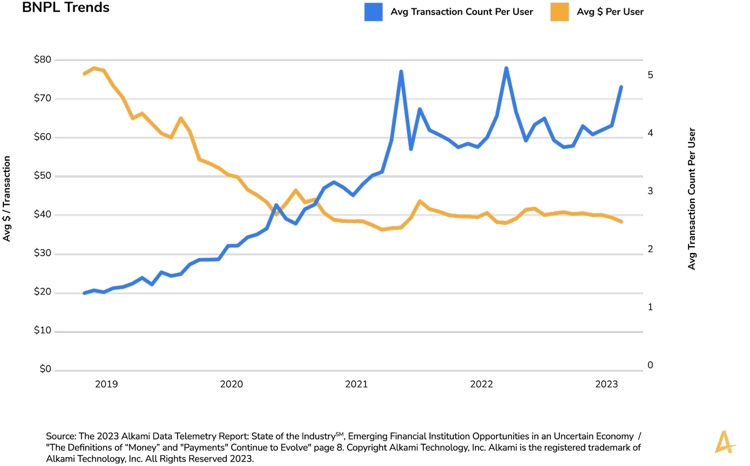 Peer-to-Peer Payments (P2P)
U.S. P2P payments value is expected to hit $1.042 trillion in 2023, increasing 28.5% year over year (YoY), and by 2026 is expected to reach $2.271 trillion per Insider Intelligence forecasts. Alkami's telemetry data confirms P2P is a growing, common trend that is becoming the norm, with both transactions and user adoption growing by 400 percent from 2018 to 2022. While younger age ranges have higher penetration, P2P adoption is healthy among those in their 50s and 60s.
Cryptocurrency
Despite its maligned status in the news and recent bear market, more dollars are going into cryptocurrency each month than are coming out and the long-term trend is upward. Per Alkami's primary market research, people's feelings about cryptocurrency seem to be contradictory, with 61 percent of consumers saying that cryptocurrency has peaked and will eventually fade away (vs. 39 percent who believe it still has potential and will grow in the long-term). Yet, despite that, 52 percent believe that most banks and credit unions will accept and offer cryptocurrency in the next five years. While the regulatory environment surrounding cryptocurrency is anything but certain, RCFIs do have an opportunity to be a guide, educator, and resource about cryptocurrency for account holders.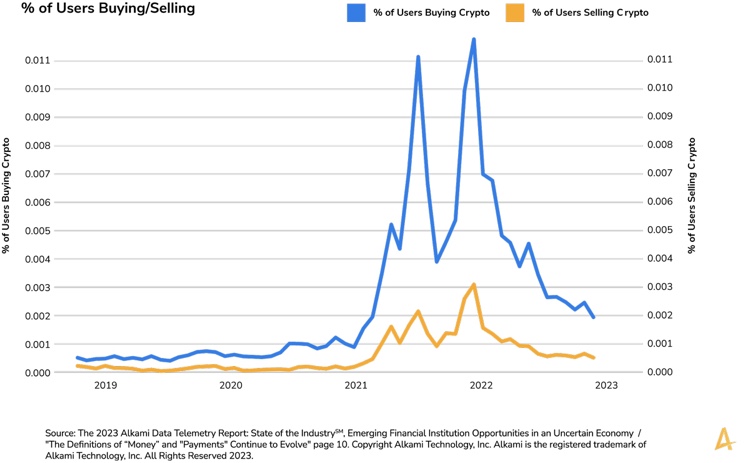 Earned Wage Access (EWA)
EWA programs, usually run through apps offered by fintech companies partnering with employers, let employees access their wages before payday. It's simply a way for people to access the money they've already earned. Say an employee has an unexpected expense on a Monday, but payday isn't until Friday. They can use the EWA app to pop the wages they've earned into their account before payday to cover those expenses. While it's still an emerging product, per Alkami's telemetry data, earned wage access has seen a 600 percent growth in users since 2018, with the monthly amount that users withdraw also increasing. This option appeals to younger employees, with more than 66 percent of users between 21 and 40 years of age participating in EWA.
What can credit unions do?
As these four trends continue to emerge and evolve, and gain traction among consumers, credit unions need to provide their account holders solid foundational financial support. Here are a few ways:
Optimize the digital banking channel with both sales and service in mind.
Start a conversation with the right people within your institution to create a data-driven strategy
Build a financial wellness program
Develop education, guidance and advice on the market trends surrounding BNPL, Crypto, P2P and EWA.
Account holders need education and advice about these growing trends. Per J.D. Power, bank customers who have received advice or guidance from their bank in the past 12 months are significantly more likely to have opened an account with their primary bank. Be the place they go to learn about all things related to their money, not just the trend of the moment. 
ABOUT THE DATA
*Using anonymized data telemetry collected over nearly five years, across more than a million account holders, and represented by financial institutions ranging in assets from $500 million to $15 billion. Supplemented by **primary market research captured from more than 800 digital banking consumers. For more information on the above data points, consumer opinions and data trends, download The 2023 Alkami Data Telemetry Report: State of the IndustrySM, Emerging Financial Institution Opportunities in an Uncertain Economy.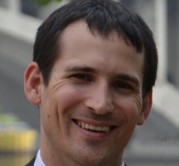 Mark is the director, product management at Alkami, where he is responsible for strategic product management of the insights and data visualizations solutions. For 18 years prior to joining Alkami, ...
Web: alkami.com
Details