The CUInsight Experience podcast: John Pembroke – Begin with the end in mind (#6)
"You make a plan and then life happens. When life happens you have to adjust." - John Pembroke
Welcome to episode six of The CUInsight Experience podcast. Hosted by Randy Smith, co-founder and publisher of CUInsight.com. Our guest this week is John Pembroke. John is the president and CEO of the CUES. Since joining CUES in 2013, he has helped launch a new direction in CUES' strategy, branding and culture. Pembroke has more than 20 years of experience in branding and financial services. He holds an MBA from the University of Chicago's Booth School of Business.
The goal of The CUInsight Experience is to dive deeper with the people of the credit union community and find gems from their experiences that add value to all of us. In each episode we have wide ranging conversations with thought leaders from around the credit union community. What issues are facing credit unions? What are they working on to help? What leadership lessons and life hacks have they learned along the way? What's the greatest album of all time? These questions and more will be asked and answered.
In this episode we discuss the war on talent, the challenges that face credit union leaders, and the evolution of CUES. As we always do, we wrap up this episode getting to learn more about John's leadership style, life hacks and what life looks like outside CUES.
Listen to the full episode and scroll down for the show notes and to read the full transcript. We all know John as a strong listener and observer, you'll get to know him a lot better in this episode. I really enjoyed the conversation. I think you will too. Enjoy.
Subscribe on: Apple Podcasts, Spotify, Google Podcasts, Stitcher
How to find John:
John Pembroke
President and CEO of CUES
john@cues.org
www.cues.org
Twitter | Linkedin
Show notes from this episode:
John's recent Community post: Talent management is tough, but there's reason for optimism
Check out the CUES podcast here. (after you listen to the episode of course)
The event where we recorded this episode on location: CUES Symposium (aloha from Hawaii next year)
Keynote from Symposium mentioned: Ram Charan
Check out all the CUES events this year and make your plans for next.
The all new CUManagement.com powered by CUES. (great content that we pull from daily)
Two CUES institutes John mention in this episode: Strategic Innovation Institute and Strategic Growth Institute (I think I've heard of the universities they work with on these)
No more Baskin Robbins. Check out the new simplified CUES membership structure.
Song mentioned: The Stylistics – People Make the World Go Round
Song hopefully John will hear a lot of next fall: Gridiron Heroes (Sorry John. Had to do it)
Encourage the future of credit unions to participate: CUES Next Top Credit Union Exec
Music mentioned when John needs to feel creative: Pat Metheny
One of John's favorite brands: ESPN (random: Mike Golic lives near me and I see him at Blue Plate Kitchen getting breakfast on the weekends often)
Best album of all-time: Michael Jackson – Off the Wall
Honorable mention but not Off the Wall: Michael Jackson – Triller
Book mentioned: Stephen R. Covey – The 7 Habits of Highly Effective People
Find all past episodes of The CUInsight Experience here.
Full episode transcript:
Randy Smith: Hello boys and girls of credit union-land and welcome to the sixth episode of The CUInsight Experience. My name is Randy Smith. I am one of the co-founders and the publisher of CUInsight.com and it is my job on the show to have conversations with the best and the brightest from around the credit union community. I get to pick their brains and hopefully find a few nuggets that we can all learn from. My guest on today's show is Mr. John Pembroke. John is the president and CEO of CUES. I enjoy finding time at CUES events to talk to John. We're both Midwestern guys. He's originally from Chicago. I'm originally from Detroit. We may not agree on sports, but we always have a lot of fun in the conversations. The locations are never bad either. We recorded this episode a few weeks back at CUES Symposium down in The Bahamas. The content is fantastic, the weather's great, it's always a great time of year to get away from the cold. On this episode, we had a fun conversation where we talked about the war on talent, not only in credit unions but across the board. We talked about the challenges that John and his team are seeing that credit unions are facing and we talked about how CUES has had to evolve over time to meet those challenges. We then moved on to the leadership and life hacks portion of the show and who better to talk to than the guy who runs an organization that educates credit union leaders and future leaders. If you've met John before, do you know he's a great listener. He takes it all in. Well in the rapid fire question portion of the show that we wrap it all up with, we got him talking and I think you're really going to like getting to know him better. I enjoyed recording this episode. I enjoyed the conversation with John immensely. One thing I would like to add before we get into the show is to check out the CUES podcast. They do a great job with it. I've linked to it below in the show notes. Give it a listen. I'm sure you'll enjoy and with that I give you my conversation with Mr. John Pembroke. Enjoy John.
Randy Smith: Thank you for being here.
John Pembroke: My pleasure.
Randy Smith: And for taking time away from CUES Symposium in the beautiful Bahamas.
John Pembroke: It was -10 when I left Madison. I have nothing to complain about.
Randy Smith: You have me beat. It was 4 when I left Connecticut. I think we're both happy to be here. I want to jump right into the questions. Something that I know is near and dear to CUES is the war on talent. If you could tell the listeners, could you first explain what is the war on talent and why it's such an important topic for credit unions?
John Pembroke: Sure. The timing is perfect. We just came out of a session with Ram Charan, his key message, talent creates, and the importance of talent in the organization. What it means is there's a limited supply of talent, different companies and organizations fighting to attract, develop and retain that talent. Several reasons, you have baby boomers retiring 10,000 a day. All that experience and knowledge leaving different companies and organizations. You have unemployment at historic lows as well is a lot of, I'd say traditional churn from younger professionals and younger members of the labor force. So you throw all that together and what happens is there are just fewer talented people out there to lead, to manage, to execute, to do the things that we need to do to advance our organizations. So the focus is what can you do differently to acquire or develop or retain those individuals because talent is essential to the success of all of our organizations.
Randy Smith: What's CUES is doing to help?
John Pembroke: We are all about talent development and we partner with our members who join us to help them develop talent management strategies that are aligned with their overall business strategies. And we also provide the ideas, the tools, the events to develop the individuals, whether it's something is important or as broad as leadership or strategic planning to very detailed and very focused things like business lending. And we do this while partnering with our organization is not just on the management or executive side, but also on the board side as well. Because in leading an organization it's the executives, but you got to have a very, a good partnership with your board. And so understanding governance, understanding business affairs, relations, et Cetera was important too.
Randy Smith: You mentioned the speaker earlier who spoke this morning.
John Pembroke: Ram Charan
Randy Smith: Ram said early on about Steve jobs coming back to Apple and getting rid of the entire board. Except for one guy.
John Pembroke: That was a hell of a story,
Randy Smith: Just how important the board is also. So they have to be educated as well. You mentioned events and we're at one of your events, is there a topic that you're hearing over and over that's important to credit unions in 2019?
John Pembroke: So there's several, I'll just highlight a few. One that comes up time and time again on the executive as well as the board side is talent pipeline. So what do I need to do as a leader of this organization to develop future leaders that will lead the company? What are the experiences and expertise that they need to have? What are the values that I need them to embrace to be effective within the organization and how do I do it? How do I address talent pipeline? Cybersecurity, that's something that's top of mind that has a lot of potential risks to it that needs to be addressed. And that is something as well as you know, disruption in Fintech, innovation. You know now there's a lot of discussion about a potential pending recession. So you know things are going well now things are growing. But from a scenario standpoint, what are the plans, what are the things you need to think through? So if something like that does kick in, what do you do? You don't want to be caught off guard. Right.
Randy Smith: I think we all think of leadership development is something CUES does, how does CUES also helped with cybersecurity education and some of the others that maybe we don't associate CUES with as much?
John Pembroke: Great question. So we are much bigger than an event company. We are also a content company. We have a myriad of different media properties. We just launched CUManagement.com which you know, on CUManagement.com it's really addressing not just the evergreen topics like leadership, strategy and governance, but also the current topics that are relevant for the time now. So we deal with a lot of current events, current opportunities and challenges like cybersecurity. We have podcasts, we're doing, I know we're doing it at least one or two a week. We bring in industry experts to share their opinion and their insight and their takeaways on what to do with in various opportunities and challenges. We also partner with best in class service providers in the cybersecurity space. We just launched a partnership with Leo C ybersecurity. We kicked that off a couple of months ago and then looking forward to them, helping with thought leadership in that space and educating our members on the way to navigate it in the various challenges and coming up with a actionable takeaways and solutions that can put them in a better place.
Randy Smith: Have you found the digital channel to be a place that you can respond almost real time?
John Pembroke: Well, by its nature, yes.
Randy Smith: Okay. Was that part of the redesign and everything of CU Management?
John Pembroke: Sure. It is also, you know, I'm a marketer at heart. Coming out of Grad school I was in brand management at Proctor and Gamble. And the one thing that you learn at Proctor and Gamble being in brand management is at the core of business is understanding your consumers need. Not only does digital allow you to take advantage of immediacy, but also people consume content in different ways. I just walked out of a room of about 400 CEOs and board chairs. I'm sure there are still some people there who love magazines and we were talking about reading newspapers and how some people like, well, if that's how they like to consume that content, you gotta be there to deliver it to them. But with the acceleration of digitization and digital channels, that's really our focus and allows us in a cost effective way, in a very measurable way.
Randy Smith: All the analytics.
John Pembroke: To, deliver impactful content that meets the content needs of the readers.
Randy Smith: Man, marketing has had to have changed. I mean, at the core since you were with Proctor and Gamble, I'm sure a lot of it's the same, but the access to data that marketers have today compared to when you got out of grad school, right?
John Pembroke: That's very true. But it's also the access to information that consumers have today. That's what's really shifted the paradigm. At the end of the day your members have the power and think of all the information that's on the Internet and through different channels where they can contrast, compare, investigate, different options, think of the cost effectiveness of the delivery of that information. So no longer do you need to develop a 60 second television ad where you need to spend thousands and hundreds of thousands of dollars to get it edited and perfect and then purchased the media. And, no, it's a lot simpler. It's a lot easier. So a lot more cost effective. And then it's put a lot of information into consumers' hands so it makes it more challenging.
Randy Smith: The consumers, I remember, it must have been four or five years ago now, I was speaking at a like a league event and I asked the question of the room, and I had no idea what the response was going to be, how many people, you're in from out of town, already know where you're going to dinner and you've already looked at the menu? I think at first they were like, where's he going with this? And I'm like, that's what your members do before they walk in, right.
John Pembroke: That's a great question. Absolutely.
Randy Smith: I think this plays in so much to what you were just talking about it. How has CUES evolved over the years, especially since your time as the CEO in a marketplace, in a economy, in a world that's just evolving so quickly? Has the pace of change at CUES also sped up?
John Pembroke: Yes, because understand at the end of the day we want to partner with our members to develop leaders on the executive management side and on the board side. So if you think of financial services and how it has changed in three or five years. There's information, there's expertise, as learning that needs to take place to be able to adapt to that change. That's what we want to play a role. That's where we want to help. So from a content standpoint, if you think of our Strategic Innovation Institute that we developed and launched in partnership with Stanford Business School, how to embrace innovation, how to incorporate it into your culture, how to assess large and small scale innovation. The thought process, the thinking, the assessment of existing business opportunities or exploitation versus the thought process, the thinking, the assessment of new opportunities, which is exploration is different and you have to train yourself and others to think about it differently. If you think about our Strategic Growth Institute that we developed with the University of Chicago Booth School of Business, it's all about what is your growth strategy. So we understand there's a lot of change and we understand our market opportunities. Based on that we want to grow our organizations, how do we do it? Let's define the strategy then let's think about, okay, as a merger, a part of that is alliance, how much is organic? But first let's divine that growth strategy and then we can figure out the right right tools to go there. We've also changed a lot as an organization and how we deal with our members, CUES as an organization that's been around over 50 years. We do a lot of things well but we evolved with the times. We are very keen and very receptive to member feedback and we have really evolved our organization to be more of a market facing organization where we have a member relations team that, that team of individuals throughout North America meets with CEOs and board of directors and mid management of credit unions on a daily basis to really understand their credit unions, to understand their business and to try and figure out ways potentially where we can help or point them in the right direction where we can't. But we become much more of a market facing organization. I would also say, and this is something that we took on this year, we changed our whole membership structure to make it easier for our members and for credit unions. Team hates it when I talk about this, but I always called us the Baskin Robbins of membership. You know, you remember Baskin Robbins ice cream, 31 flavors. There we go. So we had 31 flavors of membership and we needed to simplify it because it was hard for credit unions and understanding quite frankly presented challenges internally for us to manage it. So now we have three, we went from 31 to three, just a simple individual membership and then we have two what we call group memberships, unlimited plus and unlimited. And with our group memberships for one price, anyone in the credit union can join, that's board, that's executive, that's management, that's throughout the Organization for one price. And with this new change we also added a lot of great new valuable benefits too. So we've changed a lot based on member feedback based on market conditions to make sure that we remain relevant and can partner with our credit unions too to help them develop an educate their leaders and board members.
Randy Smith: We'll link to everything John talks about in the show notes below. So we'll link to the, the new membership structure.
John Pembroke: Sure, is very simple too.
Randy Smith: It's just three things.
John Pembroke: Exactly.
Randy Smith: Credit unions can choose what's right for that. I'm going to skip ahead a question because I think it tied into the change part of this discussion. Are there current beliefs that you see credit unions holding that you think are going to significantly change over the next few years?
John Pembroke: Good question. I do see some beliefs but I think that there are, put it this way, there were certain assumptions. That I think have been embedded into the norm in which certain credit unions or companies in general may operate what's happening with the disruption. And with a lot of the change, those assumptions are being challenged, right? So you have to think through the things that you believe in and say, okay, are these really persistent, everlasting non changing assumptions that I just going to stay there. But the guess is, you know, the only constant in life is change. So my guess is at some point it will be challenged. But I guess there are a couple of things that I was suggested I think will change. And I think as a financial institution, as a credit union, we tend to lock in on products and services. A product could be a checking account or a prodcut could be a loan of some sort. And that's what we focus on delivering. That's how we approached the business. That's our mindset is. I think what's going to happen and we're seeing it happen in a lot of the newer economy companies. It's about experiences. Okay. So an experience could be a combination of products and services, an experience could just be an introduction to something. But I think as long as you're dealing with consumers and as long as the competition is focused on delivering those types of experiences, in order for you to remain relevant with your members. And as I always tell people, you know, when the competition comes after your members, they're not going after your worst members.
Randy Smith: They want your best.
John Pembroke: Exactly. They want to best. So if you want to keep, you know, your best members, you're going to have to shift and adjust your thinking to understand experiences. And that's how you're going to want to design your processes, your strategy, your approach, et cetera. I also think there's one significant shift. This is not unique to financial services, but I think this is unique to business, the importance and the evolution of human resources. Because of the war for talent. And the need to address talent pipelines that the development, the acquisition of talent. I think a couple things are going to happen when it comes to HR. I think number one, it is very important, but the importance of it is going to increase even more. If you think about it as a leader of an organization, you've got people and money. So especially coming from a financial services standpoint, you understand the rigor and assessment and thinking you put behind capital and where you invest it, you're going to have to have that same analysis, that same rigor, et Cetera when it comes to people. The second thing is people make things happen. As the stylistic song goes, People Make the World Go Round. So strategy, those types of things come from people. Execution comes from people, leadership comes from people. So I truly believe it will increase the rigor, the level, the planning, the strategy that goes into the development allocation of people.
Randy Smith: That plays right into the next question I was thinking about and that's your team. What would you say, and I was told to add this, beyond Karin and Dawn, what is the greatest strength of your team at CUES.
John Pembroke: I'm very fortunate and that I have a great team. The thing I love about my team actually there are two things. Number one, we are a team and that's the way we operate. That's the way we approach the business. We are a very effective and well functioning team. We understand what the priorities are, what we're trying to get done and we all understand our roles and responsibilities and focused on doing that. If there's one area where we're excelling where we can shift some things to help another area, we do that. There's no questions asked. The other thing I like about my team is we're very nimble.
Randy Smith: Which is important.
John Pembroke: Very important, especially in an ever changing environment because as I always say, you make a plan and then life happens and when life happens you have to adjust. And we do a very good job of planning and making good decisions, but when life happens and we need to adjust, we adjust without hesitation.
Randy Smith: I'll tell you, I just have to throw this out there. I've always been impressed and I've worked with CUES now for probably about 10 years, coming in conferences and events and things like that. I've always been impressed with the connection that your team has to your member credit unions or it feels more like friendships.
John Pembroke: Yeah, sure.
Randy Smith: It's been something that I've always just found impressive, like across the organization.
John Pembroke: You just gave me a third one. And that's the relationship that we have with our members. And you know, the way I coined it, I've, I've been in the industry since 2005. And the way I coined it, at CUES is hugs, not handshakes. Right? So you come to a CUES event, you see us at a conference and we have a booth there or whatever it may be, is hugs, not handshakes. So it's a little more.
Randy Smith: I've told the people as they were getting into the credit union space that the first time you meet people, sometimes people look at you a little bit funny because they don't know you. And the second time they're like, I remember you, the third time you're hugging. That's, that seems to happen here. I want to move on a little bit over to kind of leadership life hack type things. You just mentioned 2005, you've been in credit unions. When I was doing a little research on the interwebs, I saw you were actually an intern at a credit union in high school. Is that true?
John Pembroke: Yeah. So it was a great experience, my senior year in high school for the month of May, it was called may project. We didn't go to class. We had an internship. So in the field of interest, you had a month internship that you needed to pursue. And I was good at math. My father was a minister of a large church on the south side of Chicago. You learned of this church in the south side of Chicago. They had a credit union in the church. And he said, well, why don't we try this out? And I worked for the month of May in the credit union and it was a lot different then.
Randy Smith: I'm just going to say we're going to get into that. But I mean that's just pretty cool. Like full circle now you're training not only leaders of credit unions but future leaders as well with like your Next Top Credit Union Exec. So to think that as a young senior in high school you were, you had that opportunity.
John Pembroke: Yeah. That was quite an experience. And you know, that piqued my interest in business and led me down that path. So it was a great experience.
Randy Smith: Is there something about credit unions, I mean from that point forward that inspired you to make credit unions your career?
John Pembroke: Sure. For me it's a perfect intersection of business and doing something good. Service has always been something that I believed in and was raised to believe in and it's just been a part of my life. And the Credit Union industry affords me the opportunity to leverage my business acumen, expertise, leadership, et Cetera, marry that with community service. And it just fits me well and keeps me hungry. It keeps me active and keeps me waking up early in the morning to, really have an impact on the greater industry as well as the lives of a lot of great people.
Randy Smith: I love that. Has the inspiration changed at all with time on the job? And we don't have to go all the way back, I know you spent time at PSCU as well, but just in the last few years, since you've taken over as the CEO at the president of CUES, has that inspiration changed at all or it still held constant all the way through?
John Pembroke: Constant all the way through. Like I said, the industry itself is right from me and I drank the Koolaid a long time ago. I actually went back when I was in Grad School in Chicago and served on the board of that credit union.
Randy Smith: Did you really?
John Pembroke: I did so I drank the Koolaid long ago that, that inspiration, that fire, that passion has always been there.
Randy Smith: It's so fitting because it was either at Symposium or was that your CEO Network event? The one that my team's heard me say a million times. But is there a line that your crew at CUES has heard you say so many times that when you start first word they can finish your sentence?
John Pembroke: They're actually two phrases and it's interesting because now a lot of other people save them. The two simple phrases and one is begin with the end in mind. Okay. Okay. It's probably a familiar phrase for a lot of people who will see you and listen to this it's one of the seven habits of highly effective people. So begin with the end in mind. The second one is another habit and it's seek to understand and then be understood. That's one of those habits as well. That's one of those others as well. Yeah, that's one of those habits as well and has really helped me from a communication standpoint because at first blush when people meet me, they may think I'm quiet. They may think I'm reserved and what they realize that they get to know me is that I'm an aggressive listener. I really want to understand what you're trying to communicate to me before I respond. So seek to understand and then be understood. It's something that a, I've used quite a bit.
Randy Smith: Gosh, I wish I could remember the guy's name, but he was a speaker you guys had and he was a keynote on the main stage. And I remember it wasn't wearing shoes cause he said he sometimes falls off stages. This was I think years back, but he was so full of energy. And it was the first time I'd heard the fail fast, fail cheap and then do it again. And it always just like, let's just keep trying and stuff. It's the one, but it was from a CUES event, like I said, I can't remember the name, it had to be eight years ago now or something like that. I want to kind of jump back a little bit to when we talked about change in credit unions. Have you noticed anything from your first day at CUES to today where credit unions have made a big shift or a change? So we kind of talked about going forward. Has there been something in the last few years that you're like, this is different, we have to change what we're doing?
John Pembroke: I think there's several major, when I'd say initiative, so you have the influx of technology, consumer driven technology that has been integrated into financial services. It's totally different. I should say a lot has changed over the last five years where you have someone that can handle all their financial matters on the phone. Versus having to physically show up at a branch or pick up a phone or anything like that. So you have institutions that have embraced that. I think consolidation, now consolidation is something that it's taking place over the last decade. The pace is still a steady pace because of its continuation. You're seeing larger transactions, larger mergers, larger integrations. So taking advantage of scale, taking advantage of larger market opportunities I think are some trends that you're seeing. I would also, I have an interesting viewpoint in that you know what I do, I just do not focus solely on the executive side. I focus on the board side as well. And on the board side, I've seen the evolution of boards in a couple of different ways. I've seen boards establish effective partnerships with their management teams and really partner with them to develop the strategic plans, make the right decisions to advance the organization. From a vision and mission standpoint, I've seen boards become more effective from a governance standpoint. So you know, in how they operate, what the board composition is, thinking through term limits. Thinking through committees, thinking through all those different things to really make sure that it's an effective body to help lead the credit union. So I've seen good change and healthy change from that standpoint. Now, do things need to continue? Absolutely. Uh, and we all are aware of that, but if I take a look back over the past 10 years, there's been significant change.
Randy Smith: There's a change in the makeup. You said board composition, that's something that I'm always interested in, that the board represents the membership.
John Pembroke: Correct. Or the opportunity, whatever it may be. And I'm also fortunate in that, you we're an international association. So I get to see this in Canada as well as a Caribbean countries and other countries as well. So like I said, I think there's been significant change. Yes.
Randy Smith: That's good to hear. Always. How would you describe your leadership style?
John Pembroke: I maybe dating myself now, but I'm Bill Russell. Okay. I'm the player coach. Okay. But I understand when I need to be a coach and when I need to be a player, I'm also very authentic. You know, what you see is what you get. I'd appreciate that from everyone on the team as well so we know what we're dealing with them. But I would say a player coach as well as a very authentic.
Randy Smith: Is there a piece of advice or life lesson that you've received over time that's just stuck with you that you carry with you?
John Pembroke: The best piece of business advice that I've ever received was the simplest piece of business advice I ever received. And it is, if you are running a business, revenues have to be greater than expenses. But when you take that a step further, that also needs to occupy your thinking and your prioritization at the end of the day, people, whatever you do, time is going to cost money. You have to prioritize and put appropriate focus on how are you going to produce ongoing revenue streams that produce healthy margins. That should be the priority. Managing a budget is important, but at the end of the day, it's managing a budget. The challenge is how do you create those ongoing revenue streams that produce healthy margins and that should be the priority. The way I take it, that's my priority. That's why I spend most of my time thinking about not just in the current, but you know, what are the things that you need to do now to ensure that those things go on for 10 to 20 years down the road. That's where I'm focused and that's a priority for me when I lead an organization, it's the revenue streams and you take that all the way back, that goes back to satisfying member need, right, and all those things. There's a direct line back to that. So I'm a very, a revenue focus business leader because I know at the end of the day, if I'm running a business, revenues have to be greater than expenses.
Randy Smith: Like you said, simple, but there's a lot more to unpack.
John Pembroke: Correct. Correct.
Randy Smith: When you run into a problem, whether it's yourself personally, your team, and you're just hitting your head up against a wall, is there something you do that it gives you a fresh look at something so that you can kind of push through?
John Pembroke: I love music, played the saxophone for many years, having picked it up in many years. So played it for many years and haven't picked it up in many years. But I love music, I love all kinds of music, but there's different music that I listened to to help me do different things. For example, when I write or pull a presentation together, more than likely I'm going to be listening to classical music or jazz of some sort. And it just seems to help me from a creative standpoint. And I'm a big Pat Metheny fan and more contemporary jazz when it comes to, you know, I'm facing certain challenges and I just need to hear something different and listen to some new music, something way out there just to pull me away and get me thinking about something else. So I use music to really help me be more productive. Uh, address challenges, take a break from things, et cetera.
Randy Smith: Is that's something you've always done, like when you think back on your life has music, just always been a major part of it?
John Pembroke: Music has been a major part of it. When I was younger, I used to play sports and you know, do that type of stuff, but I started growing this way versus that way. And you know how that
Randy Smith: I understand that completely.
John Pembroke: I still trying to maintain a somewhat of a healthy lifestyle, I work out and stuff like that, but music really helps.
Randy Smith: So let's talk about that. I know you're a big sports fan. You're a Chicago guy, I happened to be a Detroit guy. So we don't agree on a few things, but I've always enjoyed talking to you about that. When you have a free day, no work stuff going on, no CUES stuff, you what is it that you enjoy to do that? What are those outside passions you just mentioned music. How do you get away?
John Pembroke: Sure. So I'm a sports fanatic and you know, you talk about brands that you have an affinity for or where I'm a consumer, one of favorite brands is ESPN. Okay. So, Get Up is a television show that, Greenberg made a name for himself in the city of Chicago on CLTV.
Randy Smith: That's right.
John Pembroke: Way back in the day.
Randy Smith: Pre Mike and Mike.
John Pembroke: Exactly, pre Mike and Mike. Exactly. And uh, Jalen Rose, I've always been a fan of his
Randy Smith: He's a Michigan guy, Detroit.
John Pembroke: There you go. There you go. So I love that show. I'd like to start out my morning watching that, my favorite meal of the day is breakfast. Right. So, you know, having a great breakfast somewhere and really being able to enjoy it.
Randy Smith: Last question on the leadership side and I think this is two fold. It's for you, how do you keep your message fresh to your team over time? But also how do you keep the CUES message fresh to credit unions?
John Pembroke: That's a great question. First is on the, it comes with understanding. Okay. And I'm, I'm a true believer that there's power in a frequent simple message. There is power in a frequent simple message. So making sure that there is understanding of the message, then it's in the appropriate and relevant way. Reinforcing it with examples. They're all kinds of examples out there. Everything's changing, but you know, if these are principles, if these are things that have some staying power to them, you can always make them relevant by highlighting how it comes into play into a situation or how, this is an example of that. So that's how I keep it fresh, but also making sure that you delivered in the right way. I was, thought to think about communication with a basketball reference. It's passing the ball. At the end of the day, if the action that you want to have happen as a passer of the ball does not happen this the passer's fault, you know, it could be a chest pass or a bounce pass or maybe you need to communicate the message to someone else, pass the ball to someone else for them to get it into the person, you have to think through how you're going to do it, how are you going to get that message to them and the most effective way to do it. So I always put a lot of onus on myself as the passer of the basketballs, to make sure that people receive the ball and do what they need to do to score, received the message, understand it, and make the appropriate action.
Randy Smith: I want to be respectful of your time, want to move on to the rapid fire questions. We end every show with these. The questions are rapid. Your answers don't have to be. Do you have a daily routine that if you don't do it, your day just feels off?
John Pembroke: Yes, music is important to me, as I said. I'm a man of faith. I start off with a gospel song everyday.
Randy Smith: Okay? Like first thing in the morning on the way to work or?
John Pembroke: It's the first music I hear is a Gospel Song.
Randy Smith: It's been interesting the few of these that we've recorded, but everybody has something, right? Like that. You just, if you don't do it, you know, and for me, I swear I'm going to keep saying listen until they send me free ones. I, I journal, I write three pages every single morning and a moleskine journals. A random question, but you've mentioned music a few different times. What's the best album of all time front to back the one you don't skip a song?
John Pembroke: Off the Wall, Michael Jackson.
Randy Smith: I bet that's a lot of people's answer.
John Pembroke: You know, uh, I've found a lot of people like Thriller, which uh, we are splitting hairs of greatness right now, but Off the Wall to me is the better album than Thriller.
Randy Smith: I'm a reader. In our house we have a stack of books that people have recommended and we're trying to work our way through. So is there a book over time that you've gifted to people or do you just recommend like over and over?
John Pembroke: Yes, The Seven Habits of Highly Effective People. I have mentees, different individuals that I work with, coach, learn from because it is a two way street. First thing I do is send them a copy of that book. As soon as we establish it, a formal relationship, that's the first thing I do is send the copy of that book.
Randy Smith: It's interesting how everyone seems to have a book that just stuck with them, right? And that they took those nuggets from and moved on. So there's a question that I didn't send you in advance. And it's the reason why is I want it to be top of mind when you hear the word success. Who's the first person that comes into your mind?
John Pembroke: Muhammad Ali. He was successful in many aspects of life, right? So not just in his craft, which was boxing, butin the philanthropy and community service. If you were to say someone who has a successful life, to me it would be Muhammad Ali. Now, did it have trials and tribulations? Absolutely. Don't we all, it was not all rosy, but at the end of the day, you think about his legacy and you think about the impact that he had on much larger than his craft
Randy Smith: Then boxing.
John Pembroke: Exactly. Much larger than craft the impact he had on the world. Where if you were to ask, if you wouldn't go around the world and say, give me a top 10 people favorite people, he may show up in that list.
Randy Smith: Didn't they? I think when he passed that he was still like one of the most recognizable names in the world. As you've gotten older, what has become more important to you and has anything become less? An add on question two it, what advice would you give 25 year old John?
John Pembroke: What has come more important to me? Time and just making sure that I deliberately focus on where I'd like to spend it, on how I like to spend it. It's become more important. Experiences have become more important. One of the great things about my role here in CUES is I travel a lot. So travel new places, experiencing new things, it's taking a much higher, higher priority for me.
Randy Smith: I'm with you on that. I think a lot of people that know me, they always say that they know I love to travel and I'm like, actually I love the experiences that come from it. It's not the actual act of getting on the plane. It's what happens once I'm there that I might not know what's going to happen.
John Pembroke: And also with travel, I've lived in a lot of different places and have a nice network. The travel gives me the opportunity to touch base with people, try and make it a point to work that in when I can.
Randy Smith: Is there anything specific that's become less important to you that you were focused on when you were a younger man? At this point in time you're like, you know what, just not as important.
John Pembroke: I know I'm never going to dunk a basketball again. No, put it this way. As far as my physical abilities, it's more focused on living a healthy life and being productive and enjoying whatever I'm participating in versus the competitive nature of it. You know, the elliptical and the treadmill is my friend versus trying to, you know, basketball and all those others. Those are a games for the young.
Randy Smith: I love that answer. I think that's a perfect place to wrap this up. One final question. Do you have any final thoughts or any asks of our listeners before we go?
John Pembroke: First of all, thanks for the opportunity.
Randy Smith: Thank you.
John Pembroke: I really appreciate being here and being able to participate with this. Just know to the listeners that part of a great industry that addresses some major opportunities and challenges for consumers in financial services but also does a lot of good in the community and it's a great opportunity to really make a difference in your market from a business standpoint and from a service standpoint. So you know the credit union industry really provides great opportunity I think for professional development, employment and great industry to to really be impactful and make this place, continue to make this world a better place.
Randy Smith: John, I greatly appreciate it. Is John@cues.org the best way to get ahold of you? If people have additional questions.
John Pembroke: john@cues.org
Randy Smith: Awesome. We will link to that. We'll link to the CUES website. We will link to everything we talked about today, but again, John, thank you very much for taking time away from Symposium and sitting down with me for the hour. It's been awesome.
John Pembroke: Thanks for the opportunity. Same here.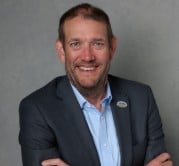 Randall Smith is the co-founder of CUInsight.com, the host of The CUInsight Experience podcast, and a bit of a wanderlust. As one of the co-founders of CUInsight.com he ...
Web: www.CUInsight.com
Details