The CUInsight Experience podcast: Anthony Hernandez – Building consensus (#59)
"Set the goal. Create the plan. Then forget the goal and work the plan." - Anthony Hernandez
Welcome to episode 59 of The CUInsight Experience podcast with your host Randy Smith, co-founder of CUInsight.com. This episode is brought to you by our friends at CO-OP Financial Services. CO-OP is your trusted payments processing partner whose mission is to drive the credit union movement forward.
Do you know how vital the defense credit unions are to military personnel and their families? Listen in as Anthony Hernandez and I speak about what they do and how they are different from other financial institutions. Tony is the President and CEO of the Defense Credit Union Council, before joining the credit union movement he spent 25 years in the Air Force. As you can imagine, he has some significant leadership knowledge and will share that with us along with what makes the DCUC so unique in the work they are doing for our service members.
Tony speaks about the specific issues they oversee and what he believes all credit unions need to change to stay relevant in today's financial market. Tony shares why he took the position as President and CEO of the Defense Credit Union Council and what he hopes to accomplish in the next year.
What is his leadership style? Tony says that it is a consensus style, but he is also highly adaptive so his style can change depending on which style he needs. He chats about what young leaders need to do better, some of his mentors all through his life, and whom he thinks about when he hears the word success. 
Tony gives a different perspective on credit unions and how they work with the military. Listen to this conversation, and you might learn something that you didn't know before. You don't want to miss this episode.
Subscribe on: Apple Podcasts, Spotify, Google Play, Stitcher 
Books mentioned on The CUInsight Experience podcast: Book List 
How to find Tony:
Anthony Hernandez, President and CEO of the Defense Credit Union Council
CEO@DCUC.ORG
www.DCUC.org
LinkedIn | Twitter 
Show notes from this episode:
Shout-out: to our friends at CO-OP Financial Services, our first sponsor of The CUInsight Experience podcast. Thank you!
Check out all the work Anthony and his team at DCUC are doing in D.C here.
Interested in an upcoming DCUC event? Find out more here.
Tony has some great Community posts that you can find here including his article "The Defense Credit Union Difference."
Want to watch the new video Tony talked about? Here you go: DCUC – Why We Do What We Do

Check out the Jauruary Defense Credit Union Alert here.
Article mentioned: Generation X: America's neglected middle child
Article mentioned: Emerging Technology and Military Considerations
Shout-out: Filene Research Institute
Shout-out: Jennifer Hernandez – Tony's wife who introduced him to credit unions and DCUC.
Shout-out: the DCUC Board of Directors
Shout-out: Jill Nowacki (I love being your +1)
Shout-out: Maria Martinez
Book Mentioned: The 48 Laws of Power by Robert Greene
Shout-out: Arnulfo and Mary Hernandez (dad and mom) and Don and Joyce Powers (the in-laws)
Shout-out: Three teachers from high school: Warren Cupp, Donna McCoskey and Judi McKenzie
Shout-out: Mentors from the military: Lieutenant Colonel Jeff Ingalls, Bob Belchic, Brigadier General Sandra Gregory, General Robin Rand, Colonel Mike Phelps, Maj General Wayne Schatz, Lt General Jerry Martinez, Lt General William Rew, General William Fraser
Shout-out: Dan Berger
Check out The Berger Leadership Blog here.
Shout-out: John Spence
Another guest who swears by Peloton
Shout-out: Tansley Stearns
Movie mentioned: Neat – The Story of Bourbon
Album mentioned: Mannheim Steamroller Fresh Aire
Book mentioned: Leadershock by Greg Hicks
Book mentioned: Lions Don't Need to Roar by D.A Benton
Previous guests mentioned in this episode: Jill Nowacki (episodes 4, 18 & 37), Maria Martinez, Dan Berger, John Spence, Tansley Stearns, Randy Smith
You can find all past episodes of The CUInsight Experience here. 
In This Episode:
[01:56] – Tony, welcome to the show!
[02:48] – Tony shares what the Defense Credit Union Council is and how they help our military personnel.
[03:45] – He explains the two primary reasons the DCUC is different from other credit unions.
[05:43] – Tony reads a script that he found that describes what the DCUC does for military families and veterans.
[08:09] – Tony, are there issues specific to defense credit unions that your organization prioritizes?
[11:36] – They speak about the things that need to fundamentally change in the credit unions to keep them relevant in the financial industry.
[14:49] – A year from now, what will you be proud that you accomplished with your organization?
[16:47] – He shares with Randy about the new biometric identification he is excited to announce.
[19:15] – Tony describes why he took the position with the DCUC once he retired from the Air Force.
[22:57] – Did the inspiration for the job change once you transitioned from COO to CEO with the DCUC?
[25:18] – Tony shares his leadership style and tells us it hasn't changed since he became a civilian.
[28:21] – He believes that the credit union landscape will change exponentially with the Gen X generation taking over.
[28:45] – What do you say all the time that your team can repeat word for word?
[31:26] – Tony says that young leaders need to find the one thing that is important to them and achieve that main thing, and narrow your focus.
[33:53] – Tony speaks about having many mentors along the way and gives some examples of what they taught him.
[37:02] – What does a typical day at work look like for Tony? What do you like to do when you have a day off?
[40:11] – Do you remember the first time you got in memorable trouble?
[42:28] – Tony wanted to be a politician when he was young but then took the military path.
[43:36] – If he doesn't work out in the morning, his whole day feels off.
[44:10] – Tony states that he doesn't have any apps that he uses daily.
[45:29] – What is your favorite album of all time?
[47:27] – What book do you think everyone should read?
[52:06] – Tony shares that when he hears the word success, he thinks of his parents and his children.
[53:42] – Tony, do you have any final thoughts or asks for our listeners?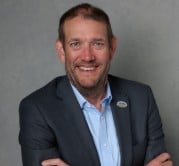 Randall Smith is the co-founder of CUInsight.com, the host of The CUInsight Experience podcast, and a bit of a wanderlust. As one of the co-founders of CUInsight.com he ...
Web: www.CUInsight.com
Details