The CUInsight Experience podcast: April Clobes – Mission moments (#73)
"Each interaction is meaningful, and you should live each to the fullest." - April Clobes
Thank you for tuning in to episode 73 of The CUInsight Experience podcast with your host, Randy Smith, co-founder of CUInsight.com. This episode is brought to you by our friends at PSCU. As the nation's premier payments CUSO, PSCU proudly supports the success of more than 1,500 credit unions.
Over the last few weeks, credit unions across the county have had to make major changes to how they serve their members and community. On this week's episode, I sat down with April Clobes, President and CEO of Michigan State University Federal Credit Union, to discuss how she and her team have been able to successfully navigate this interesting experience for their members. 
In thinking about the challenges we've faced, April and I discuss some of the unique ways MSUFCU is working to keep their team motivated and engaged with their mission, while at the same time providing a robust digital service experience for their members. April shares that she attributes a lot of the team's success to the strong culture the credit union has developed over the years. She believes this will continue to play a pivotal role over the next year as her team, and the credit union industry as a whole, begins thinking about and "creating new normals" of service for the future. 
Delving into April's role as a leader and long-time credit union employee, we talk about her somewhat unlikely path from marketing executive to CEO, and how the inspiration has changed over the years, especially given our current circumstances. Drawing on those experiences, April shares some of the lessons and myths she's learned about leadership, and reminds us not to be afraid to do a zig and zag from time to time in order to keep learning and growing. 
In the rapid-fire questions section, we learn that April is a Starbucks fanatic, who loves to read and enjoys spending time with family and friends in her spare time. In her final ask, she encourages us not to be afraid to collaborate and discuss ideas with other credit unions. You don't want to miss this great episode!  
Subscribe on: Apple Podcasts, Spotify, Google Play, Stitcher 
Books mentioned on The CUInsight Experience podcast: Book List 
How to find April:
April Clobes, President and CEO of Michigan State University Federal Credit Union 
april.clobes@msufcu.org
www.msufcu.org
LinkedIn | Facebook | Twitter | Instagram
Show notes from this episode:
A big shout-out to our friends at PSCU, an amazing sponsor of The CUInsight Experience podcast. Thank you! 
Check out all the outstanding work that April and her team are doing at MSUFCU here
Be sure to read the Detroit Free Press article about MSUFCU being named a top workplace here
Shout-out: Jill Nowacki
Shout-out: Chuck Fagan
Shout-out: Rachel Pross
Shout-out: Todd Clark
Album mentioned: Joshua Tree by U2 
Book mentioned: The Giving Tree by Shel Silverstein
Book mentioned: Bel Canto by Ann Patchett
Book mentioned: The Dutch House by Ann Patchett
Book mentioned: The Trillion Dollar Coach: The Leadership Playbook of Silicon Valley's Bill Campbell by Eric Schmidt
Book mentioned: Onward: How Starbucks Fought for its Life Without Losing its Soul by Howard Schultz
Shout-out: April's mom
Shout-out: Aprils niece
Shout-out: Delta Air Lines
Shout-out: Oprah Winfrey
Previous guests mentioned in this episode: Jill Nowacki (episodes 4, 18, 37 & 64), Chuck Fagan, Rachel Pross, Todd Clark
You can find all past episodes of The CUInsight Experience here. 
In This Episode:
[02:26] – April, welcome to the show!
[03:48] – April shares how they have handled working remotely during this pandemic and how they are communicating with their employees.
[06:10] – She speaks about the mission moments they share during meetings.
[07:52] – How is everyone holding up at the credit union?
[09:37] – April speaks about what she feels will change in credit unions from now on.
[12:53] – April discusses what she will be proud her team has accomplished a year from now.
[14:23] – April shares what inspired her to take the position as the CEO of MSUFCU.
[17:32] – Has the inspiration changed since you took over as President and CEO?
[19:46] – April tells us what her team has heard her say so many times they can finish her sentence. 
[21:23] – April says that there are so many myths about being a leader, but she shares a couple she wants to debunk.
[22:41] – Is there a mistake you see young leaders make often? Any you made when you were coming up?
[24:16] – April shares a life lesson or advice that she was given that she still uses today.
[26:05] – She shares who her mentors were and how they have helped her in her career.
[28:11] – April says she has self-doubt regularly, but she puts a 24 hours timeline on it, then she moves on.
[29:24] – She speaks about the ability to make hard decisions.
[30:51] – What do you do when you have a day off and recharge?
[32:43] – April talks about being a nerd in high school, and she wanted to be an attorney when she grew up.
[33:44] – Starbucks every morning is one of her daily routines.
[34:33] – What is the best album of all time?
[35:07] – What book do you think everyone should read?
[38:04] – April says that time with her family has become more important and worrying about what others expect you to be is less important.
[40:07] – Oprah is the person who comes to mind when she hears the word success.
[40:54] – April shares her final thoughts with the listeners.
[42:26] – April, thank you so much for being on the show!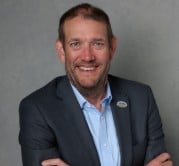 Randall Smith is the co-founder of CUInsight.com, the host of The CUInsight Experience podcast, and a bit of a wanderlust. As one of the co-founders of CUInsight.com he ...
Web: www.CUInsight.com
Details