The CUInsight Experience podcast: Bo McDonald – Meaningful work (#69)
"My happiness and enjoyment for doing what I do, has to exceed just getting a paycheck." - Bo McDonald 
Thank you for tuning in to episode 69 of The CUInsight Experience podcast with your host, Randy Smith, co-founder of CUInsight.com. This episode is brought to you by our friends at PSCU. As the nation's premier payments CUSO, PSCU proudly supports the success of more than 1,500 credit unions.
On this week's episode, I'm exploring relevancy and strategic planning with my colleague and long-time friend, Bo McDonald. As President and CEO of Your Marketing Co, Bo has a ton of experience and knowledge helping credit unions, both large and small, refocus their marketing and member service efforts in order to stand out in the crowded financial landscape. 
Throughout the episode, Bo and I discuss what he's learned about remaining relevant and creating lasting, meaningful relationships since founding Your Marketing Co over 12 years ago. Bo shares how he has been able to translate those powerful lessons into helping credit unions, as well as his own business, find their why, define their ideal member/client, and develop a culture of service and empathy. 
Additionally, Bo and I discuss how his leadership style has been influenced and changed by those around him, starting with his time as a radio DJ up to now, and how the many mistakes he's made along the way have helped him become a better leader and teacher for his employees. We also talk about making difficult decisions, common myths about leadership, and taking a risk. Recalling his favorite piece of advice, he reminds us that "can't, never did a thing". 
We finish up with the rapid-fire questions, where Bo shares what he wanted to be when he grew up, what has become more and less important in his life, and what credit union leader he thinks of when he hears the word success. I hope you enjoy this great episode and maybe even get a few chuckles from our conversation. 
Subscribe on: Apple Podcasts, Spotify, Google Play, Stitcher 
Books mentioned on The CUInsight Experience podcast: Book List 
How to find Bo:
Bo Mcdonald, President and CEO of Your Marketing Co
bo@yourmarketingco.com
www.yourmarketing.co
Facebook | Twitter | Instagram | LinkedIn
Show notes from this episode:
A big thank you to our friends at PSCU, an amazing sponsor of The CUInsight Experience podcast. Thank you!
Check out all the great work Bo and his team at Your Marketing Co are doing for credit unions here 
Shout-out: Greenville, South Carolina
Shout-out: David Miller
Shout-out: Lauren Culp
Shout-out: Rhonda Hotard
Shout-out: Jill Nowacki
Shout-out: Leo Ardine
Learn more about your personality with the DiSC assessment
Shout-out: Bo's father 
Shout-out: Mike Bartoo
Shout-out: Jeff Olson
Shout-out: Credit Union Association of the Dakotas
Shout-out: Mills42 Federal Credit Union 
Shout-out: Maple Federal Credit Union 
Shout-out: HopeSouth Credit Union 
Shout-out: Bo's friend in Nashville
Shout-out: CUES
Shout-out: Bo's elementary school art teacher
Shout-out: Todd Clark
Shout-out: Bo's former boss at the radio station
Shout-out: Geoff Wasserman
Shout-out: Scott Butterfield
Shout-out: CUNA Governmental Affairs Conference
Shout-out: Bo's father 
Shout-out: Lois Kitsch
Shout-out: Jim Morrell
Shout-out: George Ombado
Learn more about DE, the National Credit Union Foundation's signature program
Album mentioned: Greatest Hits by Elton John
Album mentioned: Ultimate Collection: The Complete Hits by Captain and Tenille
Book mentioned: Ego is The Enemy by Ryan Holiday 
Book mentioned: David and Goliath: Underdogs, Misfits, and the Art of Battling Giants by Malcolm Gladwell 
Previous guests mentioned in this episode: Lauren Culp, Rhonda Hotard, Jill Nowacki (episodes 4, 18, 37 & 64), Leo Ardine, Jeff Olson, Todd Clark, Lois Kitsch, Jim Morrell, George Ombado,
You can find all past episodes of The CUInsight Experience here. 
In This Episode:
[01:51] – Bo, welcome to the show!
[03:02] – Bo shares that relevance, and not knowing who we serve is the biggest issue he sees credit unions facing today.
[04:08] – How does your company help credit unions?
[04:53] – Bo speaks about what he thinks credit unions need to change to stay relevant.
[06:09] – When you are working with credit unions, do you help them define who their ideal member is?
[09:27] – Bo speaks about being able to spend more time in the office leading people and working directly with credit unions.
[10:55] – A year from now, what will you be the proudest of that you and your team have accomplished?
[12:29] – Bo shares that he has tried to temper his impatience and a short fuse, he tries to have more empathy.
[14:26] – Bo discusses what the inspiration was to start YMC twelve years ago.
[16:00] – How has the inspiration changed with time in the company?
[17:13] – Bo believes his leadership style is a teacher and what that means to him.
[19:53] – Bo shares what his team at YMC has heard him say so often they can finish the sentence.
[21:46] – Bo speaks about how he has cultivated the ability to make hard decisions.
[22:50] – What mistake do you see young leaders make today?
[24:09] – Bo shares some advice he was given growing up that he still uses today.
[25:32] – Bo chats about a mentor he had at the radio station.
[28:07] – Did you ever have a time in your business when you felt lost? What did you do to change it?
[29:37] – Bo describes what a typical workday looks like, and what he would call a perfect day.
[31:45] – Bo talks about what he does to unwind and recharge when he has a day off.
[33:37] – Bo shares that he was a geek in high school, and the first time he got into trouble.
[34:01] – Bo says he wanted to be a bus driver when he grew up and a radio DJ, the latter of which he worked as for ten years.
[35:05] – What is your favorite album of all time?
[35:39] – What book do you think everyone should read?
[37:40] – Bo shares that time has become more important, and money has become less important.
[38:52] – When you hear the word success, who comes to mind?
[40:30] – Bo's final thought is, evaluate your leadership. Be a better leader today than you were ten years ago.
[41:38] -Thank you again, Bo, for being on the show today.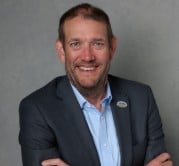 Randall Smith is the co-founder of CUInsight.com, the host of The CUInsight Experience podcast, and a bit of a wanderlust. As one of the co-founders of CUInsight.com he ...
Web: www.CUInsight.com
Details